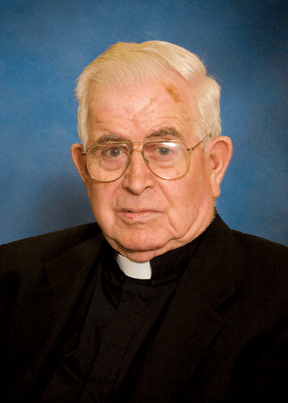 Monsignor Thomas McGread, a man known throughout the United States for developing and teaching Catholic stewardship as a way of life, died April 1, 2013. He was 84.
Born Dec. 5, 1928, in Omagh, County Tyrone, Ireland, McGread studied for the priesthood at All Hallows College, Dublin, Ireland, where he was ordained a priest on June 21, 1953. Four months later, he began his work for the Diocese of Wichita.
In the 1960s, he built St. Francis of Assisi into one of the most vibrant parishes in the country, by teaching parishioners how to use their gifts of time, talent, and treasure to serve God and the community. Based on that work, he created the stewardship program for the Wichita Diocese and was highly influential in establishing the tenets of stewardship within the Church nationwide.
McGread served on several local boards, including three terms on the Newman Board of Trustees between 1994 and 2003. He was a generous donor to Newman through gifts to the capital campaigns to build Eck Hall, the De Mattias Fine Arts Center/O'Shaughnessy Hall complex, and the Dugan Library and Campus Center, as well as two major scholarship funds and other gifts to a variety of Newman events and activities.
Beyond his material support, McGread was a great advocate for Newman.
"We will miss him greatly, for the support, guidance and friendship he offered the university," said Newman President Noreen M. Carrocci, Ph.D. "I feel blessed to have known him, and grateful that we were able to honor Monsignor McGread with our Doctor of Humane Letters, honoris causa degree last year."
Tarcisia Roths, ASC, Newman president at the time McGread served on the Board, recalled McGread's work throughout the diocese to build support for Newman as an outstanding source of Catholic higher education.
"He was always very supportive of Newman, from the very beginning, and saw the need for a Catholic college in the diocese," she said. "He was a wonderful Board member, and his words were always taken very seriously by the Board, who viewed him as very wise."
Roths said McGread played an important role in capital campaigns she led, by facilitating meetings between her and key prospective donors, as well as others in the community who could be helpful to the campaign. Like many other activities in his long relationship with Newman, such actions reflected the quality Roths said she will always remember about Monsignor Thomas McGread:
"The steadfastness of his support for Newman," she said. "He was always there for us."
Memorial donations may be made to the Monsignor Thomas McGread Endowed Scholarship Fund, c/o Newman University, 3100 McCormick, Wichita, KS 67213.
.
.