Newman welcomes Norm Jones as Vice President for Enrollment Management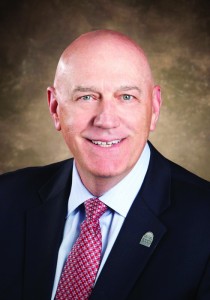 Norm Jones was named vice president
for Enrollment Management at Newman University, effective Aug. 1, 2015. Jones comes to Newman with an extensive background in higher education enrollment and administration. He most recently served as executive dean and chief operation officer at Southwest Colorado Community College. Prior to that, he was vice president for enrollment and athletics at Delaware Valley University, and vice president for enrollment and marketing at Texas Lutheran University. Jones has held enrollment management and admissions leadership positions at several other colleges.
"We are very excited to have Norm
join the Newman executive team,"
said Newman President Noreen M. Carrocci, Ph.D. "His knowledge of enrollment operations and his approach to recruiting and marketing will be a powerful force in our enrollment efforts."
Jones earned a bachelor's degree in Marketing Management at the University of Tennessee, and a Master of Education degree in Guidance and Counseling at West Georgia University.
Read more about Jones at go.newmanu.edu/NormJones.