Newman welcomes Father John Fogliasso as chaplain, theology professor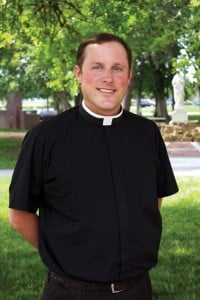 Father John Fogliasso joined the faculty and staff at Newman University as Chaplain, Director of Campus Ministry and Assistant Professor of Theology, effective June 11.
Fogliasso was appointed to Newman by the Most Rev. Carl Kemme, Bishop of the Catholic Diocese of Wichita. Fogliasso replaces Father Michael Linnebur, who has been appointed pastor of St. Patrick Parish in Chanute, Kan., and St. Joseph Parish in Humboldt, Kan.
Fogliasso, a Girard, Kan., native, received his Bachelor of Science degree in Education from Pittsburg State University in 2005. He spent two years at Immaculate Heart of Mary Seminary in Minnesota and four years studying at Kenrick-Glennon Seminary in St. Louis, Mo. Over those six years he received Master of Divinity and Master of Arts in Theology degrees. He was ordained to the deaconate in 2010 and to the priesthood in 2011. For three years, he has served as Associate Pastor of the Church of the Magdalene in Wichita.