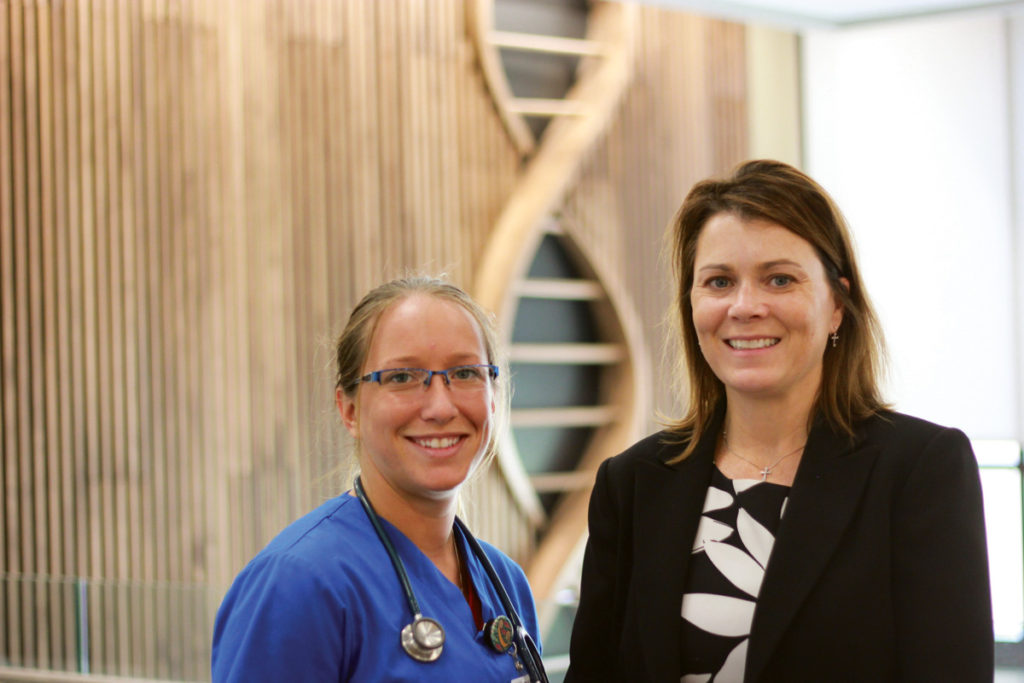 Mary Cracraft (left) and Amy Siple. Photo by Dan Murphy
NURSING STUDENT MAKES LIFE-CHANGING ASSESSMENTS USING SKILLS LEARNED IN THE CLASSROOM
Newman University student Mary Cracraft will graduate in December 2017 with her Bachelor of Science in Nursing. But she didn't have to wait until she started her career in order to begin changing lives.
Two separate events have given Cracraft an opportunity to use the skills she's been obtaining in her nursing classes to bring real-life diagnoses to light — and to change some lives in the process.
The first happened during Cracraft's Christmas break in 2016, when she went home to Missouri to be with family for the holidays. That's when her grandmother came to her for advice.
"I knew it was serious when she came to me," said Cracraft. Her grandmother told her she could feel her heart beating in her stomach. Cracraft immediately saw the red flag and performed a head- to-toe assessment on her grandmother, using the knowledge she'd just obtained during class at Newman.
"I had the steps on my phone, so I had my notes to refer to. Performing a head-to-toe assessment is one thing the professor drills into our heads, and in class, we would spend a lot of time doing them over and over."
Because of that in-class practice, she was highly confident that what she was dealing with was an abdominal aortic aneurysm, but she wanted a second opinion. She emailed her professor, Amy Siple.
"It was 11 o'clock at night," said Cracraft, "and I got a response almost right away."
Siple's quick response is one of the many reasons Cracraft said she is happy she chose Newman. "I think that's something that makes Newman stand out. I think it's rare to just shoot a professor an email and get a response like that."
Siple's response strengthened Cracraft's opinion and the result was an ER visit in the middle of the night. At the hospital, the doctor confirmed her suspicions and her grandmother was transferred by ambulance to a Kansas City hospital for surgery.
"It came out later that my grandmother had been feeling this sensation since the summer, about six months," said Cracraft. "By the time we got her to the hospital, the aneurysm was at six centimeters."
At that size, the risk of rupture is very possible, said Cracraft.
Her second chance at a real-world assessment came during spring break 2017.
"My fiance has two brothers and one of them was in an ATV accident," said Cracraft. "He went into a ditch and the handle hit his stomach."
Cracraft received a phone call from Josh, the brother who wasn't in the accident, when he was concerned about some blood draw results.
"He reached out to me for advice because he didn't feel like he was getting enough answers at the hospital. He explained the situation, that the white blood cell count was extremely high and that all the other results seemed to be normal."
Cracraft went on to explain that a second blood draw was supposed to take place four hours after the first, and that hadn't been done. She talked by phone to the nurse on staff after it had been about six hours and was able to get some results.
"When they caught that the second blood draw hadn't been done, they took action. It eventually was determined that he was bleeding internally and he'd had a perforated bowel." He then had an emergency surgery.
After graduation, Cracraft plans to move to Hawaii to be with her fiance, who will be stationed there for the Army. "I've already started applying for jobs there. I'm going to take my PALS (Pediatric Advanced Life Support) and ACLS (Advanced Cardiac Life Support) certifications before moving."
She explained that most students take these certifications after graduating, but she hopes that by having them already completed, it will put her ahead of the game.
"Normally when you graduate," she said, "and you get the job, the hospital you work at will pay for that. But I really want to get my certifications early. When I go to Hawaii, they're done, and maybe that'll give me a leg up on the job search."
Cracraft, who plans on continuing her education to be a nurse practitioner, said her experience at Newman has been memorable and her course work and instruction gave her the confidence she needed to help in the two real-life situations that were brought to her.
"It's a very personal experience at Newman. We have about 26 in our class — that's our total class. Other programs have close to 80 students, and I feel like Newman offers more detail (because of the student-to-teacher ratio), and just an overall more personal experience."
Learn more about Newman University's Bachelor of Science in Nursing program.
Tags:
health
,
Mary Cracraft
,
Nursing
,
Student