Alumnus Levente Nyitra '06 is transforming the world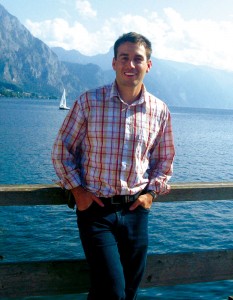 When Levente Nyitrai first heard about a British Civil Service Award ceremony being held in London, he felt frustrated. He had scheduled a backpack trip to Africa, which now had the potential to be ruined. As he walked to his boss' office, he was intent on finding a way to skip the trip to England – and unaware of a special honor that awaited him there.
Nyitrai, a 2006 Newman graduate, had already been to England. In fact, he'd been to quite a few places in the world since starting life in a small town in northwest Hungary called Gyor. Nyitrai was the second of three children in a close-knit Catholic family.
He did well in school, joined a study abroad program, and ended up attending high school in Halstead, Kan. Being an active member of his cross country and track teams, he caught the attention of Newman University Cross Country Coach Josh Schepis. With the help of Schepis and then-International Student Coordinator Betty Adams, ASC, Nyitrai was offered both athletic and academic scholarships. Nyitrai was pleased with the university,but ultimately the decision came down to his parents.
"Following their personal visit to campus and more generally to Wichita all the way from Hungary, I also gained my parents' approval so I was able to become a Newman Jet," Nyitrai said.
Nyitrai majored in history with a minor in political science at Newman. He credits a great deal of his success to Associate Professor of History Cheryl Golden, Ph.D., and the late professor Randall Austin.
I immensely enjoyed the lectures of the forever energetic Randall Austin, and also learned a lot from the very supportive Dr. Cheryl Golden," Nyitrai said. "I will never forget the wonderful six state senior trip she helped to arrange and to which she personally accompanied me and my friends. I was really happy when she received the Teacher of the Year Award in my last year at Newman. It was much deserved."
'No chance for a dull moment'
Nyitrai graduated with honors in 2006, was a valedictorian and spoke at his Commencement exercises, and received the prestigious Ablah Award. After four outstanding years in America, he returned to his native Hungary and began to work for the Political Section of the Japanese Embassy in Budapest, which he described as an exciting and very educational job. After two years with the embassy, Nyitrai, following his older brother Peter's footsteps, applied and gained admission to the London School of Economics' (LSE) Comparative Politics master's program and relocated to the British capital.
The one-year-long intensive program was tough but the immense amount of studying paid off. While at the LSE, Nyitrai represented the school at a global forum in Dubai and was also a member of the school's delegation at the World Model United Nations competition in The Hague,The Netherlands.
Following the completion of the program in London, Nyitrai again returned to Hungary in early 2010 and joined the Policy Unit of the British Embassy, in the position of foreign policy attaché of the diplomatic mission. In addition to foreign affairs, Nyitrai covers justice and home affairs, transparency and human rights.
"It can be a rather demanding job at times with no chance for a dull moment," Nyitrai said. "But that's actually one of the many things I like so much about it. I am part of a great and professional team, I get to travel to various and exciting places, take part in excellent trainings and initiate and execute projects which help people."
AND THE WINNER IS…
The British Civil Service award celebrates and promotes innovation and improvement across the government and includes 800 nominations a year in different categories. Nyitrai was one of those lucky 800. Having never heard of the award program, Nyitrai didn't take his nomination for the Individual Achievement Award seriously. Canceling his backpack tour of Africa with his then-girlfriend, now-fiancé was out of the question.
"When the deputy ambassador, my boss, found out about it she 'summoned' me in her office and helped me understand what it was for and all about," Nyitrai said. "I, then, immediately postponed my African trip and, accompanied by my mother, traveled to London to take part in the event."
When the envelope for Individual Achievement was opened and the name was read, no one was more surprised than Nyitrai when it was his name that was called.
"I was shocked, to put it mildly, and overwhelmed," Nyitrai said. "I'll treasure that moment, and the proud look on mother's face, for the rest of my life. I remember that I had to fight hard not to allow a tear to appear in the corner of my eye when I stepped on the stage to accept the award."
Today, Nyitrai is looking to a future filled with hopes and plans. In autumn 2013 he is taking part in the prestigious week-long Young Diplomats Forum in Ankara, Turkey. At the end of the year he is going on a backpack tour around Southeast Asia. Perhaps more important, by spring next year he has a wedding to plan with his elementary school classmate, Melinda Sceh, in a thousand-year-old Benedictine Archabbey – the same place where his parents were married almost exactly 33 years before.
Besides all the future plans, however, Nyitrai also proudly remembers and often talks about his Newman roots.
"I am not exaggerating when I say that I met some of the nicest people while studying in Wichita," Nyitrai said. "I learned a lot about faith, family values and the importance of hard work from my host parents, LyNette and Lloyd Johnson, and the wonderful folks who surrounded me at Newman, whether in the classrooms, the bookstore, at cross country practice or even at some random gathering in the dorms. Upon my return to Hungary, it was their examples that spurred me to start a theology degree, devote more time for family activities, despite my often hectic schedule, and to try to do my very best in whatever activity I engage."
– Jayden Gregory '13
Tags:
Budapest
,
Cheryl Golden
,
Cross Country
,
Dubai
,
Gyor Hungary
,
Japanese Embassy
,
Josh Schepis
,
Levente Nyitrai
,
London
,
Newman University
,
Randall Austin