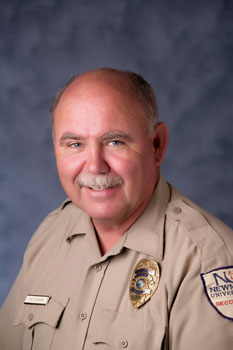 Director of Security Richard "Ollie" Oliverson retired from Newman University Jan. 16, 2015 after many years of service in law enforcement and security.
While Oliverson has left Newman, however, he is not necessarily idle.
"I spent 14 years on the [Wichita Police] force and another 14 1/2 here at Newman University," Oliverson said. "After retirement, I'll probably pick up some part-time work to keep me busy."
Oliverson was a favorite around the Newman campus among students, staff and faculty. He was appreciated for his helpfulness, affability and sense of humor – which were all clearly apparent even when he tried at times to project a gruff exterior.
Oliverson would often be seen early Wednesday mornings at the Mabee Dining Center with the "Maintenance Breakfast Club," which included members of the maintenance, facilities and athletics departments, among others. He knew all faculty and staff on the Newman campus, called everyone by their first name, and handled any problem with practicality and goodwill. He was, in the best sense possible, Newman's own Sheriff Andy Taylor.
In August 2014, Oliverson received the Staff Excellence Award at a university-wide meeting, and was given a standing ovation as he made his way to the podium to accept the framed proclamation. He didn't comment when he accepted the award, but on his last day on the job he sent an email to everyone on the Newman campus. It read:
As you well know I am not a person who likes to make speeches, or likes a lot of recognition. I just wanted to let everyone know that it has been a pleasure working with all of you, and I thank you for all your support & kindness. When I came here in August of 2000 after leaving the Wichita Police Department I didn't think that I would be here for 14 ½ yrs but for the most part it was the staff, faculty, and students which kept me here. I wish you all the best in 2015 and I hope you show our new Security Director Mo Floyd the same kindness and support that you gave me.


God Bless All of You





Ollie