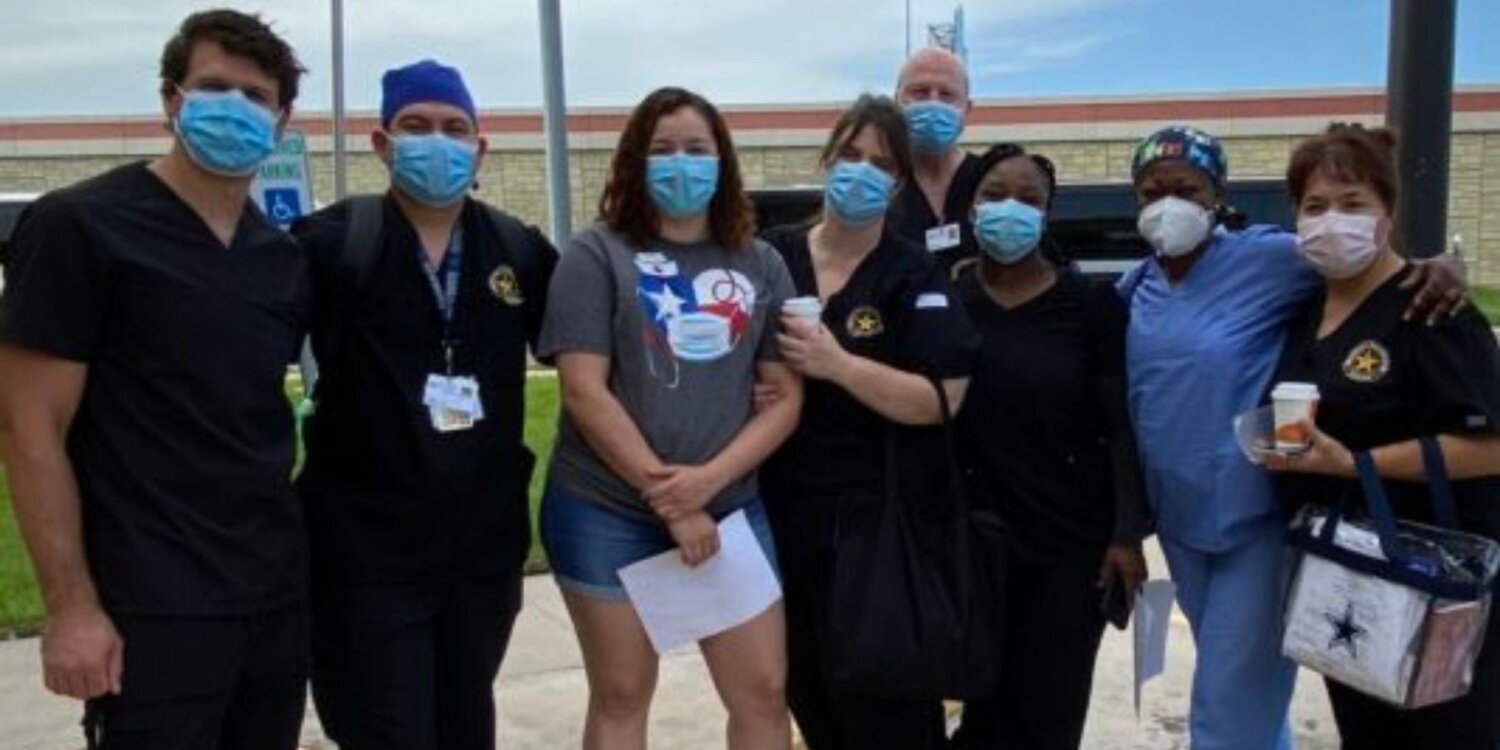 ---
From helping research a possible vaccine to traveling across the country to help in overflowing hospitals, Newman University alumni have been highly involved in helping with pandemic efforts.
Newman alumni across the globe have used their knowledge, skill and expertise to aid in the fight against the COVID-19 virus.
Aiding in research
Newman University alumnus Tony Schountz, Ph.D., associate professor at Colorado State University (CSU), has spent many years studying immune responses of bats to bat-borne human pathogenic viruses. When the COVID-19 pandemic began, Schountz used his expertise to help with COVID-19 research.
In his current role at CSU, he is teaching an undergraduate virology course and a graduate course on immunity to infectious diseases. Though his teaching keeps him busy, Schountz was eager to help with possible vaccine research.
Schountz aided in testing a number of drug candidates for antiviral activities and therapeutic antibodies.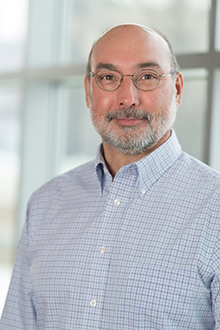 Schountz said his interest was in understanding the relationship of bats and the virus.
"We have a colony of fruit bats and, as expected, they do not get disease when infected with the virus," he said. "We are examining their responses to the virus using both conventional virological and immunological methods, as well as new technologies that can examine the entire genetic response to infection."
Schountz has performed many previous studies and lab research around MERS-CoV, which is part of the large family of coronaviruses and is related to COVID-19.
"The most important part of the MERS-CoV project that helped us was that it gave us an opportunity to get familiar with a highly pathogenic coronavirus in the laboratory as well as in bats. That work allowed us to segue with very little effort once we received SARS-CoV-2."
And now that research is helping with a multitude of studies done to find a vaccine for COVID-19.
"I am interested in learning how bats can serve as reservoir hosts of really meaningful human pathogens, such as Ebola virus and SARS-CoV-2, the virus that causes COVID-19, without having disease."
He added that a bat's immune system is unique compared to other mammals, including humans.
"I believe these unusual features have shaped their viruses to be more pathogenic in humans."
Working the front lines
Newman University is known for its rigorous science programs. Nursing and allied health along with biology, chemistry and other science majors are some of the most popular at the university.
This past year, hundreds of graduates from these programs were playing an active role in fighting COVID-19 whether it be in hospitals, clinics or nursing homes.
Rob Winegrad '13 has been working as a respiratory therapist for nearly seven years now. He is currently employed at Ascension Via Christi in Wichita, Kansas, which is where he learned about an opportunity to help his field colleagues from another city in the fight against the COVID-19 pandemic.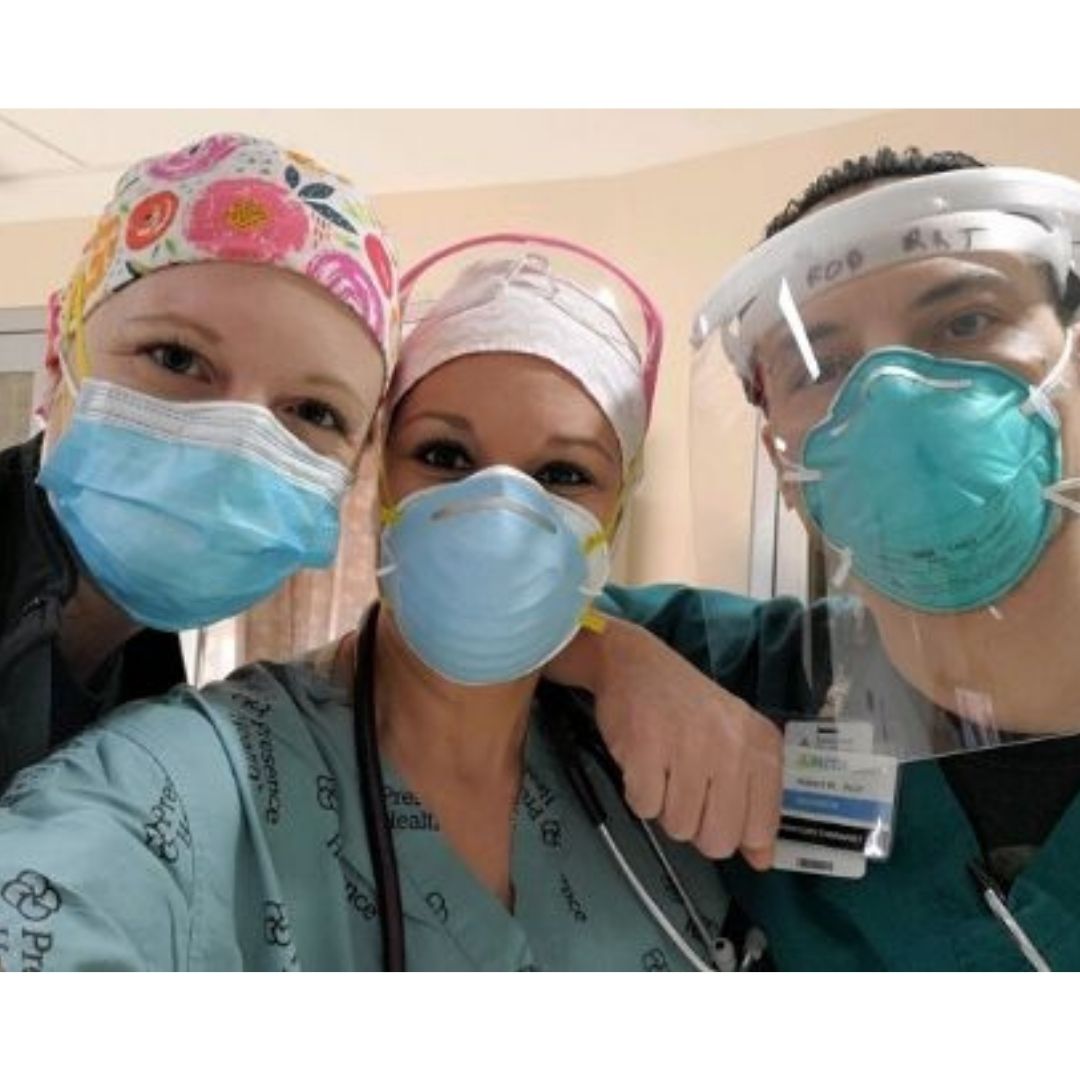 Winegrad left for Chicago on April 22, 2020 and returned the following month. His main goal was to simply help out in a time of need.
For many of the nation's health care community, this is what they spent so many years in school and extra certification education hours training for. A chance to make a difference during a time when every person in every part of the world is going through the same experience at the same time.
Winegrad said this was an opportunity for him to make an impact on this disease. He worked at a hospital in Des Plaines, Illinois, which is a suburb of Chicago.
"The facility I worked at is a long-term acute care hospital with very ill patients. Essentially, the most vulnerable of the patient population as they all have multiple health issues," he said.
Respiratory therapists certainly help make up the front line of the fight against COVID-19. Their cardiopulmonary care training equips them with the knowledge and skill necessary to help patients during the critical hours of their illness.
"I enjoy my work, and I enjoy helping people. Helping colleagues and providing the best care I can for this vulnerable patient population," he said.
May 2020 nursing graduate Salma Rios was also eager to help when the pandemic hit.
After graduating and passing her National Council Licensure Examination in June, Rios stepped into a full-time night shift nurse role in the COVID-19 intensive care unit (ICU) at Ascension Via Christi St. Francis.
During her shifts in the ICU, Rios dawned scrubs, a hospital gown, gloves, an N95 mask topped with a standard mask, eye goggles, a face shield and a hair cap topped with another cap for the entirety of her 12-hour night shifts.
Starting a nursing career in the middle of a worldwide pandemic wasn't as smooth of an adjustment into her career as she'd hoped. She knew immediately that there was no way to go about it other than to just jump in and work.
"Being a new grad with a new pandemic, it's just a big slap of reality," exclaimed Rios. "These patients are very sick. In the medical ICU, as a tech, I saw some sick patients but nothing compared to what it's like having one COVID patient. There is just so much going on with them."
Her first week as a nurse was also the first week the hospital converted its medical ICU into its COVID ICU.
Roz Hutchinson, Ascension Via Christi director of communications and public relations, said the ICU transition was necessary due to growing rates of COVID hospitalizations.
"You don't want to mix patients when you're dealing with an infectious disease. There are a whole different set of protocols when you're dealing with a pandemic."
Hutchinson said Rios has done an amazing job helping patients, referring to her as a "rock star" in the unit.
"She was in the ICU last year, but this year, the average number of deaths in that unit is much higher and the frequency that she's dealing with end-of-life issues has greatly increased."
Hutchinson said when nurses enter that unit, there's no getting a drink or going to the bathroom, until you leave that unit for a break. Typically, that's about every four or five hours and during that time, they are dressed in full PPE (personal protection equipment).
"That's a lot to deal with, both physically and emotionally. And to see Rios, a brand new nurse who handles it with such poise and assurance, it says a lot about her as a person and a lot about her training."
Rios said she just takes one day at a time, following the guidelines and suggestions they receive from the Centers for Disease Control and Prevention, the Sedgwick County Health Department and the hundreds of doctors and nurses in and beyond the state of Kansas who share newly learned information.
Because COVID-19 is such a new phenomenon, they are learning something new about treatment and care every week, even daily.
The work environment and the staff she works with act as a system of support.
"We are fatigued and exhausted, physically, mentally and emotionally," said Rios. "Even seasoned nurses are struggling. But the positivity is high, we are helping each other out, giving each other breaks as often as we can."
That positivity is what keeps her going. As COVID cases come and go in waves, she and her colleagues rely on their training and experience to work on the front lines and do what they can to save as many lives as possible.
Rios said her education at Newman was very helpful, especially in the first months as a certified nurse.
"It really goes back to the fundamentals, and that first year of the program. Those basic things — talking to families and patients, being sterile, practicing skills — much of what we learned in year one is what I've applied."
At the end of the day, Rios said keeping a positive attitude is the best everyone can do.
"It's a good day at work when someone doesn't pass away," she said. "That's the environment right now. Sometimes we are hurting with them. Being able to communicate, being straightforward and giving them a real image, you have to find that balance."
Her co-workers and supervisor act as a sounding board when needed, and they often debrief at the end of each shift, talking with one another to release some of the stress and heaviness they feel on a daily basis.
"Just keeping that positive attitude and being positive about everything at work and everything overall in life," she said. "You just have to be positive at the end of the day and do what you think is best. If you're not positive at work, if you come in with a black cloud, that doesn't do anyone any good."
Amy Aguirre, a student in the Master of Science in nurse anesthesia program, stayed positive by turning to her faith while fighting on the front lines.
When the pandemic hit, Aguirre signed up to work as a crisis ICU nurse in the COVID-19 unit at Valley Baptist Medical Center in Harlingen, Texas.
Aguirre has several years of medical, cardiac, surgical and trauma ICU nursing experience and currently works as a flight nurse for Apollo MedFlight based out of Amarillo, Texas.
Aguirre felt called to do something for others during the COVID-19 pandemic and she had been following a Facebook page that was asking for nurses to deploy to New York City during its virus spike.
That's where she learned of the opportunity in Texas to help in a critical time. She spoke to her manager and received permission to take a leave of absence in order to take the opportunity.
She made the tough decision to leave her husband and son behind as she spent three weeks at Valley Baptist caring for patients with COVID-19. She went from feeling excited and somewhat nervous to experiencing feelings of sadness and strong compassion.
"I worked in a 500-bed hospital that contained approximately seven ICUs while I was there," said Aguirre. "I watched four of my patients lose their battle with the virus during my time there and that weighs heavily on my heart. But something I will take away from this is a stronger faith and prayer life."
Aguirre said she was surrounded by prayer all the time. She sat with family members and prayed — even daily with one patient's family. She often heard the hospital chaplain praying overhead on the intercom. And she was humbled by all the prayers being said for her and the other nurses.
"In the end, I have to rely on my faith and show as much compassion for those around me. It's out of my hands and in God's. There is only so much I can do before I give it to God. I have learned to always pray about everything, no matter how big or small."
Aguirre said the experience will be something she carries with her for a lifetime.
"It was definitely a rewarding and overall positive experience. Especially as my last days as a bedside nurse. I helped a patient fight coronavirus and now I'm almost certain they will be able to return home to their child.
"So many families showed their appreciation to me and complimented my ability to break things down to them and explain everything in a caring manner. So many families have prayed for me to be blessed wherever I go and honestly that's more meaningful to me than any amount of money I may have earned while there."
Experiencing COVID-19
Though the Newman community COVID-19 numbers stayed relatively low throughout the year, a few students, staff and faculty still found themselves testing positive for COVID-19.
Teresa Wilkerson, professor and assistant dean of the School of Business, shared her COVID-19 experience publicly with her friends, family and the Newman community, referring to it as a 12-day crazy video game of 'Jumanji' – COVID-19 version.
She said, "Remember the fantasy movie and subsequent video game 'Jumanji,' where the sole purpose is not simply to play it but survive it? That is the best description I can think of that describes what having COVID-19 was like for me. Over the years, I have had a typical cold, influenza, pneumonia, etc., but never have I ever experienced any type of virus that is so unpredictable in nature while it ran its course through my body nor differed in such extreme symptoms."
She recognized the seriousness of the illness but said it helped her to approach the situation with humor in order to stay positive and mentally focused. Find the full account of her illness here.
Wilkerson's symptoms began as a slight cough and some head congestion and ranged from chills and hot flashes to losing her sense of taste.
"After going through this, I'm most grateful to God that my family members — yes, we all had it — and I have been extremely blessed to have experienced this without hospitalization or anything more than a short dose of steroids and some over-the-counter medicines. But for too many people, COVID-19 has ended in a very unfortunate outcome."
Life at Newman
Daily life has changed across the globe since the COVID-19 pandemic hit and college life is most definitely not the same as it has been in years past.
Some of the more prominent changes on campus include the requirement for all individuals to wear masks and stay physically distant from one another. Classroom capacity has shrunk in order to adhere to CDC guidelines about physically distancing. Courses are being offered mostly online and in hybrid, online and in-person, formats.
Residence life has also seen some big changes, making all rooms single-occupant and waiving the requirement for freshmen, sophomores and some scholarship students to live on campus.
The Department of Athletics has had to adjust to hundreds of schedule changes, cancellations of games and even cancellations or postponements of entire seasons. Many teams simply moved their fall 2020 season to start in the spring of 2021 in hopes that the virus would be under control enough to allow them to play. Most teams are currently enjoying competing again.
The athletics department was required to put a cap on the number of fans attending the games as well.
Events around campus are few and far between but student life and other organizations have gone to great lengths to keep Jet spirit alive and student mental health a top priority.
One of the largest and most recent student events that saw change was the homecoming ceremony. With limited fans allowed at the games, student life held a watch party and the homecoming games and ceremony were live-streamed to the student center. The candidates walked in individually and the king and queen were crowned where they stood.
As for other campus events, the annual Party on the Plaza was canceled along with the Gladiator Dash. The Jet Open was held with COVID-19 precautions in place and Giving Day was held Feb. 25 and was a great opportunity for the Newman community to connect with the campus either virtually or in-person throughout the day.
Newman recently announced plans to hold the commencement ceremony in-person, an event students are looking forward to.
Everyone is desperate to regain some normalcy and with the distribution of the vaccine, there is hope that may be in the near future.