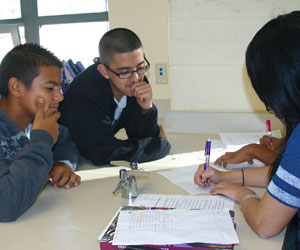 One of the goals of the Newman University Strategic Plan is to establish partnerships with organizations and businesses that will benefit existing students, help make the university more accessible to prospective students, and create programs that meet the needs of both.
Partnerships are especially important in today's increasingly complex and interconnected world. They enhance the well-being of the university and our students in many ways. By increasing our involvement with members of the community, partnerships can make Newman stronger. They also make it possible for the university to offer new programs for students, and discover new opportunities for growth and success.
From making agreements with public schools and colleges to help students better prepare for careers, to joining forces with area dioceses and health care providers to create academic programs that benefit their employees and the broader community, partnerships just make good sense.  A look at a few current partnerships shows why.
Articulation agreements
Over the past two years, Newman has developed partnerships with area community colleges to help prepare students in two-year institutions who want to finish a four-year degree at Newman. The partnerships center on articulation agreements, which help students transfer more hours and eliminate duplicating classes by identifying the specific courses in two-year schools that will be accepted as equivalent to Newman courses.
Newman currently has articulation agreements with 10 community colleges. Based on the agreement and the major, students can transfer from 62 to 74 credit hours to Newman.
"Enrollment at community colleges is growing faster than any other type of higher education institution, mostly because of cost," said Newman Provost and Vice President for Academic Affairs Michael Austin, Ph.D. "Students go to a two-year college to get an associate's degree then transfer to a four-year to finish. We can't ignore this. It's best to partner with community colleges to make it easier and more attractive for their students to come to Newman. And, the community colleges want to work with us."
Public school initiatives
In a partnership with the Wichita Public Schools that will begin next fall, Newman and the school system will offer scholarships to qualifying high school students in the Advancement Via Individual Determination (AVID) program who are interested in pursuing careers in education.
AVID is a national program designed primarily for minority and least-served students who are "in the middle" scholastically. Students are enrolled in Honors and AP courses and provided the academic and social support to help them succeed. Under the "AVID Future Teacher Scholarship Program," AVID students will receive a $3,000 scholarship per year from Newman University, and some will receive an additional $1,650 scholarship per year from the school system, to earn their teaching degrees at Newman. In turn, students will help in the AVID tutoring program for 60 hours per academic year, and those who receive a school district scholarship will agree to teach one year in the district for each year they receive tuition assistance.
Newman Dean of Admissions John Clayton said Newman and the AVID programs in public schools have worked together over the past year to help students expand their awareness of private higher education. He has already seen a positive response to the future teacher program – as of mid-March, six students had been interviewed for acceptance into the program.
Partnerships with Wichita Diocese help future teachers
A partnership with the Catholic Diocese of Wichita and the Catholic schools system has resulted in several programs to benefit college and high school students.
The diocese and Newman jointly cover two-thirds of the tuition for students in the master of education building leadership program who are employed by a diocese school, while the diocese pays full tuition for diocese school employees in the ESL endorsement program. The diocese also helped Newman's new graduate theology program off to a strong start last fall by awarding 30 full scholarships from the diocese's St. Maria De Mattias Endowment.
The Newman School of Education also recently collaborated with the diocese's Catholic school system to create the Tom Seiler Teacher Academy at Bishop Carroll Catholic High School. The program is named for a 1976 Newman graduate and popular Bishop Carroll physics teacher who died in 1997 of cystic fibrosis. It is designed to help senior students explore teaching as a vocation while they receive a college credit.
Each week, students visit Catholic grade school classrooms to observe different teachers at work and help with various tasks, including tutoring students. Academy students also do research projects, build a portfolio and attend an education course at Newman.
School of Education Director Steven E Dunn, Ed.D. said the semester-long program was launched this fall and currently has eight students who have a strong interest in education as a career.
He added that based on the success of the program, the School of Education is looking at expanding it to other schools in Wichita next year.
St. Gianna Academy
The Tom Seiler Academy was modeled after another collaborative effort that included Newman, the Catholic school system and Via Christi Health – the St. Gianna Catholic Healthcare Academy. This program, founded in 2002, offers qualifying seniors from Bishop Carroll and Kapaun Mt. Carmel Catholic High School an in-depth look at all types of health care careers.
In the program, students spend half of each school day at a hospital, working on the medical floors or completing projects and studying in a computer classroom. Students are introduced to 15 clinical areas including the lab, pharmacy, surgery and the ER, and are partnered with doctors, nurses, pharmacists and other health care professionals, who work as mentors as students observe actual medical procedures during daily operations.
Students earn high school and college credit during the program, and are eligible for scholarships from Newman and Via Christi if they pursue a health care career. The health academy was the first hospital-based high school program of its type in the nation, and accepts only 25 students each year. A total of 294 students have graduated from the program since its inception.
In addition to helping students determine their career interests, the program helps Via Christi Health attract graduates to meet the growing demand for skilled health care professionals. A survey of academy students before and after the spring 2004 semester showed students' interest in pursuing a health care career increased from 60 percent to 96 percent – with 78 percent planning to work at Via Christi. The percentage of students who planned to attend Newman University also increased.
Many academy graduates have earned their degrees at Newman and now work at Via Christi in respiratory therapy, radiologic technology, patient care, the pharmacy and other areas. One is Sofia Jaramillo, a first-generation college graduate who received the 2008 St. Catherine of Siena New to Nursing Award from Via Christi Health.
Jaramillo, who was in the first St. Gianna Academy class, earned a nursing degree at Newman in December 2006. She is now a registered nurse in the Medical Intensive Care Unit (MICU) at Via Christi Hospital, 929 N. St. Francis, and is pursuing a master's degree to become a nurse practitioner.
Jaramillo said she always had an interest in medicine, but wasn't sure what field she wanted to pursue. Gaining a realistic look at health care while in high school helped her decide on a nursing career and focus her efforts in college, she said.
Her experience at St. Gianna also helped open doors professionally. She was hired by Via Christi immediately after high school as a unit clerk in the MICU, and soon moved up to other positions as she completed her degree.
Jaramillo said she likes most every aspect of her job as a nurse, and that her training through St. Gianna and Newman provided her with a good perspective on her job.
"At Newman we were taught to look at patients differently," she said. "People can get very involved in the tasks of nursing. At Newman, it's about the person. We were taught, it's not just the patient in Room 20, it's the whole person."
Via Christi Health assists in new RN-to-BSN program
Over the past year, Via Christi Health and the Newman School of Nursing and Allied Health have worked together to develop an innovative new RN-to-BSN program. The program, designed for registered nurses with an associate's degree to earn a bachelor's degree, will begin in the fall 2010 semester.
The new program will be delivered almost completely online, with just a few instances where students may be on campus or at a health care agency for clinical experiences. Students will do coursework via modules, which include taped lectures, video presentations, discussion boards, Web-based group interactions and other media-rich features using technology developed for the master's in theology programs (see Fall 2009 Challenge). This format allows students to do coursework at a convenient time, completing the program as they continue to work. It also makes it possible for RNs who live in rural areas where a four-year program is not available to earn a BSN degree.
To help develop the curriculum for the new program, Via Christi Health "loaned" the services of Advanced Registered Nurse Practitioner Carol O'Mara, DNP to Newman for 16 hours a week. O'Mara has been a clinical instructor in several nursing programs, and currently works in the Emergency Departments at the two Via Christi Hospitals in Wichita.
"I think this can be a big win-win," said Director of the School of Nursing and Allied Health Bernadette Fetterolf, Ph.D. "Via Christi has a number of associate degree prepared RNs, so this could be a good way for them to develop more highly skilled employees, and we get the benefit of Via Christi's expertise in developing this program."
"Via Christi is very supportive of RNs continuing their education and completing the BSN degree," said O'Mara, who will also teach when the program begins this fall. "We highly encourage it, so they can gain in their knowledge and go on to higher levels in their career."
Fetterolf said the program will be offered at a reduced tuition as one of Newman's Career Advantage Programs. In addition, the RN-to-BSN curriculum is especially geared to practicing RNs. The courses are designed to incorporate the interests and needs of nurses in practice and to allow them some flexibility in meeting their own profession goals.
Fetterolf noted that Newman and Via Christi have collaborated for many years. The Newman nursing program grew out of the diploma awarding School of Nursing at St. Francis Hospital, now part of Via Christi Health. Via Christi also provides a wide variety of clinical sites for Newman students.
"Via Christi has always been a good partner," Fetterolf said. "We are both Catholic institutions, so we have common bonds and common values. This program will continue that partnership, and should draw many professional, career adult students to Newman."
O'Mara agrees.
"I've seen a lot of employee interest," she said. "People in my department maybe hadn't considered getting a BSN before, but now they can see it's very possible."
Tags:
Advancement Via Individual Determination
,
AVID
,
AVID Future Teacher Scholarship Program
,
Bernadette Fetterolf
,
Bishop Carroll Catholic High School
,
Carol O'Mara
,
Catholic Diocese of Wichita
,
John Clayton
,
Kapaun Mt. Carmel Catholic High School
,
Michael Austin
,
RN-to-BSN
,
Sofia Jaramillo
,
St. Catherine of Siena New to Nursing Award
,
St. Gianna Catholic Healthcare Academy
,
St. Maria De Mattias Endowment
,
Steven E. Dunn
,
Tom Seiler Teacher Academy
,
Via Christi Health
,
Wichita Public Schools