Paul and Bettie Eck, and Teresa Hall Bartels will be recognized with a Doctor of Humane Letters, honoris causa during the Fall 2010 Commencement ceremony Dec. 11. The university bestows the honorary degrees upon notable and accomplished members of the extended Newman community based on exemplary dedication to one of the university's four Core Values: Catholic Identity, Culture of Service, Academic Excellence, and Global Perspective.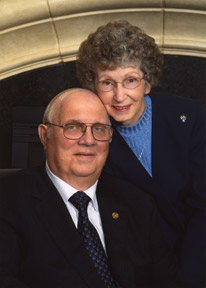 Paul and Bettie Eck were selected as models of Catholic Identity for their long history of service to and philanthropic support of the Church, the Wichita community, and Catholic education at Newman University. The Ecks are active parishioners and have served on many church committees over the years, first as members of the St. Francis of Assisi Parish and continuing today as members of St. Catherine of Siena Parish. Their generosity and volunteerism have touched Catholic Charities of Wichita, the Anthony Family Shelter, the Totus Tuus Catholic youth program and other institutions. They are longtime and very active members and supporters of the Wichita Serra Club – Metro, and are currently Honorary Committee Members for "TOGETHER Vision" for the Diocese of Wichita. Both Paul and Bettie have provided strong support to Newman University over many years through contributions to several capital campaigns and other gifts. Their grandchildren Jacob, Katy and Luke are current students at Newman.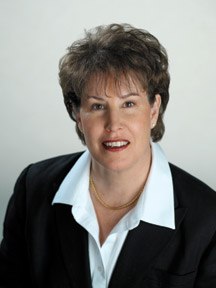 Over three decades, Bartels has lived the concept of Global Perspective through her work to bring the Newman mission and values to people around the world. Former president and CEO of United Way International, Bartels came to Sacred Heart College in the 1970s, and soon developed strong business and leadership skills, serving as sophomore class president and helping draft the student government constitution. Since the mid-1970s Bartels worked for the United Way in a variety of positions at the local, national and international level. During her time as president, she was responsible for the global network of United Way nonprofit member organizations spanning six continents, which served communities in 46 countries and territories. Through her guidance, more than $800 million was raised annually to strengthen communities and improve lives around the world. Bartels left the organization in July 2010. She is married to Charles Bartels, is the mother of five grown sons, and has served on numerous boards and committees including a Newman capital campaign.
Tags:
Academic Excellence
,
Bettie Eck
,
Catholic
,
Catholic Charities of Wichita
,
Catholic Church
,
Catholic Diocese of Wichita
,
Catholic Identity
,
CEO of United Way International
,
Charles Bartels
,
Commencement
,
Core Values
,
Culture of Service
,
Doctor of Humane Letters
,
Fall 2010
,
Global Perspective
,
Honorary Committee
,
honoris causa
,
Paul Eck
,
Sacred Heart College
,
St. Anthony Family Shelter
,
St. Catherine of Siena Parish
,
St. Francis of Assisi Parish
,
Teresa Hall Bartels
,
Together Vision
,
Totus Tuus Catholic Youth program
,
United Way
,
United Way International
,
Wichita
,
Wichita Serra Club