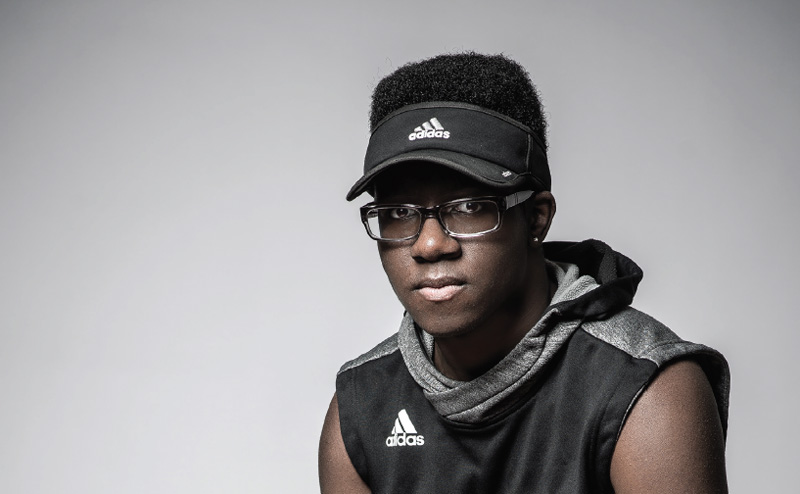 Student Jacob Isaacson is pursuing his passions while gaining experiences in photography, athletics and music along the way
Jacob Isaacson sums up his experience at Newman in one word — "amazing."
Isaacson is a sophomore in pursuit of his art degree as well as a concentration in photography and graphic design.
He is involved in the Newman Chorale, Troubadours and is a member of the Black Student Union (BSU) on campus. He is also a manager for the men's basketball team and loves every single minute of it, he said.
"Our job is to attend every single practice, do whatever the coaches say and usually get items for them during the games and at practices," he explained. "I also take care of all the players' laundry. As the managing staff, we are here to make the players' and coaches' jobs easier — both on the road and at home." 
Isaacson's favorite aspects of working with the team include spending time with the players and coaches, getting to know each of them and having a blast in the process, he said.
Sophomore Liz Leep also manages the men's basketball team. She said she believes that Isaacson does not get enough credit for all that he does.
"No matter what Jacob has going on, he drops it to help me with tasks that need to be done for the team," Leep said.
"He is always doing something related to work, school or basketball. Although he is always busy, that doesn't mean that he is anything short of being his outgoing, energetic self, and I know that I am not the only one who can account for that."
She added, "Honestly, my working experience with Jacob has been one of the best experiences that I have had at Newman."
Part of managing the basketball team means occasionally packing up and traveling to games outside of the Wichita area, most of which take place in Texas, Isaacson said. 
Out of all the regions he has traveled to side-by-side with the men's basketball team, Isaacson said his favorite city is Lubbock, Texas.
"When we went last year, there was this place called Cane's Chicken," he said. "I'd never had it before, but it was the best chicken I have ever eaten. So that's what I remember about Lubbock — they have some really nice chicken."
Isaacson also possesses a passion for photography. Isaacson uploaded some of his work onto his Facebook page, and it was spotted by an athletics staff member just three days into the start of his freshman year. He was quickly offered a job as an official photographer for the Newman University Athletics Department.
"I went to a soccer practice because it was just directly across from Carrocci Hall, and I took some photos while I was there," Isaacson said. "Later, I posted them online, and David Rung contacted me the next day."
Rung, the sports information director at Newman, described Isaacson as an "incredibly talented photographer."
"I'm very lucky that he showed an interest early in working for our department because he provides a quality that you aren't often able to find in student workers," Rung said. "My only trouble is trying to find time to fit our events into his busy schedule."
Most of Isaacson's photos consist of athletes and sports, however he also takes photos for seniors, couples, friends, families, maternity and weddings.
"My goal is to get better at taking sports portraits because that is what I want to do in life," Isaacson said. "I want to be a sports editor and graphic designer for either a high school team, college team or — thinking big — a professional basketball or other sports team."
Isaacson plans to graduate from Newman with his bachelor's degree in art and hopes to pursue an internship at either the University of Kansas or Kansas State University in the athletics department. He would like to be a member of a graphic design team and incorporate his work into athletics, he said.
"I think the professors at Newman have challenged me to grow," Isaacson said. "High school was a breeze for me, but looking back I was really lazy compared to (how I am) now. But here, my professors really keep me on track to getting good grades. That's one thing I really like about Newman — I can go in after class and talk to my professors one-on-one."
Isaacson said that Laura Scholl, the assistant professor of graphic design and digital art, is one professor who pushes him to reach his full potential as an art student. Even though her class material may be challenging at times, he said, he knows that the time he invests in his work now will be worth it in the end.
Scholl said, "Jacob is a happy, outgoing student. I have had him in Design 1, Design 2, Typography and now Layout and Production. I am looking forward to seeing how he puts it all together."
When Isaacson isn't taking photos or traveling with the basketball team, he enjoys singing in his free time. 
He recently played the characters of Lyle, Cowboy Bob, Garvin and Boy #1 in the Newman University music and theater department fall production of "Footloose." 
"Most of the people in choir were in it," Isaacson said. "I really liked the family atmosphere. I had never experienced anything like that."
Up until this semester, Isaacson was not involved with the Newman Chorale or Troubadours group. But after taking a musical theater class with Music Department director Deanne Zogleman, he kept an open mind about joining, he said.
After his experience in the musical, Isaacson knew he had to enroll in Chorale. He also heard about an opening in Troubadours and decided to audition. Isaacson is now an official and proud member of the Chorale and 'Troubs' family, he said.
"When I first got here, I didn't think my experience was going to be as good as it has been," Isaacson said. "But I have loved it from the very beginning. Everyone here is really nice and helpful."
Isaacson's most recent photo project happened during the month of February. He was taking photos of friend and fellow sophomore Charles DeVorce when the idea for a Black History Month series emerged. DeVorce told Isaacson he should consider taking photos of other black students on campus as part of celebrating Black History Month, and Isaacson was so impressed with the idea that he decided to go for it, he said. 
"A friend and mentor of mine, Booker Roy, let me borrow his flash equipment and backdrop to set up in my living room in Beata," Isaacson said. "It took about a month to finish the project because it was hard to get all the people in with their schedules and mine, but we did it.
"Because Charles was my guinea pig for (learning how to use) flash, he was the first person I posted a photo of on my Snapchat story with the tag #blackhistorymonth. (Junior) Yemima Buana saw my post and asked if she could be the second person, and I was all for it. After that, I just started asking a bunch of people I knew on campus."
Isaacson said his goal with this project was to spread awareness about Black History Month and to celebrate the reasons behind it.
He received help from sophomore Kayla Victor, who recruited participants for the project. As Isaacson continually posted photos of student models on Facebook, Twitter and Instagram, he received positive feedback both online and off. 
"I was walking across the gym one day and Destiny Clark, the women's volleyball coach, told me, 'What you are doing is really amazing, I like the photos.' I had some of her players participate, too. But the fact that I got a compliment from her was amazing. Destiny Clark saw my work? Oh my God!" he said with a laugh. 
This is the first series Isaacson has done of its kind, but he hopes to make this an annual project, he said. Next year, he hopes to complete a similar series for Women's History Month in March and National Hispanic Heritage Month in September. 
Isaacson offers a piece of advice to students who are looking to get the most out of their college experience:
"What I was told coming into college was to have fun, which is a really a big key to college. But I'd also say to be yourself and don't let anyone else determine what or who you can be, because that's really important.
"Just be yourself."
To see some of Isaacson's photography, visit his Instagram page, @Isaacson_Photography or his Twitter page,
 @jisaac_2016.