Pioneering graduate of Sacred Heart College returns to campus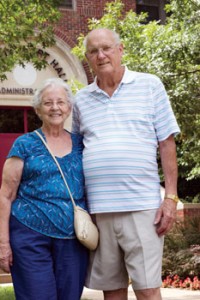 Colene (Duesing) Kruse is a proud member of the Sacred Heart College Class of '54.
While there are others who can make that claim, Kruse is a bit unique among her classmates.
For one thing, Kruse was the only lay person in the class of seven, the other six being sisters of the Adorers of the Blood of Christ.
For another, Kruse was the first female lay person to earn a four-year degree from the college.
While that makes her one-of-a-kind in some respects, Kruse said she never felt she was different during her time at Sacred Heart.
"I didn't think anything of it," Kruse said. "You didn't get treated differently."
Kruse, who left Wichita shortly after graduating, returned for the first time last fall. During her stay in the city, she made a visit to the campus she knew as Sacred Heart College – and was impressed with the growth and changes throughout campus.
"The campus is very different since I was there," Kruse said.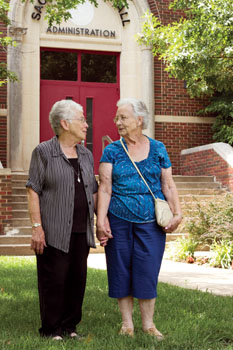 During her visit, Kruse also had the chance to reconnect with one of her classmates, Professor Emerita (History) and former Newman President Tarcisia Roths, ASC.
"It was good to see her," said Roths, who was contacted when Kruse arrived and came to campus to see her. "I was happy they let me know she was here so we could visit."
Kruse almost didn't come to Sacred Heart College. The youngest of eight children from Spearville, Kan., Kruse attended her freshman year at Loretto Heights College – now Colorado Heights University – in Denver. She soon realized, however, that she preferred to be closer to home, and joined one of her sisters, who attended Sacred Heart.
Kruse was also the first student to earn a bachelor of arts degree in music education from Sacred Heart College. She began her career as a music teacher in Andale, Kan., and often traveled to other small towns for music concerts. She also taught in Colwich, Kan., Tulsa, Okla., and Ogden, Utah, before moving to Salinas, Calif., in 1969 with her husband, Ervin F. Kruse.
In Salinas, Kruse stopped teaching and with her husband launched a job placement agency, Snelling and Snelling Kruse Agency, Inc. She currently lives in Stockton, Calif. She and her husband have three children and six grandchildren, and will be celebrating their 59th wedding anniversary in June 2015.