'Party on the Plaza – Oktoberfest' draws 500 in support of Newman University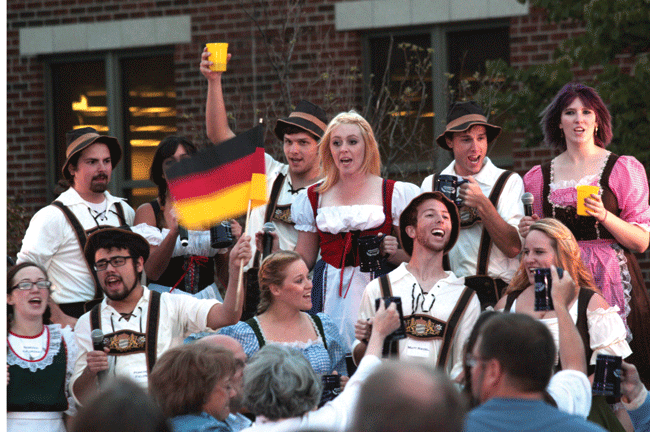 It was beer, braten and Black Forest cake for the 500 people who gathered on Founders Plaza Sept. 22 for Newman University's annual fundraising bash – "Party on the Plaza – Oktoberfest."
The event, which is the university's largest single fundraiser of the year, raised more than $100,000 to help support student scholarships. This year's party again featured a Bavarian theme complete with authentic German food, drink and music. Following a 4:30 p.m. Mass at St. John's Chapel, the event kicked off with a ceremonial "tapping of the keg" and the opening of a silent auction featuring scores of donated items.
The event also featured a German dinner of sauerbraten (marinated beef), Cornish game hen and several side dishes, and a choice of Black Forest cake or apple strudel. The night was capped by a live auction featuring such items as a big-screen TV, Carrie Underwood concert tickets, and authentic, home-style Italian dinners prepared by Newman President Noreen M. Carrocci, Ph.D.
"We were very happy with the turnout, and the enthusiastic response to the auctions," Carrocci said. "It was a great event that just gets better every year. I thank everyone – our sponsors, guests, students and Newman faculty and staff – for making it all possible."
Party on the Plaza – Oktoberfest 2013
[youtube width="560″ height="315″]https://www.youtube.com/watch?v=_WvhRRmsiUM&list=UUVWfpXIx4F2UYxgduNjm6WQ&index=3&feature=plpp_video[/youtube]
.
.