Dear Alumni and Friends,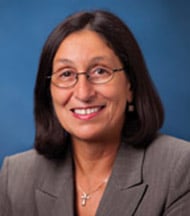 When Sacred Heart Junior College opened in 1933, the institution did not offer individual academic majors or award specific degrees. Instead, the college offered a general studies, vocational-oriented education. All students followed a standard curriculum, and after earning 60 credit hours they graduated with an associate's degree that allowed them to teach or seek a four-year degree at another institution.
From the very first semester, science was a part of every student's education. Our founding order the Adorers of the Blood of Christ, in conjunction with our first President Monsignor Leon McNeill, recognized that science was a key factor in creating a "cultured woman," the outcome our founders desired.
The first science class to be offered was botany. It didn't take long, however, for other science classes and programs to emerge – pre-medical technology, pre-nursing and chemistry. Over the years, programs in the sciences and health sciences grew, propelling the college forward until today Newman University offers a wide array of degree programs in science, nursing and allied health.
As we continue our celebration of the 80th anniversary of our founding, we look in this issue of Newman University Magazine at the important role science and health science education has played in the development of Newman, and at some of the individuals who
were essential to that growth. Their efforts, as well as many others who followed, have helped make Newman University what it is today: a highly respected source of science, health professions and technological education in the region.
Thank you for your interest and support. We are blessed with a rich history and very promising future. Stay tuned!
With gratitude,
Noreen M. Carrocci, Ph.D.
Tags:
80th Anniversary
,
Adorers of the Blood of Christ
,
Newman University
,
Noreen Carrocci