Rawson brings experience, passion to job as new volleyball coach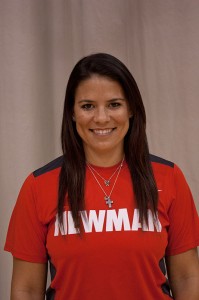 Natalie Rawson's passion for volleyball and love of coaching are apparent to anyone who sees her in action – perhaps because those characteristics are most important to Rawson herself.
Though she achieved success as a volleyball player at Colgate University in Hamilton, N.Y., she spent a few years after graduation in jobs like management and marketing. When she got a brief taste of coaching, however, she learned a simple truth about herself:
"Life is not the same without college athletics," she said. "This is what I'm supposed to do."
Rawson, now in her first season as head volleyball coach at Newman, began as an assistant coach at Marshalltown Community College in Iowa. She then worked as an assistant and later interim head coach at the University of Louisiana-Monroe before spending three years in Wichita Falls, Texas, as an assistant at Midwestern State University. During that time she founded the Zone-In Volleyball Program (ZIVA), a competitive volleyball club in Wichita Falls.
Rawson believes her cumulative coaching experiences are valuable to her head coaching at Newman.
"Being an assistant for six years, I have a closer relationship with players," she said. "I won't lose sight of my players and what they're going through."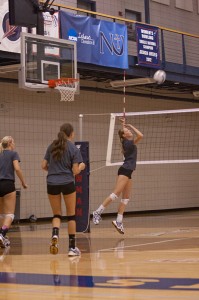 Rawson is close to her players for another reason: She recruited most of them. Of the 16-member team, 13 of the women are playing as Jets for the first time. With such a new team, Rawson sees her first season at Newman as a chance to essentially start from scratch.
"It's brand-new," she said. "The players get to decide what Newman volleyball means. They get to set the tone.
Rawson added that having so many new players creates some uncertainty, but it can also work in the team's favor.
"The talent that we have is really strong," Rawson said. "Being that everybody's new and I'm new, you're going to have to work for stuff. I think that's a great thing for a team."
Rawson's confidence in her young team is matched by Newman Athletic Director Vic Trilli's confidence in Rawson.
"Natalie brings an undeniable passion for volleyball and brings a contagious energy to coaching," Trilli said. "I am excited to see what she can do for the Newman volleyball program."
While "excited" seems to be the word surrounding Rawson and this year's volleyball team at Newman, there is another word that is important to her.
"I'm grateful," she said, before the excitement crept back into her voice, "Grateful for the opportunity to be here, and excited to gain the support of Newman students."
Tags:
athletics
,
Colgate University
,
Natalie Rawson
,
Newman University
,
Volleyball