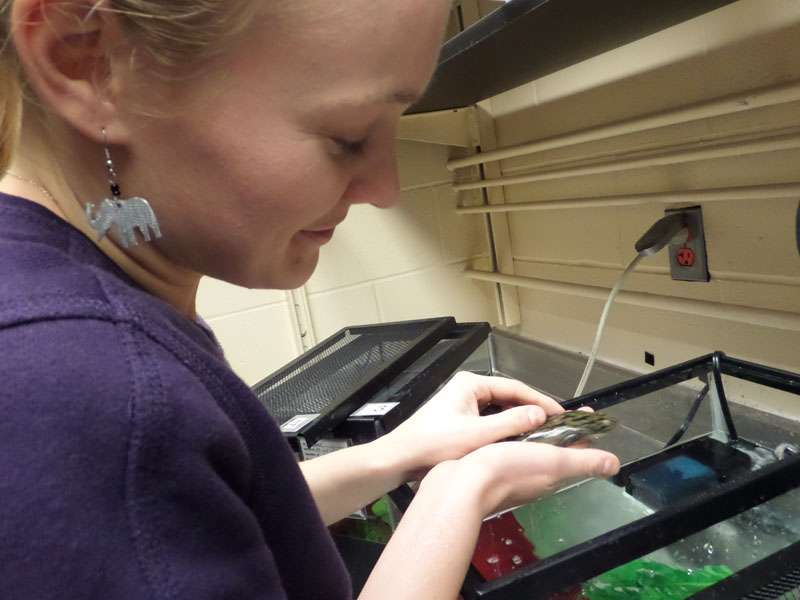 Elizabeth Peuchen works in a lab at the University of Notre Dame.
Newman alumna Elizabeth Peuchen is looking forward to her future in scientific research
Newman alumna Elizabeth Peuchen '14 has enjoyed solving problems for as long as she can remember. Today, she still loves the life of analytical research, while influencing the future of pharmaceuticals.
Peuchen graduated from Newman with a major in chemistry and minors in math and history. She then moved on to the University of Notre Dame, graduating in 2018 with a doctorate in analytical chemistry.
Landing a job in McPherson, Kansas, with pharmaceutical giant Pfizer in December 2017, Peuchen said her goal is to continue to support pharmaceutical research, ensuring that the drugs used for curing diseases are safe and effective.
She started out at Newman thinking she would go into nursing, but her love for the analytical changed that pretty fast.
"When I was a little kid," recalled Peuchen, "I always had ideas on how to improve things. One of the first times I can remember was with Legos — I had lots of ideas. I thought if you could change the material and the corners, they'd be softer and if there was a compression area, it wouldn't hurt when you stepped on them. 
"I always liked doing the problem-solving problem. I think that's what drove me to science. I realized through my science classes at Newman, I wanted to be more on the research side of things instead of nursing."
Her collegiate research revolved around protein changes during embryo division. Peuchen generated databases so bioscientists could use the information as they move further into their research.
Her research and databases have been published and are available on many science websites, including the American Chemical Society and nature.com.
During her time at Newman, Peuchen said several professors made major impressions on her future career choices.
Former professor John Leyba, Ph.D., who is now at the University of North Georgia, played the biggest role in Peuchen's career path, encouraging her to apply for internships, mentoring and guiding her in the direction she wanted to go.
His guidance led her to an internship at the Centers for Disease Control and Prevention. "That (internship) was a big deciding factor and showed me how much I do like the research," said Peuchen.
During her junior year at Newman, Peuchen said Ryan Huschka, Ph.D., also encouraged her to do a research project, which she presented at the National American Chemical Society in New Orleans.
"One of the things about Newman is that every professor, even the ones who weren't within a student's decided major, was invested in the students. I think that's really import. It showed we really mattered."
Peuchen said the love and devotion to service was something she also remembers well about Newman.
"Also the activities on campus were really good," she said. "Those kept students involved, but the more time we were on campus, the more we were invested in the community. 
"One of the things about Newman is that every professor … was invested in the students. I think that's really important. It showed we really mattered."
"Community service was a huge part of being at Newman, and when I volunteered at events like Party on the Plaza, I enjoyed seeing all the people who loved Newman come back and help."
She said her journey to Notre Dame was made easier by the education and preparation she received at Newman. And at Newman she appreciated not just being a number, but actually having built personalized relationships with the professors, which helped when it was time to ask for letters of recommendation.
Peuchen said, "They (Notre Dame) required a personal essay, resumé and other things such as letters of recommendation. Pretty much every professor in the chemistry department looked over my papers and gave a lot of feedback. At Newman you know your professor, it helped craft strong letters of recommendation."
Peuchen said she has envisioned working in a lab for several years now, and she's happy to be doing just that, and even happier she gets to do it in Kansas.
"I knew I wanted to return to Kansas," explained Peuchen. "I want to be an active community member and look forward to being able to give back to the community. I also know my skills are in the analytical area and this is a way I can give back to the community and other people— by keeping drugs safe."
Tags:
achievements
,
Elizabeth Peuchen
,
Lab
,
Notre Dame
,
Science