Remembering the ASC Martyrs of Charity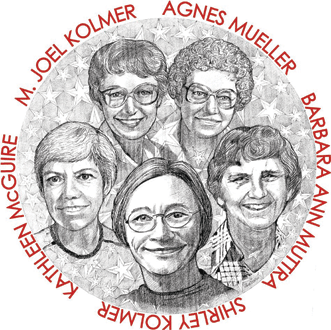 In October 1992, in and around the small town of Gardnersville, Liberia, five sisters of the Adorers of the Blood of Christ were killed during a civil war that raged in the West African nation.
The women – Mary Joel Kolmer, ASC, Shirley Kolmer, ASC, Kathleen McGuire, ASC, Agnes Mueller, ASC and Barbara Ann Muttra, ASC – had been in Liberia for many years working to help the poor, illiterate and powerless women of Gardnersville. The sisters' ministry included medical clinics, education, and countless acts of kindness.
On Oct. 20, Sisters Barbara Ann and Mary Joel were killed in an ambush as they drove one of their workers from Gardnersville to a nearby town. Three days later, soldiers of the National Patriotic Front of Liberia shot Sister Kathleen as she approached the gate of the convent compound, then separated Sisters Agnes and Shirley from a group standing in front of the convent, and shot them in cold blood.
Although the war had been moving closer to the convent for weeks and many had fled the area, the sisters chose to stay and continue their work, honoring the covenant they had established with the people of Liberia. They were, as Sister M. Clare Boehmer, ASC wrote in her book Echoes In Our Hearts, ". . . heroic both in their dedication and their commonplaceness. Through pondering their lives and work, we Christians can rediscover the fact that it is precisely in going about our ordinary business with an extraordinary spirit that we become saints."*
For their sacrifice and faithfulness to God's call to serve, today they are revered by the ASC as the five Martyrs of Charity.
.
.

* Echoes In Our Hearts was first published in 1994 and is scheduled for re-issue in early 2013 with updated information and other new material. For more information on the Martyrs of Charity, visit www.adorers.org.
.
.