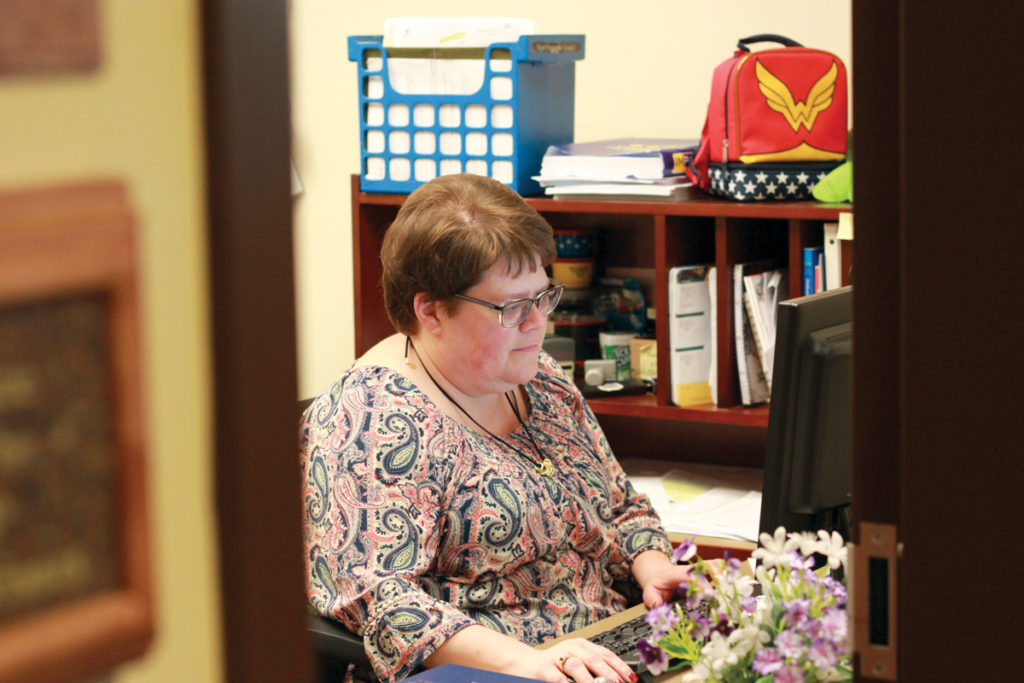 Assistant Librarian Jeanette Parker
NEWMAN LIBRARIANS CREATE A HIGH-QUALITY EXPERIENCE FOR STUDENTS
Director of Library Services Steve Hamersky and Assistant Librarian Jeanette Parker have been working hard to give Newman University students the resources and expertise they need to match the high quality they have come to know.
By bringing on LibGuides, an online content management system created by Springshare, they have made it possible for students to have access to research and materials that would have otherwise been out of reach.
Through LibGuides, students can conduct higher quality research for their projects and can be directed to resources such as books they can borrow from neighboring libraries and academic research articles that would normally be hard to find or even cost them money to print or order.
Hamersky and Parker decided to begin using the database at the beginning of the fall 2015 semester. The response has been astounding.
"We can monitor the usage on the back end," said Parker, "and the number from the 2015-2016 academic year is equal to the one fall 2016 semester, so we nearly doubled in usage in just that six-month period."
It's so popular in fact that students are coming into the library asking when more of the courses they are taking will have their own LibGuides page.
Parker continues to work with professors to develop course guides for individual courses offered at Newman. "We have pages for the subject guides, which are more general than a course guide," she said. "There are 30 different subject areas that are taught here, so it took around eight months to get all those areas' input and looking consistent throughout."
Once those were complete, Parker, with the help of Newman professors, was able to create course guides, which are assignment-specific to classes offered to Newman students. When a professor sends course information, the guidelines and even a syllabus, Parker can then create the course guide for them. This gives students an even deeper understanding of what they need to succeed on their projects.
Hamersky and Parker attended the Kansas Library Association (KLA) annual conference to give a presentation on LibGuides.
Parker said, "We gave a 50-minute presentation and the questions after lasted for almost an hour. People were wanting to know how we are using it and how it's working for us."
Other college librarians have visited Dugan Library to talk with them one-on-one about how they use the resource.
But at the end of the day, the main focus is on the students. "The hope is not only are they accessing the resources," said Parker, "but they are using them better. They are looking harder and finding the best sources for their projects rather than defaulting to Google or settling for whatever they find first."
Parker said that the students seem much more engaged with the classes and she is "really excited how this makes research better and easier for the students."
"With LibGuides, students will find the high-quality resources their instructor wants them to have for their assignment," said Parker. She also loves how user-friendly the site is. "Some sites or databases are very confusing — this one isn't intimidating at all for the students." Static URLs and easy navigation are part of what makes the database so user-friendly.
The library will continue to o er this service to students, not only because of the great response it has garnered, but also because it offers high-quality resources to the students and helps to build their confidence. "They are learning to do better research, which in turn helps the students write a better paper, and in the end get a better grade," Hamersky said.
In addition to the KLA conference, they both attended the College of University Libraries (CULS) 2017 spring conference and presented "Connecting with Faculty to Enrich Student Research."
Parker said, "Basically, what we're talking about is how we build relationships and talk with faculty in order to better serve our students. We build our foundation through faculty relationships."
Both said they enjoy speaking at the conferences and are grateful for the opportunity to learn more from other Kansas librarians. They also spoke very highly of the support they receive. "We're getting a lot of encouragement from our provost to participate in these meetings," said Parker. "She's even allowed us to hire a sub while we're gone so the student workers have some extra support when we're not here."
Parker said she loves the exposure the presentations give Newman University.
"I think it's a good outreach, letting them know we have value. Especially for some of the bigger schools," Parker said, noting that Newman is the only private college that presented at the CULS conference.
"Sometimes it can be hard to get librarians to talk about what they're doing," said Parker. "I'm excited, I like talking, getting ideas from other people, sharing what I'm doing, because you get even more ideas that way … it's fun!"
She added, "I really enjoy going to conferences and learning, and networking with other librarians. It makes it so nice, if I have questions, then I have all these contacts to connect with. I can also see what's coming up and what's new."