Return of theatre program relies on widespread support
If the return of the theatre program at Newman University were a play, reviewers and critics might call it "A triumph," "Best of the season," or even "A modern masterpiece!"
What critics and the viewing public may not know, however, is that producing the program's revival is almost as complex – and costly – as producing a Broadway revival of "West Side Story," "Fiddler on the Roof," or "Oliver!"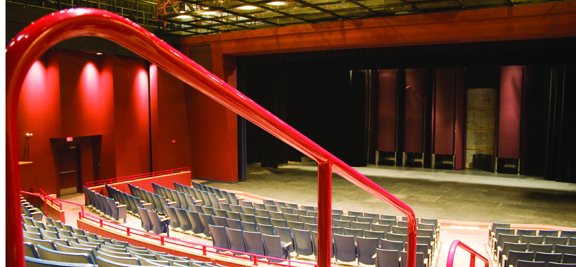 University officials have determined that covering the costs to bring theatre back to Newman – which include hiring new faculty and staff, buying materials for stage settings, paying royalties, marketing and many other expenditures – will require more than $100,000 per year for the next three years. Recently, Newman launched a campaign designed to build a large network of support to help raise the funds.
Although the theatre campaign is relatively new, university officials said it is off to a great start.
"We began with a major gift solicitation from those who had some kind of tie to the arts," said Molly Fox, Newman director of development. "It provided a foundation that we are building on in several different ways."
Fox said the campaign includes plans to reach different types of donors in different ways. Alumni of Sacred Heart Academy and Sacred Heart College are being asked to contribute at least $30,000 over the next three years in a campaign honoring former theatre and music faculty members (see related story, page 22). Their efforts can lead to double that amount thanks to the Adorers of the Blood of Christ, who have volunteered to match donations from Sacred Heart alumni up to $30,000.
Other means of fundraising have included two performances hosted by Newman in August 2010 of "The Miracle of Father Kapaun," a reader's theatre production based on Wichita Eagle journalist Roy Wenzl's series of columns about the late Fr. Emil Kapaun, a candidate for sainthood in the Catholic Church. All funds raised from those performances and an associated special dinner – nearly $10,000 Fox said – went to the theatre campaign.
Newman is also selling "Support the Arts" posters with all proceeds going to the theatre campaign. The poster, which features colorful artwork by Wichita political cartoonist Richard Crowson, costs $10 unframed, or $50 framed.
In addition to these fundraisers, Newman is seeking help from other organizations.
"Newman has applied to foundations and corporations who fund fine arts programs in hopes of raising the remaining funds," said Anne Chandler, director of Corporate and Foundation Relations at Newman.
While the university has a ways to go in meeting its goals, Fox said the support so far has been encouraging.
"Of the donations we've received so far from those with ties to the arts, some were from people and organizations that had never been donors to Newman University before, but are supporters of the arts in the Wichita community," Fox said.
To purchase a poster or make a gift in support of the return of theatre at Newman, contact Fox at 316-942-4291, ext. 2174, or [email protected]
See related Sacred Heart Academy theatre story.
.