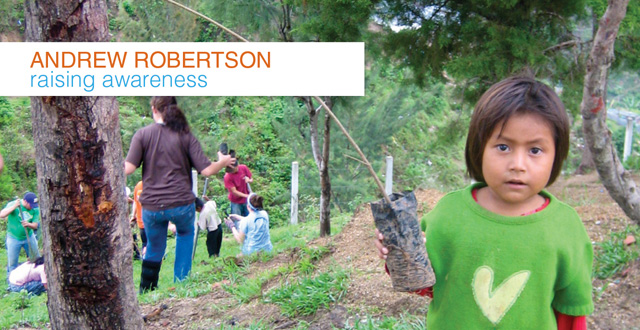 Newman University students have been studying and serving abroad in Guatemala for several years. This past school year, a course called The Newman Study Abroad Film Project 2012 was designed to combine this experience with video production.
Andrew Robertson, a student in the class, said the course offered much more.
"I don't think the class was put in place just to teach film or video editing," Robertson said, "but to raise awareness of social issues around the world."
Assistant Professor of Spanish Sonja Bontrager, who taught the class with adjunct instructor Kylie Brown, agreed.
"The course was intended to not only enhance students' technical skills, but to broaden their worldviews," Bontrager said. "We wanted students in the class to come away with a better understanding of people and cultures different from their own."
For the class, Bontrager and Brown collected a sizeable amount of footage taken by a Newman student who had studied Spanish and taken part in service projects in Guatemala in 2011. Students in the film class were assigned to select footage and edit it into a five-minute documentary.
In addition to Robertson's interest in filmmaking and editing, he found the subject matter to be especially significant – In the 1970s, he lived in Guatemala as a child for three years.
"It was like going home," he said of making the short film. "When I was there, Guatemala was in a civil war, and fear was rampant among the general population. These recordings were done in 2011, and it's sad to see the people still living in fear 30 years after I left the country. It broke my heart."
"Because we used footage recorded by a native speaker of Spanish, most students had to engage with images, situations and language outside of their experiences," Bontrager added. "Andrew and a couple of other students had the advantage of being able to understand the Guatemalan people, and this added a layer of depth to their final videos."
[youtube]http://www.youtube.com/watch?v=soueU5h6Udo&list=PLmC-I3KNhNiXtZruXGB6NE-a58pSE6AOC&index=1&feature=plpp_video[/youtube]
To see others Guatemalan Videos click here
.
.