Sacred Heart Academy Class of 1961 reunion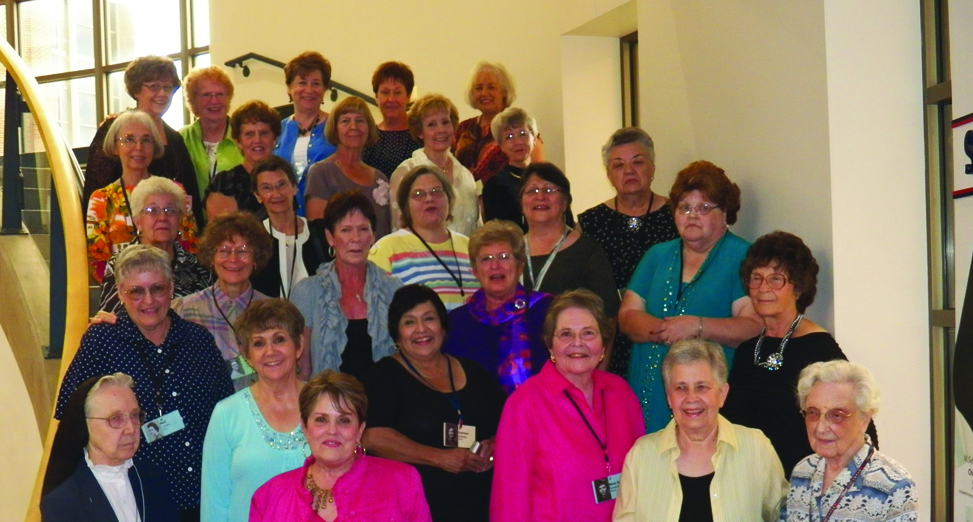 Twenty-seven of 69 living members of the Sacred Heart Academy Class of 1961 celebrated the 50th anniversary of their graduation at events held on their former high school campus Aug. 5-7, 2011. Events included a party-bus tour of Wichita, dinner buffet with a rose ceremony honoring nine deceased classmates and Sunday Mass in St. John's Chapel.
Pictured l-r are: bottom row, Carmelita Blick, ASC (Academy faculty member), Martha Anne Doyle Suter; second row, Nell Loman Kaba, Nikki Meitner Nelson, Carmen Arteaga Blake, Mary Ann Seiwert Winkler, Mahala Stewart Woodward and Thomasine Stoeckline, ASC (faculty); third row, Mary Louise Anderson Esparza, Karen Ternes Struble, Betty Widdows, Nancee Brungardt Scheffer and Martha Wendel Dandurand; fourth row, Carolyn Legleiter Urban, Louise Meng, Jane Ulsafer Van Lanen, Gwen Shunatona and Janet Lager Kaiser, fifth row, Delores Thesenga Sells, Louise Hartman Ast, Peggy Holston Geifer, Mary Jo Klenda Dlabal and Karen Schauf May; top row, Sherry Schmidt Geubelle, Margaret Weilert, Eileen Marnell Bergman, Judy Rau Heulskamp and Rena Reames-Spanier. Attending but not pictured: Alice Dugan Schulte.
.
.