Sacred Heart Academy Class of 1966 reunion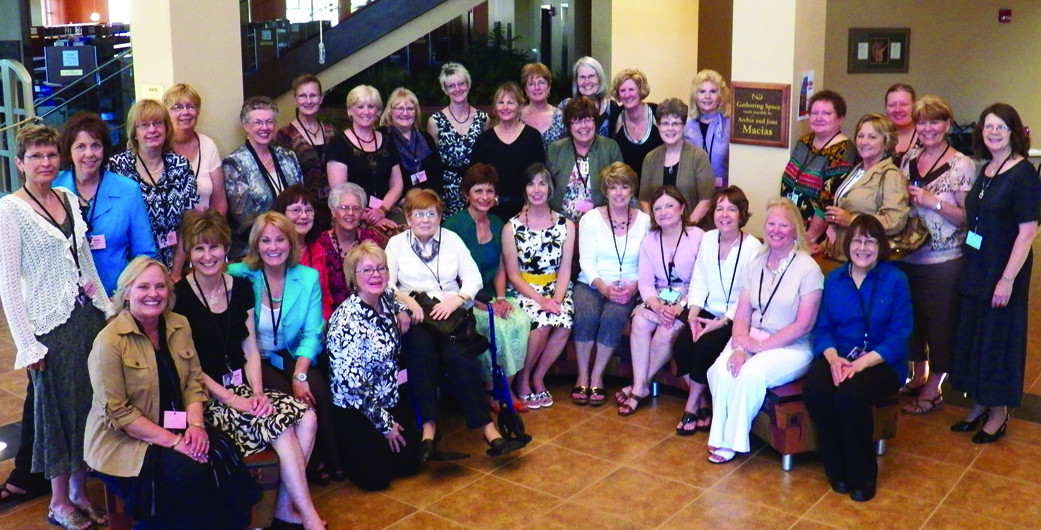 The Sacred Heart Academy Class of 1966 celebrated the 45th anniversary of their high school graduation with a reunion on campus May 20-22, 2011. The Academy's largest and last class boasted 120 members; 39 of the 109 members still living participated in some or all of the weekend's activities. The group selected Labor Day weekend, Sept. 2-5, 2016, to celebrate their 50-year anniversary and proposed an All-Academy Reunion be part of their celebration.
Pictured are: front, kneeling, Linda Clark McCulloch; seated l-r, Marilyn Petterson Mahnke, Susan Gegen Way, Karla Kessler Davison, Vivian Wolf Lynch, Barbara Hartman Giefer, Carol Koester Dunlop, Jane Ast Blick, Jayne Connor Farmer, Patsy Meyer Newby, Judith Simon, Rita Bradfield Kuchinskas, Judy Hipp Marstall and Susan Marteney Smith; standing l-r, Mary Ann Peters, Helen McNeil Damm, Beth Stramel Pile, Luann Timmermeyer Parsons, Carolann Martin Hoppe, Val Jansen, Donna Showalter Pierce, Kathy Stuever Seago, Carla Issinghoff Wesson, Cindy Smith Lohkamp, Mary K. Elting Widak, Barbara Berry, Rita Gruenbacher Robben, Sandy Miller Mertes, Marilyn Seiler, Camilla Schuetz Hartman, Judy Vaught Barley, Joan Hilger Stolz, Karleen Fox Hendershot, Diane May Winter and Luann Rausch Moore. Participating but not pictured: Monica Marx Walker, Jean Stone Suter, Mary Kay Ast Kruse and Doris Kraus Gorges (via a surprise visit by a group of classmates to her home).
.
.