Sacred Heart Academy Class of '64 Celebrates 50th Reuinion
Thirty-one members of the Sacred Heart Academy Class of 1964 returned to the Newman campus Oct. 11, 2014 to be inducted into the Golden Hearts Club. The event included lunch, dinner, campus tours and Mass in St. John's Chapel.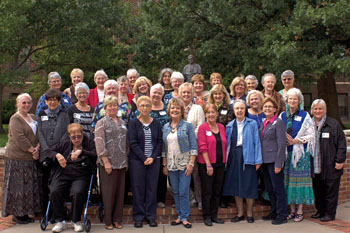 Attendees included, l-r, front row: Judy (Sims) Alexander; Jeannette (Nash) Nikkel; Janice Newberry; Ruth (Ernst) Wetta; Jo Ellen (Morris) Martin; Jennifer (Nuckolls) Hedden; Suzanne (Timmermeyer) Hunter; Carmelita Blick, ASC; Perrine (Corliss) Patrick; Marcia (Churchwood) Bradney: Karen (Chippeaux) Flanigan; middle row: Angie (Genter) Wormhoudt; Marjorie (Hanson) Elshoff; Suzanne (Toelle) Bryson; Diane (Murphy) Smith; Linda (Tenbrink) Zollars; Becky (Hupman) Richardson; back row: Virginia (Stroot) Dold; Connie (Voegeli) Hotze; Renee Kirmer, ASC; Janet Rowley, ASC; Teresa (Seibold) Hoehner; Anne (McCollum) Houlihan; Pat (Ast) Lies; Louise (Betzen) Wolf; Patty (Aaron) Hainline; Joan (Benoit) Hadden; Barbara (Scott) Scott-Brier; Marita Rother, ASC; Kathy (Renner) Dugas, Carolyn (Lies) Bergkamp.