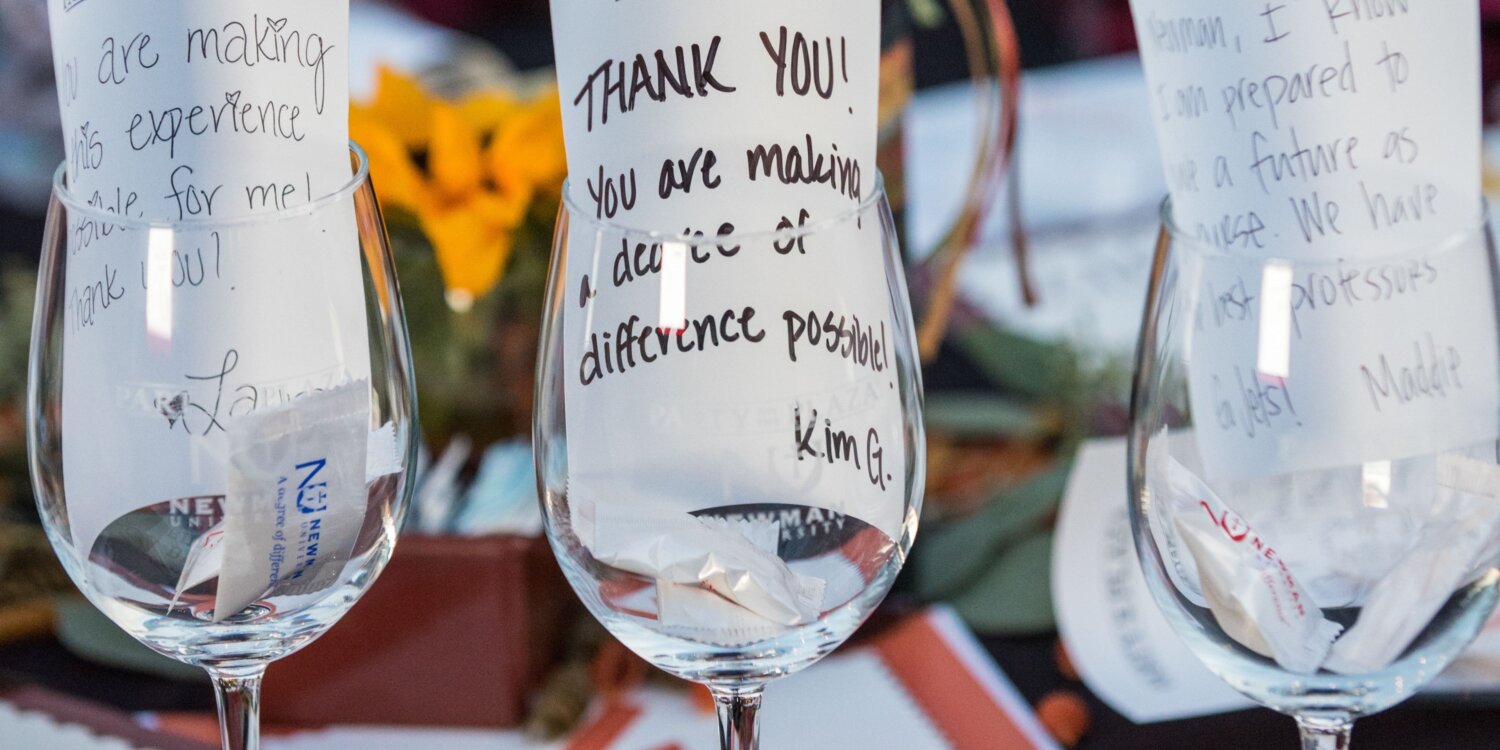 ---
Newman University offers a variety of scholarships that make the university a surprisingly affordable option for many students.
Scholarships are awarded based on factors such as merit, community service involvement, major and grade point average (GPA).
Two of the largest and most prestigious scholarships are the St. John Henry Newman Scholarship and the Adorers of the Blood of Christ (ASC) Scholarship.
The St. John Henry Newman Scholarship is a full-tuition scholarship awarded to a limited number of high-achieving students each year.
Eligibility requirements include a cumulative 3.9 GPA or above, super scored ACT of 29 or above or 1330+ SAT, completed application for admission with acceptance and a completed scholarship application.
Junior Kayla Garvert, a business data analytics and management information systems major, was awarded the St. John Henry Newman Scholarship in 2018, known then as the Cardinal Newman Scholarship.
"(It) was definitely the determining factor in whether or not I could attend my dream university," she said. "I can't deny that I wouldn't be here without it. This scholarship has allowed me to experience everything that drew me to Newman; the Catholic faith, stimulating academics, small-yet-mighty community vibe and more. Having such a substantial financial burden taken off my shoulders has allowed me to focus more on these things as well as the new relationships I have formed with members of the Newman community."
Hope Strickbine is also thankful for the life-changing financial support. Strickbine began her first year at Newman in 2020 but has enough credits to be considered a sophomore. She is majoring in biochemistry and is grateful to be a recipient of the St. Newman Scholarship.
"After visiting Newman University as a high school student and learning about the biochemistry and Honors Program, as well as seeing how friendly everyone on campus is, Newman moved to the top of my list of schools. Without the scholarship, I would not have been able to attend Newman," she said.
Strickbine has found community at Newman University and has enjoyed building new relationships with peers and her superiors.
"Through my first year here, I have been even more impressed by how much the faculty and staff care about the students and how they have helped and encouraged me."
Strickbine plans to continue her education after she graduates from Newman and has an interest in teaching and research. "Whatever I do though, I want to always be able to keep learning and to show others the value of doing the same."
The ASC Community Leader Scholarship is the second-largest scholarship awarded at Newman University. The scholarship is $17,500 and renewable for eight consecutive semesters.
This scholarship is designed to enhance the servant leadership skills of students who demonstrate a commitment to civic engagement, community service and leadership.
It is named for and sponsored by the founders of Newman University, the ASC sisters.
Eligibility requirements include a cumulative 3.0 GPA or above, significant community service, leadership or civic engagement experience, completed application for admission and acceptance, and a completed scholarship application.
Students complete 45 hours of community service each semester along with other requirements in order to keep the scholarship.
The deadline for both the ASC and the St. John Henry Newman scholarships fall on Dec. 1 of the year prior to the students' planned fall enrollment.
Newman offers scholarships specifically for art and theatre starting at $11,000 and music scholarships valued at up to $2,000. Students involved in the Honors Program are awarded a $1,000 scholarship.
The Cardenas Scholarship is available to both part-time and full-time students.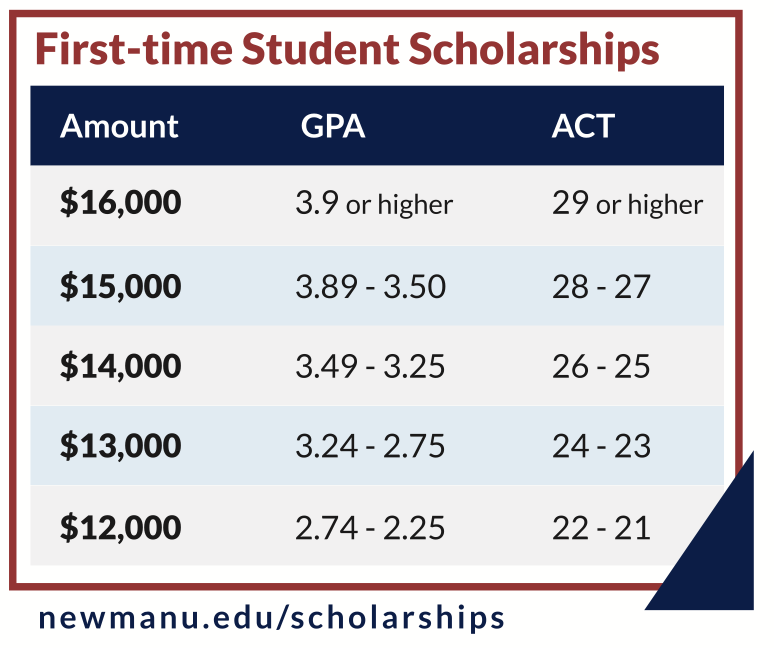 All first-time students are awarded a scholarship based on their GPA and/or ACT score. (see photo)