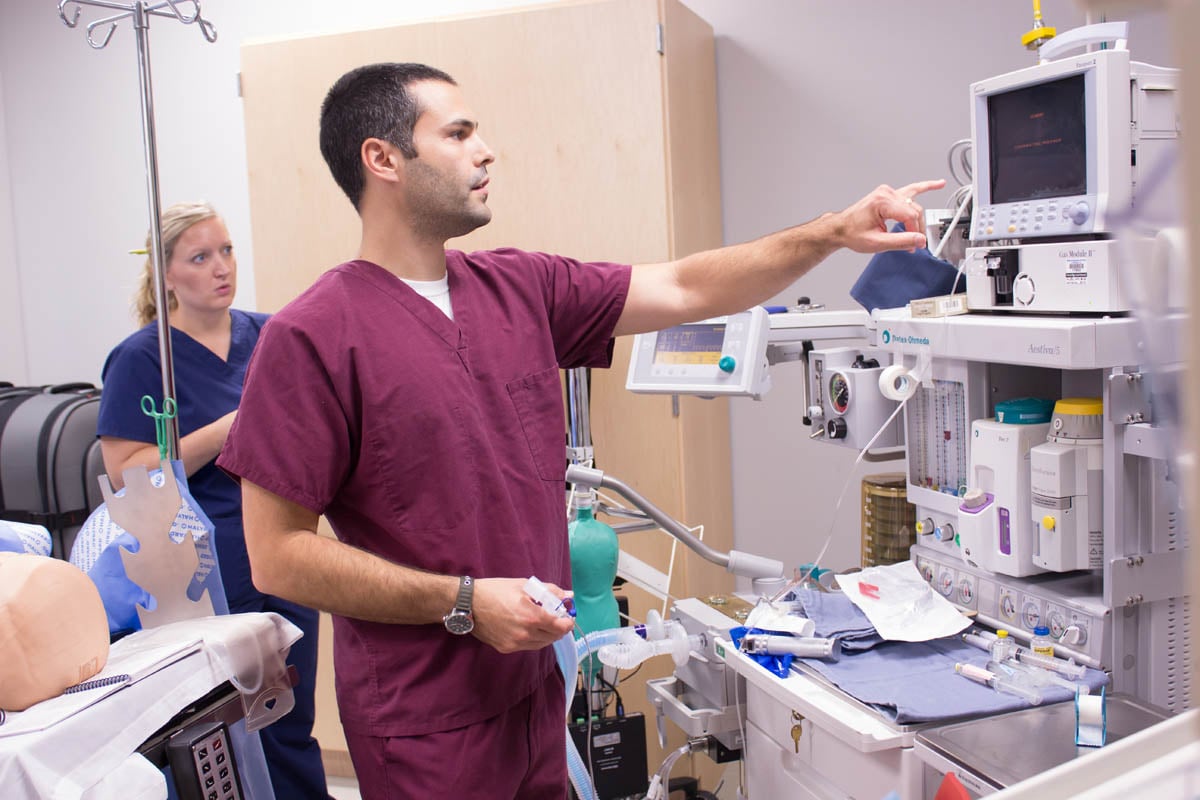 New name, same holistic education in health-related fields
One of the most popular schools at Newman University took on a brand new name in the summer of 2022: the School of Healthcare Professions.
The School of Healthcare Professions encompasses degrees ranging from associate to doctoral levels, in health care science, nursing, radiologic technology, sonography, respiratory care and nurse anesthesia.
"I think it is important for students to understand the history of the health care programs, not only for their profession but for us as a university," said Geraldine Tyrell, DNP, dean of the formerly known School of Nursing and Allied Health. 
What's in a name?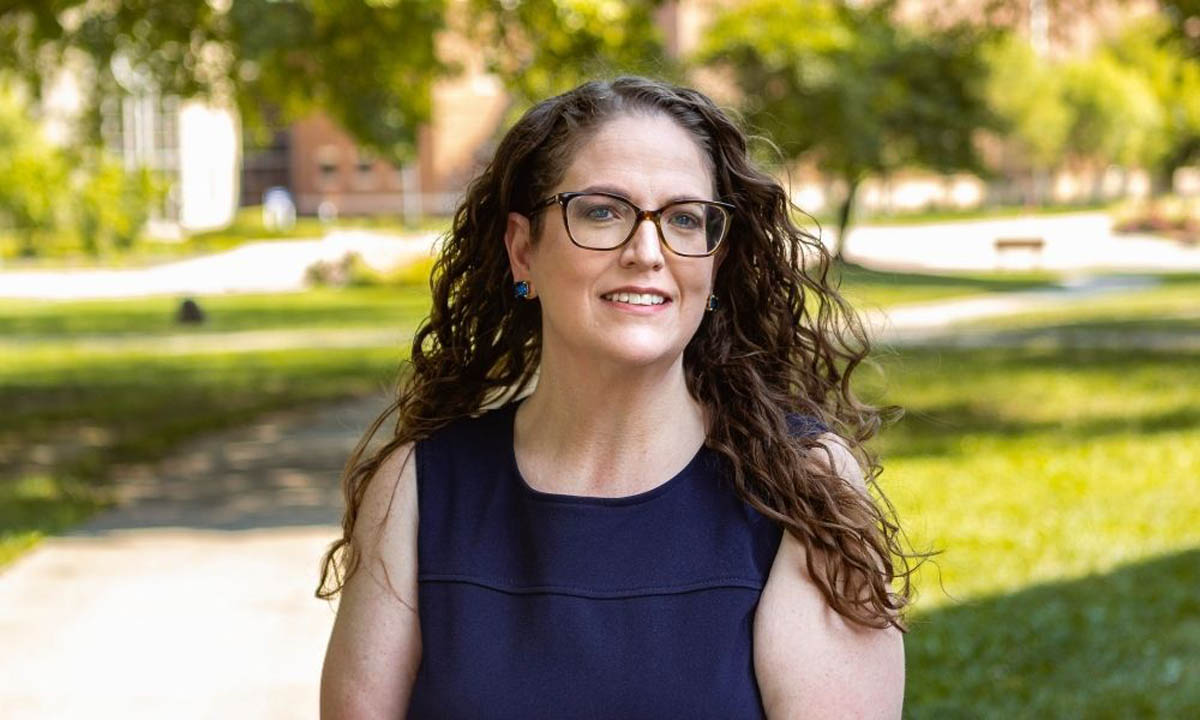 Hours of work and consideration of the university's strategic plan went into establishing a new name for the school that encompasses the breadth of the programs, but that was merely the beginning. Tyrell established a faculty-led task force to bring forth a mission, vision and values that would reflect the goals and trajectory of the programs.
The faculty task force was led by Respiratory Care Program Director Timothy Cho. Cho recently completed his 10th year at Newman, serving first as an adjunct and then full-time faculty member.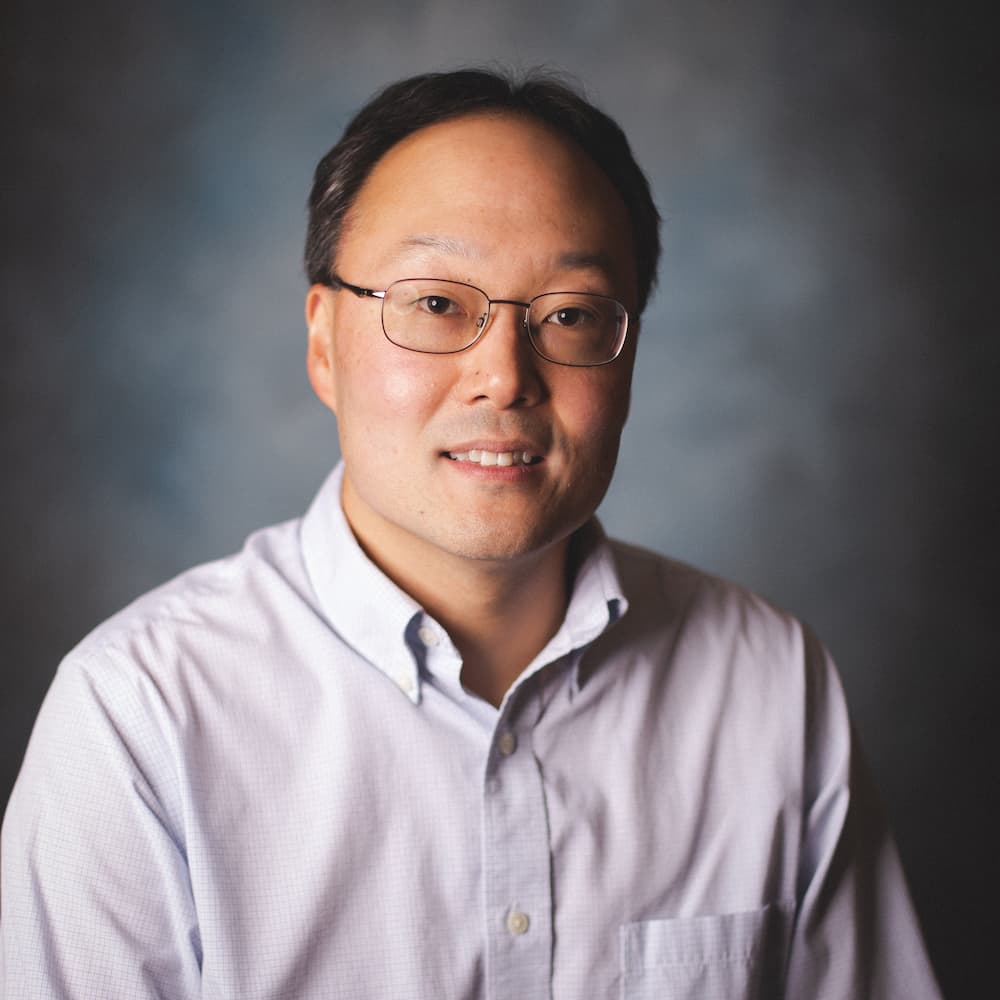 The task force reviewed the university's mission, vision and values and intentionally echoed certain themes and words to create cohesion between the school and the university as a whole.
"In the end, it became clear that 1) all these varied health professions are part of a team that must work together in a holistic manner to elevate the student and patient, 2) health care is rapidly changing, and we must quickly adapt and 3) we must play a role in addressing inequities in health care, whether it is limited access or disparate outcomes," Cho said.
Tyrell emphasized the importance of training students to work as an interdisciplinary team.
"We want students to recognize that they won't just work in silos. We are partners in the care that we provide to every patient, and we are better preparing them by allowing them to be part of an interdisciplinary team. And we have to recognize that not only within our faculty team, but we also need our students to be recognizing that as we educate them," Tyrell said.
Matching its mission and vision
From these discussions, they developed the School of Healthcare Professions mission statement: "To empower our graduates to transform society through clinical excellence, community leadership and compassionate care for diverse communities." 
The school's vision statement is: "To be a known education leader focused on interdisciplinary collaboration, innovation, scholarship and practices advancing health professions while addressing evolving societal health care challenges."
As the worldwide need for health care workers continues to grow in the aftermath of the pandemic, Newman's students are steadily entering the field, equipped and ready to provide quality, holistic care to their patients.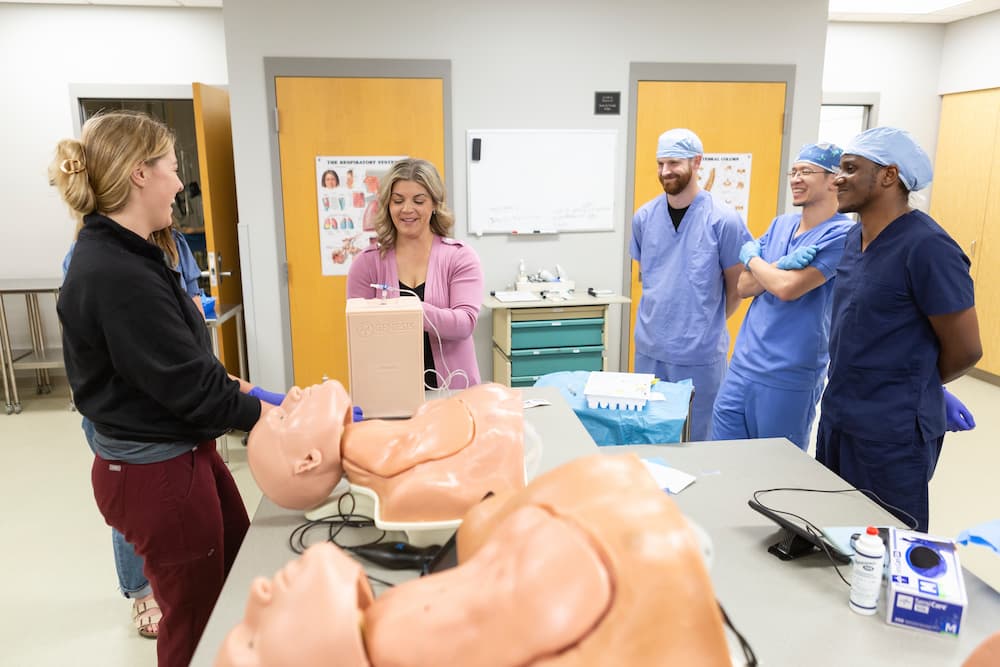 Newman offers new Doctor of Nurse Anesthesia Practice program
Newman is one of only two Kansas colleges that offer a nurse anesthesia program. Across the entire United States, there are less than 125 nurse anesthesia programs.
The first cohort of the new Doctor of Nurse Anesthesia Practice (DNAP) program at Newman started their anesthesia education coursework in May 2022 — an effort that has been "years in the making," said Director of the Nurse Anesthesia Program Megan Cook, DNAP, MSNA.
"This is the result of innumerable hours of program and curriculum development, faculty input, and collaboration with the Council on Accreditation and the Kansas Board of Nursing," she said.
The nurse anesthesia program at Newman University has a history of more than 20 years of educating and producing nurse anesthetists to provide expert anesthesia care. The doctoral program is designed for the baccalaureate-prepared registered nurse who wishes to become a certified registered nurse anesthetist (CRNA). 
"This program really pushes individuals and professional bodies to say, 'Here are the expectations for education and professional practice,'" Tyrell explained. "As we have more doctorally-prepared nurse anesthetists, we will see even better outcomes for our patients."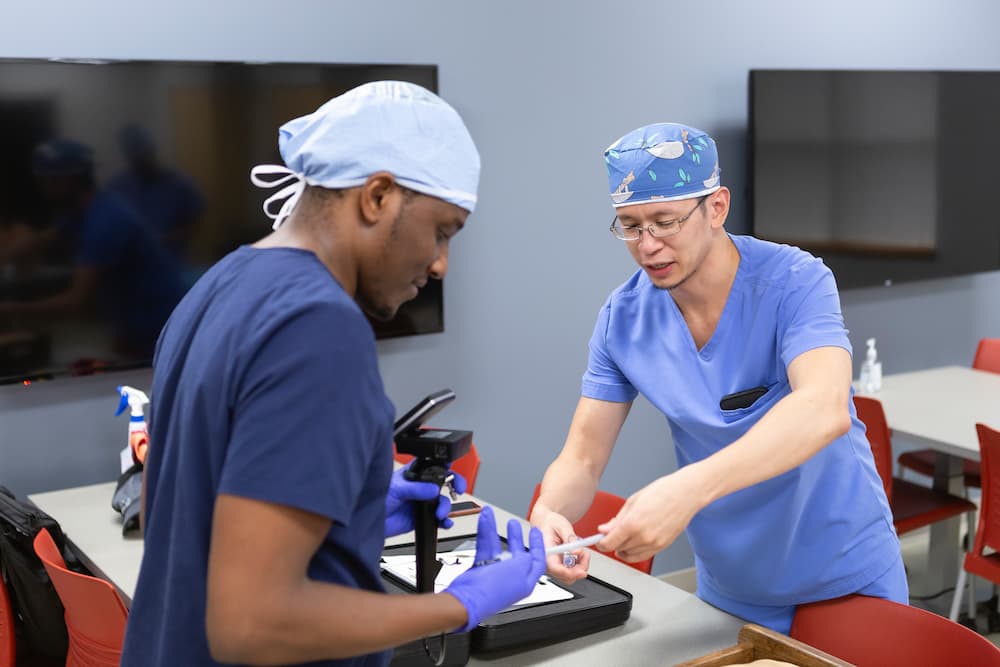 The curriculum not only offers didactic and clinical education, but also economics and administration to prepare the student with the knowledge, skills and competence necessary to assume an advanced practice role.
Cook explained that the move to the doctoral level is the continuation of Newman's commitment to educating future CRNAs to care for patients throughout Kansas and Oklahoma.
The majority of local CRNAs are Newman nurse anesthesia program graduates. Newman alumni are serving in 30 states around the country.
Cook added, "I am proud to be a graduate myself of this program in 2007, and look forward to calling each current student a colleague after their graduation."
Alumni make an impact in the world of health care
Newman alumni serve as doctors, nurses, chemists, pharmacists, dentists, surgeons, respiratory therapists, veterinarians, and much more.
The university has ties to several local organizations through alumni and student engagement. One such nonprofit is Envision, one of the largest employers of people who are blind or visually impaired in Kansas and Texas that provides employment opportunities, innovative outreach, rehabilitation, education and research programs.
"There is honestly not a day that goes by at work where I don't feel like I impacted someone's life in regard to their vision loss," said alumna Karen Kendrick, a low vision occupational therapist.
Newman students in the occupational therapy assistant (OTA) program regularly intern at Envision. Kendrick has worked with these student interns at the organization for nearly 20 years, something she thoroughly enjoys because of their professionalism, she said. 
"The Newman OTA interns always seem to come prepared and ready to learn," Kendrick said. "Low vision is a growing field. Nationally, there are not enough occupational therapy professionals trained in low vision. So having the opportunity to have these Newman students come in and learn about our growing field is so important and vital to continuing having low-vision providers to treat our low-vision clients."
Set up for success despite uncertainty
When the COVID-19 pandemic spread across the globe, many Newman alumni found themselves treating patients who were suffering from a new infectious disease nobody knew much about.
Nurse Erin Schueller '19 was not even six months out of college when her floor became the COVID-19 intensive care unit at Wichita's Ascension Via Christi St. Francis Hospital. Thankfully, the skills she developed at Newman gave her an unwavering sense of security. 
"Newman gave me a lot of critical thinking skills that I think some other nurses could benefit from, but I definitely felt more prepared right out of the gate." Schueller said. I even came off of my job orientation early because I was more prepared than most other nurses."
Despite the uncertainty of public health, members of the Newman community fearlessly stepped up and searched for opportunities to help the broader Wichita community — particularly, those who were most vulnerable to the virus.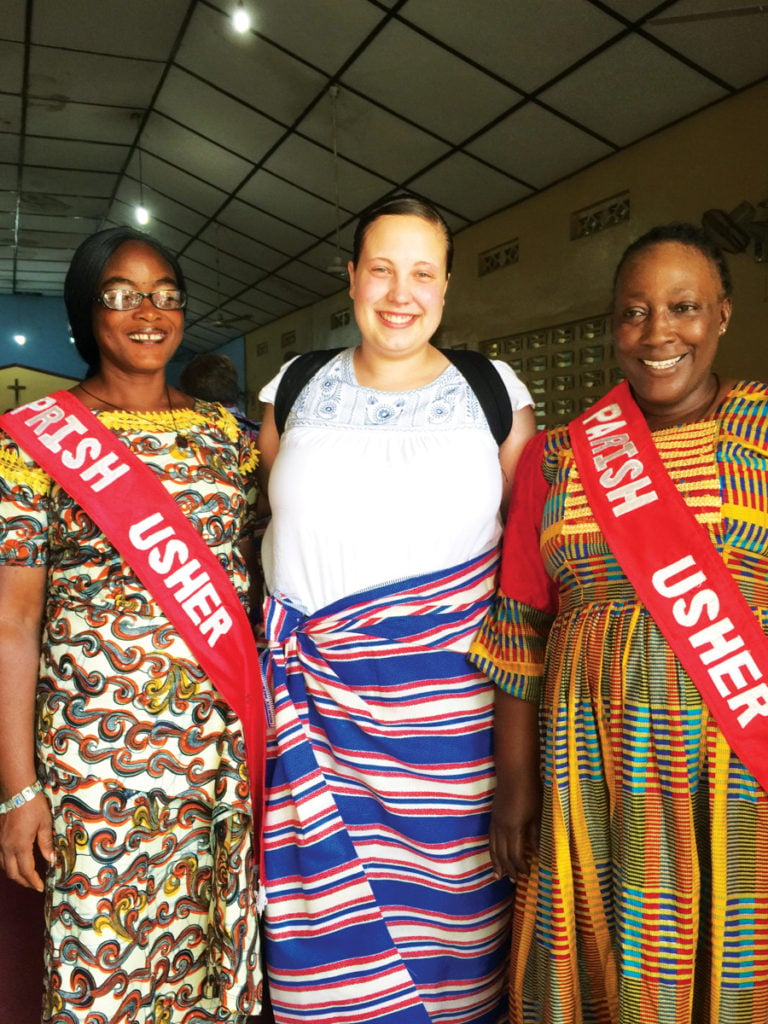 In March 2020, the university partnered with the Robert J. Dole VA Medical Center and successfully vaccinated 1,500 veterans in one day. Newman also partnered with the Sedgwick County Health Department and Guadalupe Clinic and hosted a vaccination clinic for students, faculty and staff with the help of many Newman nurses-to-be.
"These students got the opportunity to practice the skill of giving IM (intramuscular) injections. It's something you have to do a few times to feel comfortable and we want them to get to do it over and over, so that they develop excellent skills with it," Director of Nursing Teresa Vetter said.
Vetter hopes that "none of us have to be involved with a worldwide pandemic again," but that the vaccination clinic allowed student nurses to play a role in the historical battle.
"Imagine down the road 60 years from now being this student that gets to say to their grandchildren, 'I helped give the vaccines when COVID was going around.' I just think that's a wonderful opportunity," she said.
A 'degree of difference' in the Newman School of Healthcare Professions
There are many aspects that set Newman apart as a holistic education, such as the Newman Studies Program, which combines disciplines to prepare students to think critically across fields, and Scholars Day, which gives students the opportunity to present their semester-long research to the Newman community.
However, Tyrell believes it all comes down to the fact that at Newman, "we truly try to live our mission and values and we hold our students to a high standard."
She said "We do it in service to others and we instill a level of professionalism, so when our students enter their clinical settings or even the workforce, they can instantly connect with the institution's mission and know how to interact with patients."
Even at the undergraduate level, Newman has partnerships that give students real-world clinical experience in professional health care settings. The majority of student clinicals are completed at Ascension Health, the largest Catholic and nonprofit health system in the country.
"We have clinical partnerships for anesthesia in Wichita and Oklahoma," Tyrell said. "For sonography, we place students in Branson (Missouri). We place students in Colorado Springs. We have a clinical site in Iowa. For the occupational therapy assistant program, they are placed all over as well, so depending on the program, they really are all over."
Looking to the future, Tyrell said she sees nothing but potential for growth for the School of Healthcare Professions at Newman University.
"Given what happened during COVID, we have to pay special attention to how we as the School of Healthcare Professions look at programs that can address the needs of individuals and their mental health," Tyrell said. "What educational programs can we develop that might address that? Are there alternative health care programs that we might address?"
She added, "I think it goes right back to our values. We want to create programs that are truly needed in the community, and we have an opportunity to work with our community partners to provide them."
---