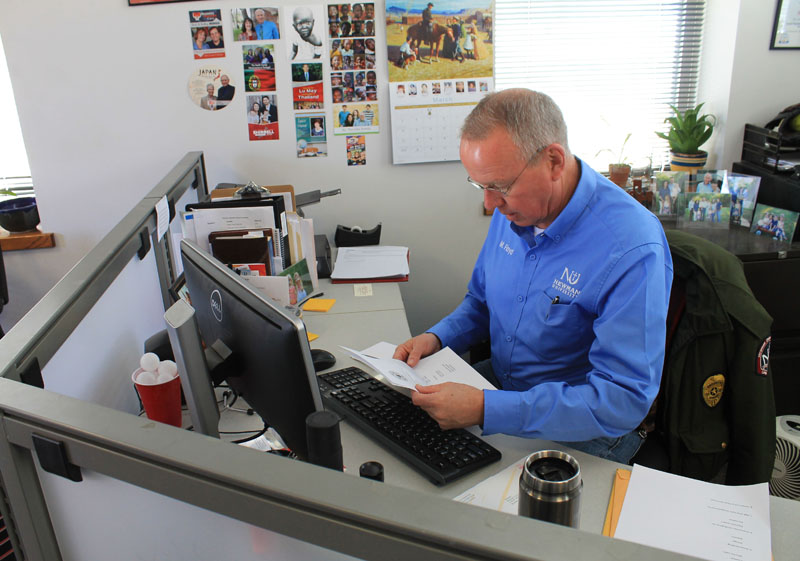 Morris "Mo" Floyd prepares for a day as director of security at Newman University.
Kindness plays a key part in how Morris Floyd provides campus security to students and staff.
He's the man who drives a golf cart around the Newman campus, stops to give students rides and helps deliver the Vantage student newspapers to each building on Thursday mornings.
He's also the man who arrives at campus an hour and a half before work starts just to ensure all is safe and ready when students and faculty arrive.
Morris "Mo" Floyd, director of campus security, said he enjoys going above and beyond.
Before working at Newman, Floyd served his country as an assistant squad leader in the Army, then worked for the Wichita Police Department for 27 years. He was inspired to become an officer because of his grandfather, who served as the chief of police of Elwood, Kansas.
"I was around that police influence while growing up, and when it came time to get out of the Army I looked at what I was qualified to do," Floyd said. "The police department was a pretty good fit." 
During this time, Floyd and other officers worked security for dances, wedding receptions and ball games on campus. It was in those visits that he discovered his love for Newman.
"I was around the students, athletes, faculty and staff and there was just no place like this," he said.
Floyd was so impressed, in fact, that he decided to retire two and a half years early from the police department so he could take the Newman job.
"I actually lost a chunk of money doing that, but I knew I would never find a job like this if I didn't take it," he added. "I've worked off-duty security at other universities and no one comes close to the atmosphere as a whole at Newman."
Floyd believes a security team should go above and beyond the standard format of protecting people on campus and Director of Music Deanne Zogleman said he does just that.
"You don't just feel safe, you know that Mo cares for each and every individual and that you are protected as much as you can be in this crazy world," she said. "Mo is also a special part of our Chorale family … he comes in to just listen or even bring us goodies. We love seeing his smiling face."
International student Martina Viale still remembers the impact Floyd had on her at the International Orientation her freshman year.
"He told us he had quarters for laundry in his office since he knew that international students might have a hard time trying to get change," Viale said. "Immediately I felt like he was different than any other security officer I knew. He cared for us, and that's what I think makes him stand out."
Viale describes Floyd as having "an amazing soul" with "such a warm heart."
Floyd reached out to the International Student Association around Thanksgiving 2018 and told the students he would make them a turkey. Floyd woke up early, cooked from 7:30 a.m. until noon and even cut the turkey into slices.
"That made me so emotional," Viale added. "We are all so far away from our families and even if Thanksgiving is not a holiday for us, we see all of our friends spending time with their loved ones while we typically don't. Mo made sure we were — once again — cared for."
Along with protecting the people of campus, one of Floyd's goals is to help build a positive college experience for the students, he said.
"When students graduate, I want them to think fondly of campus security because we helped, benefited or encouraged them in some way," he said. "At other security places, I think you have some people who are just filling an eight-hour slot — they don't always have ownership. But I know that my Monday through Friday guys do. They let me know if something isn't right and offer solutions to fix it.
"I think we've found great people that actually care about what goes on here, and to me, you just can't teach that."