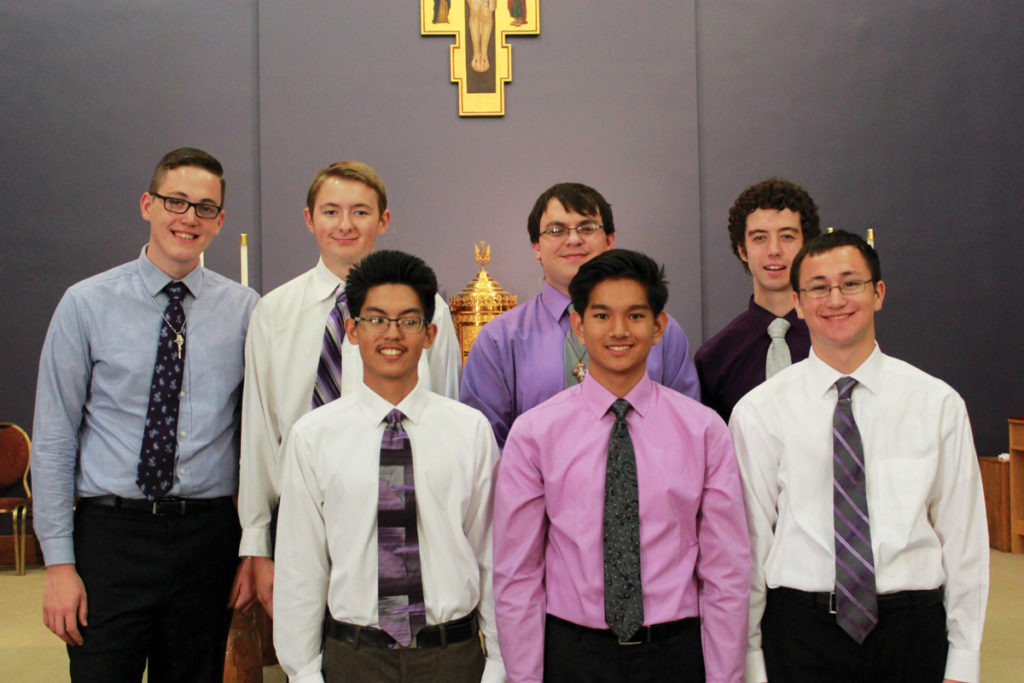 Newman University strengthens relationship with the Catholic Diocese of Wichita through new seminarian program
Newman University has partnered with the St. Joseph House of Formation, a new addition to the St. Joseph Parish of Wichita. The House of Formation was established by the Catholic Diocese of Wichita as a program for seminarians during their first two years of college on their journey to the priesthood.
While seminarians study at Newman University to attain a general studies associate's degree in preparation for a bachelor's degree in philosophy, the men are living in the former rectory on the St. Joseph Parish campus in Wichita. Living at the rectory will help them form a closer relationship with their bishop, Bishop Carl A. Kemme, as well as expose the seminarians directly to parish ministry.
Bishop Kemme said, "After much prayer and consultation, I decided to begin this new program as a way to enhance our long tradition of helping young men discern a vocation to the priesthood, as well as provide a solid formation for them in the first two years of college seminary."
Father Michael Simone, diocesan chancellor and director of the St. Joesph House of Formation, said that the partnership is a good fit. Father Joseph Gile, dean of graduate studies and continuing education, agrees.
"There's a tradition at St. Joseph Parish for hosting religious men and women on campus since they've been in existence," said Father Simone, "so we're hopeful that this is a natural way to extend that to a diocesan family as well."
Father Gile said, "I think it's going to be good for the diocese. I think it will be great for the parishes to see some of our seminarians here out doing apostolic work. I think it could be great for vocations and I think it's certainly good news for Newman University, as well."
The idea for the seminary formation in the Diocese of Wichita was brought up several years ago, according to Father Gile. Though it had full support among priests, it was decided that there were not enough priests to successfully start the program.
"With the large ordination class this year and next, I think Bishop Kemme thought we were in a position to give this another look," Father Gile said.
This year, seven seminarians began the program: Matthew Cooke, Andrew Hamel, Caleb Kuestersteffen, Joshua Nguyen, Matthew Nguyen, Thomas Timmermeyer and Cole West. Father Simone foresees the program growing to 16 or 17 seminarians in the next five to seven years.
President Noreen M. Carrocci, Ph.D., said this "further solidifes our partnership with the diocese." She added, "The Adorers (of the Blood of Christ) and the diocese have such a close connection. This is a wonderful natural continuation of our partnership."
To learn more about the Seminarian Program, please contact Rev. Chad Arnold, Assistant Director of the St. Joseph House of Formation.