Newman named to Community Service Honor Roll for fifth time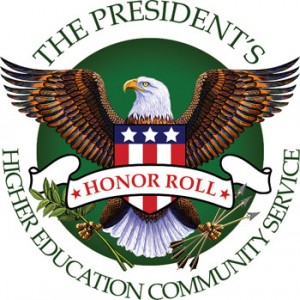 Newman University has again been recognized for its commitment to service by being named to the 2014 President's Higher Education Community Service Honor Roll for exemplary service to America's communities. This marks the fifth time Newman has been named to the prestigious national honor roll.
Newman is one of only six colleges and universities in Kansas, and the only one in Wichita, selected for inclusion on the 2014 Honor Roll.
The President's Higher Education Community Service Honor Roll is the highest federal recognition a school can receive for its commitment to community, service-learning and civic engagement. The program recognizes colleges and universities nationwide that support exemplary community service programs and raise the visibility of effective practices in campus community partnerships. Nationwide, less than 11 percent of colleges and universities were selected for this year's honor roll for their commitment to bettering their communities through community service and service learning.
Inclusion in the 2014 honor roll is based on community service performed between July 31, 2013 and June 1, 2014. In that time period, more than 650 Newman students engaged in more than 258,000 hours of community service.
"We are delighted to have again been named to this prestigious honor roll," said Newman President Noreen M. Carrocci, Ph.D. "Service is at the very heart of Newman University. It is integral to the mission of both Newman and our founders the Adorers of the Blood of Christ. We are very proud of our students, who along with faculty and staff members are known throughout the community for their commitment to serve others and willingness to go the extra mile."
The announcement was made Monday, Dec. 8 in Washington, D.C., by officials from the Corporation for National and Community Service (CNCS). The CNCS has administered the award since 2006 in collaboration with the U.S. Department of Education and the U.S. Department of Housing and Urban Development, as well as the American Council on Education, Campus Compact, and the Interfaith Youth Core.
Among the many service projects undertaken by Newman students in 2013 and 2014 were:
• Collecting 22,000 toothbrushes for poverty-stricken children in Guatemala
• Helping underprivileged children receive vaccinations and health screenings
• Raising funds to support the Sedgwick County Child Advocacy Center, the Make a Wish Foundation, and other local service organizations
• Volunteering to serve at the Lord's Diner, local hospitals, homeless shelters and domestic violence shelters
• Helping build houses for Habitat for Humanity
• Taking part in blood drives and holiday season toy and food drives
• Traveling to a Navaho Nation community in Crownpoint, N.M., with the Adorers of the Blood of Christ (ASC), to perform work for underprivileged families.
The culture of service at Newman begins in the institution's mission, which charges the entire university to a commitment of empowering graduates to transform society through engagement and service. Catholic social teaching also directs the institution to base all decisions on the common good, with the goal of developing and empowering people. The mission and charism of the ASC focus on empowerment, fostering oneness, and celebrating life. The Newman University Core Value of Service is an outward manifestation of these principles.
For more information about the President's Higher Education Community Service Honor Roll and a complete list of 2014 honorees, visit http://www.nationalservice.gov/HonorRoll.