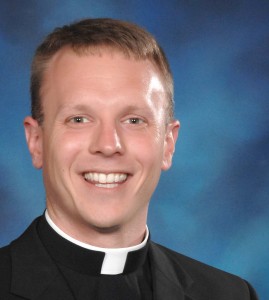 Father Michael M. Simone, STL was named chaplain and director of Campus Ministry at Newman University, effective June 14. In addition to his new positions at Newman, Fr. Simone continues in his role as director of vocations for the Catholic Diocese of Wichita.
Fr. Simone was selected by the Most Rev. Michael O. Jackels, Bishop of the Wichita Diocese, to fill the vacancy left by former Newman chaplain Father Joseph Tatro, who left the university at Bishop Jackels' request to pursue graduate studies in clinical psychology at the Institute for the Psychological Sciences in Arlington, Va. Following his studies Fr. Tatro will return to the Wichita Diocese to serve fellow priests, seminarians and members of the diocese. Fr. Tatro served at Newman for five years as chaplain, director of Campus Ministry and assistant professor of theology.
"We are very pleased that the Bishop chose to send Fr. Simone to Newman," said President Noreen M. Carrocci, Ph.D. "I have been very impressed with his education, experience, and devotion to the church. We are saddened that Fr. Tatro left Newman, and will miss his spiritual guidance, his sense of humor and his dedication to students. But, we wish him all the best in his educational and spiritual pursuits, and trust that he is fulfilling God's plan."
Fr. Simone brings a strong background of education, spiritual theology and administrative experience to the university. He earned a bachelor of business administration degree at Pittsburg State University in 1995, and is a Certified Public Accountant in the state of Kansas. He worked as a staff accountant for Baird, Kurtz, and Dobson, CPAs in Joplin, Mo., until 1997, when he left the firm to attend Mount Saint Mary's University in Emmitsburg, Md., where he earned both a master of divinity degree in theology and a master of arts degree in theology with an emphasis on moral theology in 2003. Fr. Simone earned a Licentiate of Sacred Theology (S.T.L.) with an emphasis in spiritual theology in 2008 from the University of St. Thomas Aquino in Urbe, Rome, Italy.
Fr. Simone was ordained a priest in the Wichita Diocese in 2003 and has served in several capacities, including associate pastor for St. Thomas Aquinas Parish, assistant director of the Office of Worship, and vice-chancellor. He became director of vocations for the diocese in June 2008, and is responsible for the formation of seminarian candidates, overseeing the application process of seminary candidates, and recruiting and promoting vocations to the Catholic priesthood in the southeastern 25 counties in Kansas.
Over the years Fr. Simone has received many honors and awards, and held several administrative positions, including secretary of the Priest Retirement and Seminarian Education Fund and chairman of the Committee for Bishop Michael Jackels' Ordination. He is a member of the National Council of Diocesan Vocation Directors and serves as chaplain for the Serra Club of Wichita – Metro.
Tags:
Arlington
,
Baird Kurtz and Dobson CPAs
,
Business Administration
,
Campus Ministry
,
Catholic Church
,
Catholic Diocese of Wichita
,
Certified Public Accountant
,
Clinical Psychology
,
Committee for Bishop Michael Jackels' Ordination
,
Emmitsburg
,
God
,
Institute for the Psychological Sciences
,
Italy
,
Joplin
,
Joseph Tatro
,
Kansas
,
Licentiate of Sacred Theology
,
Maryland
,
Michael O. Jackels
,
Michael Simone
,
Missouri
,
Moral Theology
,
Mount Saint Mary's University
,
National Council of Diocesan Vocation Directors
,
Noreen M. Carrocci
,
Office of Worship
,
Pittsburg State University
,
Priest Retirement and Seminarian Education Fund
,
Rome
,
Serra Club of Wichita-Metro
,
Spiritual Theology
,
St. Thomas Aquinas Parish
,
Theology
,
University of St. Thomas Aquino
,
Urbe
,
Virginia
,
Wichita Serra Club