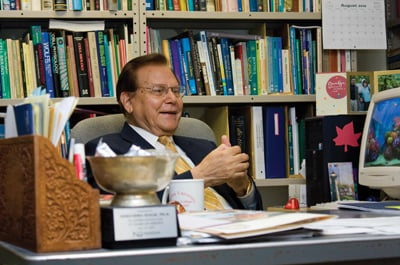 Professor of Biology Surendra Singh, Ph.D. has achieved much in his 41 years at Newman University.
He has developed and implemented 10 associate and baccalaureate degree programs in science and allied health – major contributions to both disciplines.
He has created the Investigative Summer Science Program to encourage high school students to pursue science careers. The program draws students from across the state, opening their minds to science and to Newman University. Building on that success, he later created the Hispanic Scholars and Native American Scholars Programs to encourage students in those populations to finish high school and pursue a college education.
He started the pre-med program at Newman, which since 1969 has consistently helped 90 percent or more of Newman students who applied gain acceptance into medical schools (Over the past 10 years the rate has averaged 96 percent, and last year seven out of seven – a record 100 percent – of Newman seniors who applied were accepted.).
And, he has published widely on scientific and education-related topics, and won many honors, including the Cardinal Newman Lifetime Achievement Award in 1999, the Cardinal Newman Medal in 2004, and Outstanding Education Awards from both Newman University and the American Association for Higher Education. Last year, the Biology Department honored his achievements by establishing the Surendra Singh Outstanding Freshman in Biology Award.
Yet for Dr. Singh, only one achievement really matters – helping his students succeed.
"I get a reward just as much as a student when they become a vet, a doctor, a researcher, a physical therapist," he said. "It just brings tremendous satisfaction to me."
Students don't forget
Ironically, Singh did not set out to be a teacher. He was much more drawn to research.
Born in Agra, India, the site of the Taj Mahal, he developed an interest in science partly because of a middle school teacher who performed many science demonstrations in class. His interest grew as a student at Agra University, which emphasized hands-on learning and had one of the best science departments in India. He graduated with a double major in biology and chemistry, then earned a master's degree in botany.
Singh was hired by a state agency to do plant breeding research, but soon wanted more training in the discipline. As the United States had the best plant research in the world at that time, he came to America in 1961, and was accepted at New Mexico State University. He earned a second master's degree there, this time in biology, and later earned a doctorate in biology from the University of New Mexico.
In 1969 he agreed, with some reservations, to interview at a small college in Kansas, thinking he might teach a few years then go back to working in research, as he had done in graduate programs. Having spent his academic life in large universities, he was surprised by what he saw at Sacred Heart College.
"This was the first school I went to that had small classrooms where teachers could get to know their students and work with them individually," he said. "So, my professional goals changed to teaching."
A great deal of credit for the higher acceptance rate of our students in professional programs goes to our alumni. In spite of their very busy schedules, Dr. Michael Ludlow, Dr. Larry Hund, Dr. Mark Troilo, Dr. Greg Reichenburger, Dr. Diana Crook and Theresa Merck have regularly come as guest speakers in many classes and club meetings. They have shared their enthusiasm, excitement and rewards of their respective professions, which has immensely helped our students become more informed and, ultimately, focused to accomplish their challenging career goals.

Surendra Singh, Ph.D.
Plenty of people are glad they did, including literally hundreds of Singh's former students now practicing medicine, dentistry, optometry, physical therapy, veterinary medicine, or other forms of health care.
Singh points with pride to many, such as John Pyles '76, a trauma surgeon who went to Bosnia during the early 1990s war to teach surgeons how to treat injured limbs rather than amputate them. Another is Don Bittner '77, a hand surgeon and captain in the U.S. Navy who will likely soon be promoted to admiral. He wants to be U.S. surgeon general.
In his daily life Dr. Singh regularly encounters appreciative former students. One was a nuclear medicine technologist who performed a scan on Singh's daughter-in-law before she had her baby. Another was, Diana Crook '85, the doctor who delivered the child.
"I have met and had the opportunity to interact with the brightest young people, who graduated and accomplished their career goals," he said. "I remember them often and cherish their friendships and memories. And, the students don't forget. Even after 30 years some will call and say, 'I'm in the area, let's have lunch.' It is very delightful."
Singh noted that the facility where those students gained their skills and knowledge, the Heimerman Science Center, has served the university well, but the time has come for change.
"Our emphasis in teaching and usage of the building are very dynamic – they change over time," he said. "With the way the science teaching community has changed in terms of technology and use of computers, a new building would greatly enhance the teaching of science. Also, we need a building which will conserve energy as much as possible. And there is the physical deterioration of the building."
'In the service of others'
When not teaching, Singh enjoys spending time with his family. He and his wife Swarn Lata have three children, son Rahul '88, an ER physician in Wichita, daughter Juhee, a primary care physician in California, and son Dave '01, who works for Verizon in Wichita.
And though he's been teaching for four decades, Dr. Singh has no plans to retire soon.
"Work hasn't been work – it's been fun," he said. "As long as I continue to remain productive and effective professionally I will continue teaching. I'm in excellent health and really enjoy what I do, and I want to keep doing it. Fortunately, I'm in a profession where I can do that."
Singh said he feels indebted to Newman for the support the university has provided for his research and program development. "I'm just thankful to God I came to Newman University and for the friendship and support of the sisters. They have been so very generous."
He added that he appreciates the value Newman places on service, something he too has valued since his early life.
"I was 12 years old when I heard Mahatma Gandhi speak," he said. "I've tried to follow his teachings ever since. Gandhi said, 'The best way to find yourself is to lose yourself in the service of others.' If all of us did that, it would be a harmonious society."
Fortunately for the Newman University "society," Dr. Singh has done just that.
Tags:
Adorers of the Blood of Christ
,
Agra
,
Agra University
,
Allied Health
,
American Association for Higher Education
,
Biology
,
Bosnia
,
Botany
,
California
,
Cardinal Newman Lifetime Achievement Award
,
Cardinal Newman Medal
,
Chemistry
,
Dave Singh
,
Dentistry
,
Diana (Ford) Cook
,
Don Bittner
,
God
,
Heimerman Science Building
,
India
,
Investigative Summer Science Program
,
John Pyles
,
Juhee Singh
,
Kansas
,
Mahatma Gandhi
,
Medicine
,
Native American Scholars Program
,
New Mexico State University
,
Newman Hispanic Scholars Program
,
Optometry
,
Outstanding Education Award
,
Physical Therapy
,
Pre-Medicine
,
Rahul Singh
,
Sacred Heart College
,
Science
,
Surendra Singh
,
Surendra Singh Outstanding Freshman in Biology Award
,
Swarn Lata
,
Taj Mahal
,
U.S. Navy
,
United States
,
University of New Mexico
,
Verizon
,
Veterninary Medicine
,
Wichita