Sister Margaret Knoeber devotes life to science and education
By Annette Lough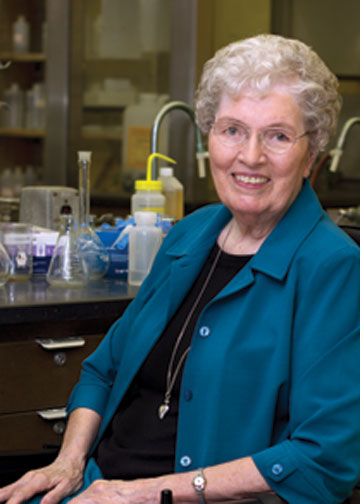 Judging simply by her appearance today – the calm demeanor, soft voice and distinctive necklace identifying her as a professed member of the Adorers of the Blood of Christ – you may not think of Margaret Knoeber, ASC as a trailblazer.
Yet that is exactly what she is – a woman who blazed many trails, over several decades, as a scholar, educator and lifelong learner. In fact, were it not for her passion for learning, we would not know of her remarkable capacity for teaching.

65 out of 8,000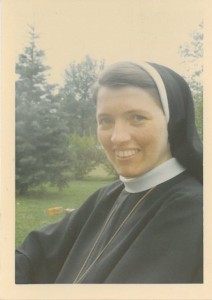 Knoeber is a well-known and beloved figure at Newman University, particularly among students of science and the health sciences. She grew up on a small farm in Spearville, Kan., alongside five siblings in the 1930s and 1940s. She excelled in school, and moved to Wichita to receive her high school education at Sacred Heart Academy, graduating in 1949.
She entered the novitiate that same year and was given the name Carmeline, eventually taking back her given name. She made her first profession of vows in 1950 and her final profession in 1955. While teaching elementary education—something for which she had a great affinity—Knoeber continued her own studies, working toward a bachelor of science degree in Natural Sciences, which she earned in 1961 from Sacred Heart College.
Her thirst for knowledge, and her innate interest in the sciences, offered her experiences and led her to places the scholarly small-town Kansas girl says she "feels privileged" to have gone. She attended some of the Midwest's finest Catholic institutions of higher learning, including summer classes at Creighton University in the early 1960s.
"I saw my assignment to Creighton posted and I thought it was a mistake," she recalls, the thrill of that assignment still fresh in her memory.
The time at Creighton only served to underscore Knoeber's interest in science, because the university did not offer an advanced degree in the subject. Margaret was on to the next post, the University of Notre Dame—another trail to be blazed, certainly, and an experience for which she still has great appreciation.
"I realize I was privileged that this [opportunity] was just handed to me," she said.
Knoeber received a one-year scholarship, and was among 65 women religious who attended Notre Dame through a special graduate program — in a school of 8,000 young men.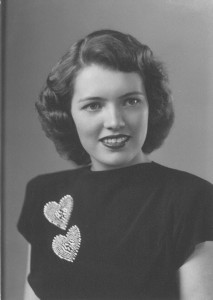 "The older Sisters shared with us younger ones what we could and could not do," recalls Knoeber. "We asked permission before doing almost anything to avoid conflict of any kind."
The sisters stayed in a special dorm; it was not in the best condition and roaches and other unwanted guests were plentiful (Fortunately, a year or two later, a beautiful new dorm was built). After a few years, Notre Dame began accepting women outside the religious order. A new day had dawned for women in education, and Knoeber was at the forefront.
'A high bar to reach'
Once at Notre Dame, she began working to earn a doctorate in organic chemistry, one of only five women in that field at the time. Knoeber delights at recalling her days there, recounting how students had to schedule a specific day to use certain instruments and equipment, but then had access to the instruments for the full 24 hours. By her logic, that meant staying up all night so she got the best use out of the equipment.
She was lauded for her methodical research, work that was cited many times according to her instructors. Knoeber did her research under the direction of Dr. Ernest Eliel, a world-renowned chemical researcher and educator.
"They actually learned during this time that women do research in a way men do not," Knoeber recalled. "A woman will work honestly until she finds results. That really went a long way toward allowing more undergrad women at Notre Dame."
Knoeber completed her Ph.D. at Notre Dame in 1967
She returned to Sacred Heart College in 1967 and began teaching chemistry. Within a year, she created the Chemistry Department and launched a four-year chemistry degree program. Her innate kindness, coupled with an unquenchable curiosity, made her a gifted instructor, and teaching was really the highlight of her career. That passion, shared with students through mentoring, was evident, in the way she was able to connect with her charges.
"She was a demanding teacher with a high bar to reach, but also with the ability to show you where the ladder was and how to use it," said Patrick Wolf, M.D., a 1974 Newman graduate. He added that he had very little knowledge about what higher education and medical school involved. "My parents both only went to the eighth grade. They were both from farm families of nine siblings who were very close and very decent, good people—however, none of my aunts and uncles went to college, much less into professions like medicine. I had no examples to follow and quite frankly, I did not know what the training in medicine entailed."
Wolf says Knoeber's encouragement, guidance and commitment to his growth as a student was instrumental in his success
"I especially remember her patience with me; organic chemistry was hard."
She also had a way of putting students without an aptitude for science at ease, carefully explaining safety protocol and instilling in students confidence in themselves.
"I would just tell them, if something does happen during an experiment, this is how we will handle it," recalled Knoeber. Once the unknown was known, any fears were batted away.
A pioneer
Knoeber has impacted the lives of many through her emphasis on education. She established the Pre-Med Committee, a resource that has helped many students be accepted into medical schools across the country.
As Alumni Director at Newman University in the 1980s, Knoeber helped build a solid alumni base through a successful capital campaign. She was called away from this service by her religious congregation when she was named to the newly selected Leadership Team of the Adorers in 1990, a role she maintained until 1996.
Following a sabbatical, Knoeber worked with Newman to launch a Pastoral Ministry Program in Dodge City, Kan. To bring the program to rural communities in the Diocese of Dodge City, she helped pioneer interactive television (ITV) technology in western Kansas. She continued to direct the Pastoral Ministry program for several years. She returned to Wichita in 2002 as Archivist for the Wichita Province, and then the newly converged United States Province of the Adorers.
Knoeber has touched the lives of many students over the past several decades, and whether speaking of past or present day, she still has that same zest, that same curiosity that was the driving force for her to become the accomplished educator Newman students and alumni admire.
In 2012, an anonymous donor made a gift of $25,000 to establish a scholarship in her honor, citing a great respect for Knoeber, and a desire to recognize the high level of energy and enthusiasm she brought to her work at Newman and other organizations.
The donor also noted Knoeber's love of life, happiness with her religious life, commitment to students and ability to help them realize their full potential. It is the perfect recognition for a woman for whom education means so much.