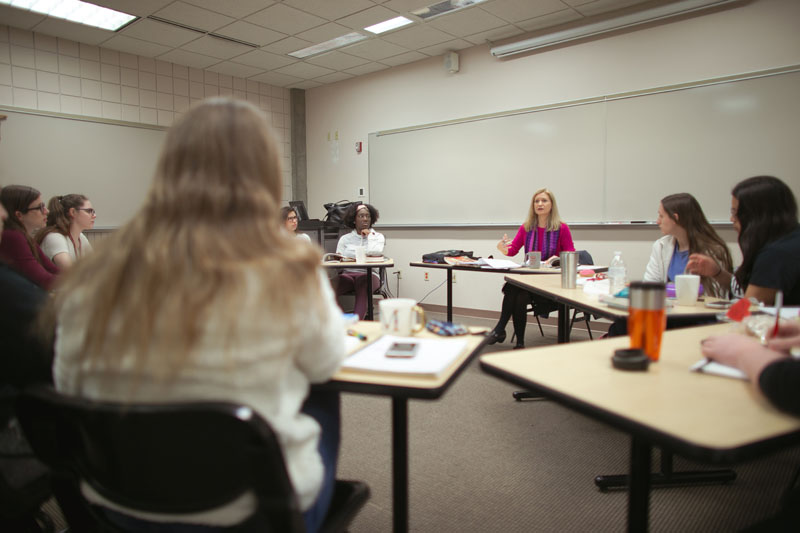 Sonja Bontrager teaches a class at Newman University.
Professor of Spanish Sonja Bontrager uses the help of many gracious volunteers to better teach and immerse her students in Spanish. 
"Spanish can open so many doors," said Sonja Bontrager. "It's a language that can create common ground way beyond the places where you might expect."
Bontrager is the sole Spanish teacher at Newman University and stays busy teaching courses, preparing for mission trips and service trips, sponsoring the Latinx American Leadership Organization and now, teaching a special program specifically for seminarians at the graduate level.
She began teaching at Newman in 2004 and has helped more than 108 students, staff and faculty study in Spain and Guatemala.
She said her programs are successful due to the help she receives from others. "I am not here because of what I've done, it's because of the other people that have worked with me," she said.
One of the most popular Spanish programs offered at Newman is the Guatemala Study and Serve, which Bontrager said was inspired and guided by the Adorers of the Blood of Christ.
Offered biennially, the program allows participants to immerse themselves in the language and culture, study the history, learn from host families and participate in service work. Before departure, Newman students take Bontrager's spring class, Introduction to Central America, to learn more about intercultural communication, culture, history and current events.
During the eight-week trip, participants live with host families, take level-appropriate courses incorporating intensive language study, and attend site visits, guest lectures and service. Students write essays in English and Spanish and take oral and written exams.
Nine students, eight seminarians, three priests and Biology Professor Sarah Evans, Ph.D., are taking part in the Guatemala trip during the summer of 2019.
Most of the participating seminarians became interested through the new Intensive Spanish for Seminarians summer program.
Twelve seminarians from multiple dioceses lived at the St. Joseph House of Formation and studied Spanish during the eight-week program, which Bontrager started last year.
"Sister Lois O'Malley, CSJ, Ph.D., has been a vital part of building this program and many others have helped," Bontrager said. 
Newman staff members Janette Ayala and José Montes and local volunteers led the midday conversational class. "I am so grateful. It was a collaborative effort," said Bontrager.
Wichita Vocations Director Father Chad Arnold has also played an important role in the seminarians' Spanish education. "He had the men doing their prayers in Spanish and incorporated the language into many daily activities in the House of Formation," said Bontrager. 
Arnold matched seminarians with host families and on weekends kept them busy attending baptisms, weddings and quinceañeras to deepen cultural learning and language.
Bontrager is appreciative of all the individuals willing to help students succeed, she said. Her goals are that students broaden their worldview, develop a deeper understanding of the perspectives of others and communicate more effectively in their careers and vocations.
She said many students continue to use their Spanish and cultural skills in medical, educational and social service fields.
"Newman students are a gift, and I consider them partners in strengthening intercultural understanding in our community and world."