2010 – 2011 Alumni Calendar of Events
There are plenty of reasons to return to campus, and many opportunities to reconnect with fellow alumni. Here are just a few highlights of upcoming events over the next year.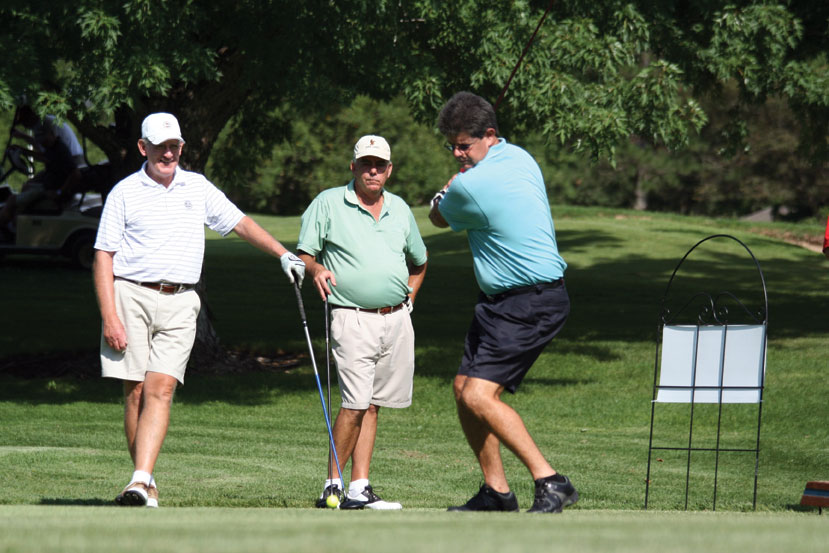 The Sacred Heart Academy Class of 1960 Reunion will take place Aug, 6-8, 2010. On Aug. 9, Newman will host the 26th Annual Laurie Bell Memorial Jet Open. An Alumni Lunch with President Carrocci is scheduled for Aug. 24.
On Sept. 13, Rwandan genocide survivor and author Immaculee Ilibagiza will make a special presentation at Newman. A trip to England for the beatification of John Henry Cardinal Newman is scheduled for Sept. 15-21.
On Oct. 2, Newman will present a "Party on the Piazza," and on Oct. 22-24 Newman will host the Class of 2005 and Class of 2000 Reunions. Don't miss the Alumni Legacy Family Celebration Oct. 23, or the Fall Chorale Concert Oct. 24.
In November, the Office of Alumni Relations will present a Fall Sports Alumni Reunion (Men's and Women's Volleyball, Soccer and Cross Country) Oct. 5-7, and an Alumni Luncheon Nov. 9. A theatre production is scheduled for Nov. 18-21.
To round out the year, the annual Christmas Chorale Concert will be Dec. 5, and an Alumni Luncheon will take place Dec. 8.
For 2011, a Student and Alumni Ski and Serve Trip to Colorado will take place Jan. 9-15. Homecoming Spirit Week begins Jan. 31 and runs through Feb. 4
When are class reunions?
Class reunions are scheduled when sufficient interest is demonstrated. Want to host a reunion? Volunteers from the following classes are encouraged to contact the Alumni Office by May 1 to assist in planning these reunions:
2005 (5 years) • 2000 (10 years) • 1990 (20 years) • 1985 (25 years) • 1961 (50 Years)
The Class of 1990 and Class of 1985 Reunions will be Feb. 4-6, and a Winter Sports Alumni Reunion (Men's and Women's Basketball, Wrestling and Bowling) is set for Feb. 4. The Athletics Hall of Fame Banquet and Homecoming Dance is set for Feb. 5. Cardinal Newman Week will be from Feb. 20-26, and Newman will stage a theatre production Feb. 24-27. The Alumni Association holds it Annual Meeting Feb. 25.
A Texas Alumni Event At Heartland Conference Tournament will take place  March 3-5, with Spring Break Service Trips scheduled for March 21-25*, an Alumni Social and St. Patrick's Day Party on March 17, a Spring Sports Alumni Reunion March 19-20, and a Business Alumni Networking and Career Fair March 24.
A Kansas City Alumni Event will take place April 8-10, and the Spring Musical Production is set for April 28-30.
The Sacred Heart College Class of 1961 Reunion will take place May 13.
Newman will stage an Alumni and Friends Educational Conference June 3-4, and the National Alumni Board Member Orientation will take place June 24.
* Information updated June 1, 2010.
For a complete listing and details on these and other activities open to Newman University alumni and friends, watch
http://calendar.newmanu.edu
. Tags:
Alumni and Friends Educational Conference
,
Alumni Legacy Family Celebration
,
Athletics Hall of Fame
,
Beatification
,
Calendar
,
Cardinal Newman Week
,
England
,
Fall Sports Alumni Reunion
,
Heartland Conference
,
Homecoming
,
Homecoming Dance
,
Homecoming Spirit Week
,
Immaculee Ilibagiza
,
John Henry Cardinal Newman
,
Kansas City Alumni Event
,
Laurie Bell Memorial Jet Open Charity Golf Tournament
,
Reunion
,
Sacred Heart Academy
,
Sacred Heart College
,
Ski and Serve Trip
,
Spring Break Service Trips
,
Spring Musical Production
,
Spring Sports Alumni Reunion
,
St. Patrick's Day Party
,
Texas Alumni Event
,
Winter Sports Alumni Reunion