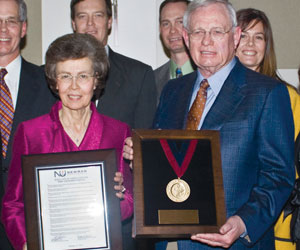 Two longtime benefactors of Newman University and the Adorers of the Blood of Christ were honored Feb. 27 with the university's highest honor, the Cardinal Newman Medal.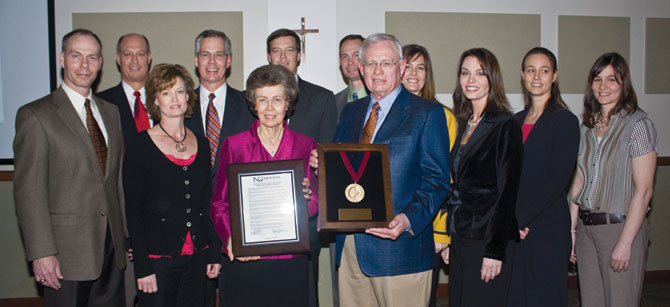 John E. and Marilyn K. (Gorges) Dugan were awarded the medal during this year's Cardinal Newman Banquet and Awards Ceremony, the capstone to the annual Cardinal Newman Week celebration. The Dugans were selected for their appreciation of the spirit and ideals of John Henry Cardinal Newman and the instrumental role they have played in the growth and development of the university.
The Dugan family's long association with Newman and the ASC began in 1888, when John's great grandparents Ellen and Henry Dugan donated the land where the university stands today to the Diocese of Wichita, which sold it a few years later to the ASC. John attended Saint John's Boys School in the 1940s and helped his father deliver milk to the Sisters from the family dairy farm. Marilyn is associated with Newman and the ASC through two cousins who were Adorers, Sister Evelyn Gorges and her sibling Sister Sylvia Gorges, former president of Sacred Heart College.
The Dugans received an honorary doctorate of law from Newman in 1996 in recognition of their support for Catholic education. They made substantial gifts to campaigns for Eck Hall and the De Mattias Fine Arts Center-O'Shaughnessy Hall complex. The Dugan Library and Campus Center was named in recognition of their $2 million gift, while the Dugan-Gorges Conference Center, named in honor of the couple's parents, was constructed thanks to an additional gift.
Two of the Dugans' 10 children and two daughters-in law have graduated from Newman, and two grandchildren are current students. Their son Mark has served on the Board of Trustees and their son Glenn is currently on the Board.
Tags:
Adorers of the Blood of Christ
,
Cardinal Newman Banquet and Awards Ceremony
,
Cardinal Newman Medal
,
Cardinal Newman Week
,
De Mattias Fine Arts Center
,
Dugan Library and Campus Center
,
Dugan-Gorges Conference Center
,
Eck Hall
,
Ellen Dugan
,
Evelyn Gorges
,
Henry Dugan
,
John E. Dugan
,
John Henry Cardinal Newman
,
Marilyn K. (Gorges) Dugan
,
O'Shaughnessy Hall
,
Sacred Heart College
,
Saint John's Boys School
,
Sylvia Gorges