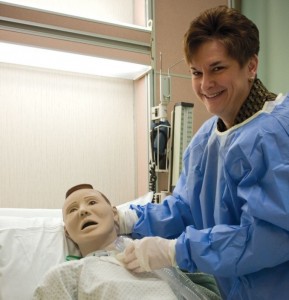 Bernadette Fetterolf comes from a family of nurses. Her mother was a nurse. Two of her three sisters are nurses.
So it's little surprise that from a young age Bernadette Fetterolf, Ph.D., RN, CNS, director of the School of Nursing and Allied Health and associate professor of nursing, wanted to be a . . . musician.
Fetterolf, who began taking piano lessons at age 4 and appeared in countless recitals, said her mother told her in high school that music was fine as a profession, but she needed something more stable to fall back on. At the time, the best career options for women were nursing and teaching. She tried nursing, which led to teaching — and today Fetterolf says she has never regretted her decision.
"With my career I've been able to do so many things – practice nursing, teach, work as a consultant," Fetterolf said. "It's opened a lot of doors. I've been more than I thought I could be."
Fetterolf was born in Topeka, Kan., grew up in Hutchinson and moved with her family to Wichita at age 16. She graduated from what is now Bishop Carroll Catholic High School. After receiving a nursing diploma from the St. Francis Hospital School of Nursing, she earned both her bachelor's and master's degrees in nursing from Wichita State University. She later earned a doctorate from Kansas State University in life span and human development, with an emphasis in family and child development.
Outside of a brief job in a nursing home while in college, Fetterolf's career has been entirely in nursing and education. She began as a staff and charge nurse in 1975, and became a clinical instructor – a working nurse who provides hands-on training for nursing students – and an assistant professor of nursing for Kansas Newman College in 1981. Fetterolf alternated between jobs as a teacher and a nurse (or sometimes both at the same time) until 2007, when she settled at Newman.
Fetterolf said she couldn't be happier.
"For me, teaching and practicing are the best of both worlds," she said. "The educational aspects of nursing come alive in a clinical setting. That's the most satisfaction you can get, when the two come together. And Newman is the only place I want to teach, because it's a good fit for me. I'm Catholic and this is a faith-based institution. The size of the school and the university allows for close faculty-student interaction, and that's how I want to teach."
Fetterolf said she was initially attracted to Newman because of a teacher she first met at the St. Francis School of Nursing, Joan Felts, Ph.D., former head of the Newman School of Nursing.
"She has been my mentor the entire way," Fetterolf said. "She was so inspiring I decided to go on to college and get my BSN. Then, when I decided I wanted to teach, she told me to get my master's. When I began graduate school she called and offered me a job. I love that woman."
When Felts retired and Fetterolf was asked to take over the School of Nursing, she knew she would have "big shoes to fill," and would have to give up her practice. The need for leadership, the strength and willingness of the faculty to work with her, and the prospects of new developments in the school, however, convinced her to accept.
Since then, Fetterolf has overseen several changes in the school. She helped revamp an RN refresher course for nurses who have been out of the profession five or more years to an entirely online format, making it accessible to nurses across the state. She has also led the development of a new RN-to-BSN program (see Partnerships story, this issue), and directed the nursing program's preparation for its 10-year reaccreditation study and visit from the Commission on Collegiate Nursing Education and the Kansas State Board of Nursing in fall 2009. She hopes in the near future to develop a system for school alumni to easily stay in touch with each other and the university.
Fetterolf added that she sometimes misses practicing, but is proud of what she and the faculty have accomplished.
"All of our programs are tailored to best meet the needs of the population they serve, and we have excellent outcomes. We don't treat students like a number here. The faculty are accessible to students, and help develop and mentor our students even after they graduate. We don't want to be the biggest nursing school. We want to be the best."
Bernadette Fetterolf is married to Don Fetterolf, a 2007 Newman graduate. She has two grown sons, Jared and Ryan, and three grandchildren, Tristan, age 9, Seth, 6, and Caylie, 5. When not working, she enjoys playing piano and organ, reading, and counter cross-stitch, and outdoor activities with Don such as hiking, fishing and boating.
Tags:
Bernadette Fetterolf
,
Bishop Carroll Catholic High School
,
Catholic
,
Commission on Collegiate Nursing Education
,
Hutchinson
,
Joan Felts
,
Kansas
,
Kansas Newman College
,
Kansas State Board of Nursing
,
Kansas State University
,
Nursing
,
RN-to-BSN
,
School of Nursing
,
School of Nursing and Allied Health
,
St. Francis Hospital School of Nursing
,
Topeka
,
Wichita State University