How to build marriages that last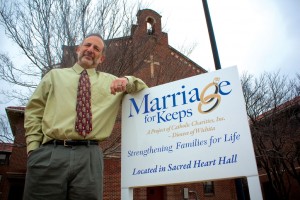 On any given weeknight, eight to 12 married couples gather in the Caritas Room in the lower level of Sacred Heart Hall. The couples meet weekly for three months, enjoy dinner together, and receive instruction on communication techniques, conflict resolution, money management and other topics that are designed to improve marriage.
In the process, they're helping researchers collect valuable data that could ultimately benefit thousands of people, and influence social services and marriage and family programs across the state.
The couples are participants of an empirically based, relationship skill-building workshop called "Marriage for Keeps" (MfK). This Kansas program is part of a national project called Supporting Healthy Marriages, which was coordinated by MDRC, a nonprofit education and social policy research organization, and funded by the U.S. Department of Health and Human Services (HHS).
After a rigorous national selection process in 2006, Catholic Charities of Wichita was chosen as one of only eight sites across the country to implement the project. Catholic Charities then partnered with Newman University and other agencies to administer this program. In December 2006 I was fortunate enough to have been named the program director.
This four-year longitudinal research project, which ends December 2010, is designed to evaluate an education program to help married couples learn and apply relationship skills to better their marriage and consequently improve the lives of their children. In addition to the MDRC research project, the MfK program received a five-year award in 2006 by the HHS to serve low-income families throughout Kansas. The MfK study began serving married couples with children in May of 2007, and quickly expanded in scope. By December 2008 MfK had outgrown its facilities and moved the marriage education groups to the Newman campus.
Why so much focus on marriage? Marriages are the engine that drives a family. Evidence is abundantly clear that when a marriage is strong, vibrant and healthy, a multitude of good things are derived for each spouse, their children and the community. Good marriages are highly correlated with raising psychologically healthy children with superior academic performances, better economic security, improved physical health, safer communities — and the list goes on.
Unfortunately, having a healthy marriage is a difficult objective to achieve. One look at the divorce rate, which has stayed at about 50 percent for the past two decades, is evidence enough. When you factor in the many marriages that have chronic high conflict, or the ever-increasing number of single parents, it's easy to see that something is terribly wrong in our families.
Marriage for Keeps is dealing with these issues — with some impressive results. As of Feb. 1, 2010, over 40 marriage education treatment groups have been conducted in Wichita, and another 25 groups at other Catholic Charities sites throughout Kansas. All total, more than 700 couples have been served since MfK began providing services in May 2007. In addition, the MfK program has achieved one of the highest retention and completion rates in the nation.
Even though the final results of the research project will not be published for a few more years, there have been some encouraging preliminary, albeit anecdotal, data that are pointing to the positive impact of marriage education on the lives of these couples and their children. As the program director of Catholic Charities' Marriage for Keeps program and a faculty member at Newman University, I have had the rare privilege to work with these respected institutions in hopes of better understanding and serving local families. It is with deep gratitude that I acknowledge Catholic Charities' willingness to pursue and ultimately administer this ground-breaking research project.
Tags:
Caritas Room
,
Catholic Charities of Wichita
,
Coordinator of the External Social Work Program
,
Families
,
Marriage
,
Marriage for Keeps
,
MDRC
,
MfK
,
Mike Duxler
,
Sacred Heart Hall
,
Social Work
,
Supporting Healthy Marriages
,
U.S. Department of Health and Human Services