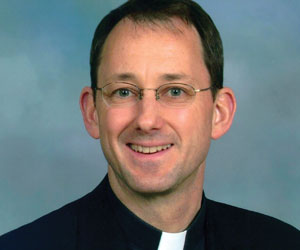 Fr. Rouch is a respected Newman scholar, whose doctoral dissertation addressed the relationship of Christian dogma and spirituality in Newman's writings.
In his lecture Fr. Rouch spoke of the parallels between the cultural dynamics of Newman's time and the present day, Newman's personal life and experiences, and the influence his search for truth can have on the efforts of modern people — particularly university students and faculty — to be spiritual, religious, and Catholic.
Fr. Rouch is vice-rector and associate director of seminarians at St. Mark Seminary and the vicar for education in the Diocese of Erie, Penn. He has a bachelor's degree in psychology from Gannon University in Erie, a master of divinity degree from St. Mary's Seminary and University in Baltimore, Md., a master's degree in Christian spirituality from Creighton University, and has received both a licentiate and doctorate in spiritual theology from the Pontifical University of St. Thomas, commonly known as the Angelicum, in Rome.
Tags:
Angelicum
,
Baltimore
,
Cardinal Newman Lecture
,
Catholic Diocese of Erie
,
Creighton University
,
Gannon University
,
Nicholas Rouch
,
Pennsylvania
,
Pontifical University of St. Thomas
,
Rome
,
St. Mark Seminary
,
St. Mary's Seminary and University