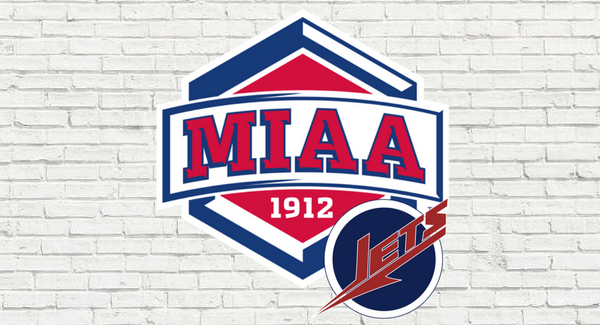 ---
The fall 2020 sports season for Newman University student-athletes was abruptly put on hold due to the national pandemic. But the Jets are working hard to end their 2020-2021 season on a high note with a spring semester full of team spirit and competition.
Athletic Director Joanna "Jo" Pryor said the athletes and coaches were excited yet prepared to remain open-minded and flexible "because the pandemic is still part of this academic year's story."
Pryor said, "With the pandemic came a lot of uncertainty. Things can change at the drop of a hat. We might find out two days before a scheduled game that there won't be a game, so we have to be ready to change at a moment's notice."
Because communication is key in an everchanging environment, the Mid-America Intercollegiate Athletics Association (MIAA) maintained an open date calendar so if a team needed to postpone or cancel due to players testing positive for COVID-19, other teams could schedule make-up games as they saw openings occur.
Zane Ehling, associate athletic director of external operations, said travel looked similar to other seasons, but the teams played fewer non-conference games than a typical season, making most of the trips in-conference within Kansas plus three surroundings states: Missouri, Nebraska and Oklahoma.
Fall sports were pushed to spring, making this semester the busiest in Newman sports history.
Bowling and volleyball moved from fall to spring and wrestling delayed their fall start to January. Added to the regular spring sports, the Jets had a very full schedule.
Head Wrestling Coach Ryan Smith said his guys were missing out on the first half of what is usually a two-phase season. The first phase of their typical year consists of individual matches, working on skill, getting weight under control and overall working the nerves out of the wrestlers' systems.
Smith said, "The season was shortened but the national tournament date didn't move. We compressed a six-month season into just eight weeks. We lost several open tournaments in the process and jumped right into duals."
Bowling Coach Billy Murphy said their season has felt more like a sprint. Fewer tournaments didn't mean more time to relax. By the time the season is over, the team will have bowled six out of eight weekends to qualify for the post-season.
But the athletes were more than ready to start. Murphy said that is all they could talk about.
He said the practices looked a little different, too, but the end-goal is always the same: "Be ready to play and to play at a high level."
Baseball and softball faced regular seasons this spring after having theirs cut short in spring 2020. Andrea Gustafson, head softball coach, said she and her players were obviously ready to hit the field while understanding that flexibility must stay at the top of their minds.
She explained, "Last season was going fine, I believe it was 25 games we got in, and March 12, 2020, we were scheduled to leave the next day for a game, we found out we were postponed. We just thought we wouldn't go anywhere for a couple of weeks. We had no idea what would actually happen."
Gustafson took full advantage of her practices during times when all the women were healthy and together.
"This year we know each other better, so I think we understand the direction we are trying to take this program. You never know when you'll have a full team. I've learned to go with the flow — when we do have our full team, it is important to do the team skills work that we need."
Pryor said regular COVID testing has helped identify any issues that arise. When teams are in their practice portion of the season, random testing for 25% of the teams is done weekly. Once competition weeks begin, all team members are tested weekly before games take place.
"Once we made it through fall, we were that much more prepared and ready for spring," said Pryor. "We learned a lot from our fall semester experience. We were very cautious, but it really protected us. We know a little more and we were definitely ready to move forward."