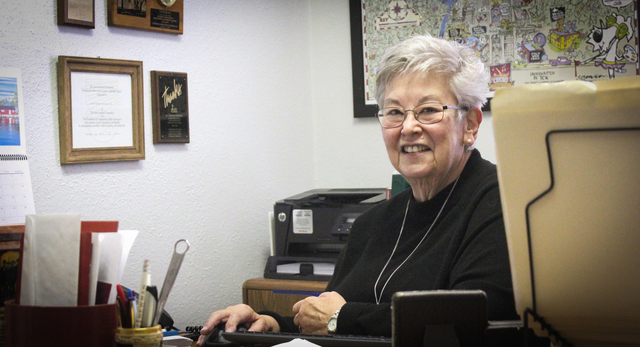 ---
Newman University lost a longtime employee and friend, Sister Charlotte Rohrbach, ASC, in spring 2021.
After a short illness, Rohrbach, 80, died March 21. Her relationship with Newman had spanned six decades.
Although Newman President Kathleen S. Jagger, Ph.D., has been at the university for less than a year, she will miss Rohrbach.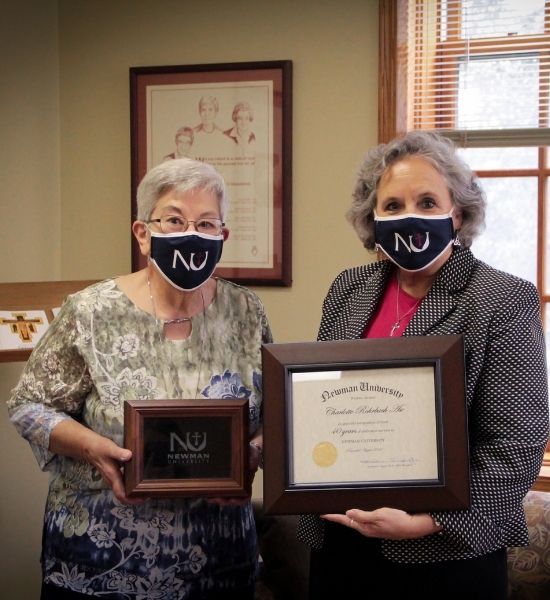 "Sister Charlotte always aimed for excellence and was determined to do all she could each day to support and improve Newman. Her active engagement and service were an inspired and inspiring way of life.
"God must have known that if he didn't bring her home, she would never stop working. Sister Charlotte looked for the best in every person, and was instrumental in helping me as a new president become familiar with every facet of Newman University. Certainly, she will be missed for a long time to come. There is a gaping hole in the heart of Newman University this week," Jagger said.
In a journey that brought her to Wichita from her childhood hometown of Oklahoma City, Rohrbach attended Sacred Heart College and after one year, she joined the Adorers of the Blood of Christ (ASC), sponsors of the college. She professed first vows on July 1, 1961, and perpetual vows on July 1, 1966.
While in her formation with the ASC, Rohrbach earned her undergraduate degree in 1962 and later received a master's degree in history from Creighton University and a Ph.D. in American Studies from St. Louis University.
Over the years, Rohrbach served Newman in many roles including as a history professor, academic dean, alumni director, campus ministry director, service learning director, study abroad director as well as interim president and chief operating officer.
At the time of her death, Rohrbach was the director of mission effectiveness at Newman and served on the president's cabinet. In all of her roles, she brought a wealth of knowledge, experience and perspective along with a heart for service. She excelled in her various positions but was a teacher at heart.
In an obituary written by the ASC sisters, Rohrbach was quoted as writing, "My greatest accomplishment has been that of a teacher. I recognize my strength in this area and key upon it as I impart knowledge and values."
Rohrbach's love of teaching inspired her students.
Sister Tarcisa Roths is a former colleague, a former Newman president and ASC Provincial of the Wichita Province. She has many great memories of Rohrbach.
"My fondest memories of Sister Charlotte were the years we were faculty in the history department and shared our love of history with one another and with our students. I was amazed at how Charlotte brought history alive for the students.
"An example of this was her response to students' request in 1976 to plan a bicentennial tour. Of course she did. We toured the East Coast from Boston through New York and Washington, D.C., bringing early American history alive for the students in ways that could not have happened through reading the text and hearing lectures," Roths said.
Rohrbach had a wonderful sense of humor and enjoyed having fun and maintained lifelong friendships with many alumni.
Rosemary Niedens, associate vice president for academic affairs, worked closely with Rohrbach.
"In everyone's life there are those people who have enormous impact on you. Sister Charlotte was one of those people for me. We worked together on countless tasks, programs, retreats, trips and on and on. Reflecting on all we did together, I am struck with her 'larger than life itself' personality.
"That is not to say she was not a humble team player but you knew — without any reservations — that you could count on her. She cared and you knew it. My life is immeasurably better, I am a better person because God blessed me with Charlotte in my life," Nieden added.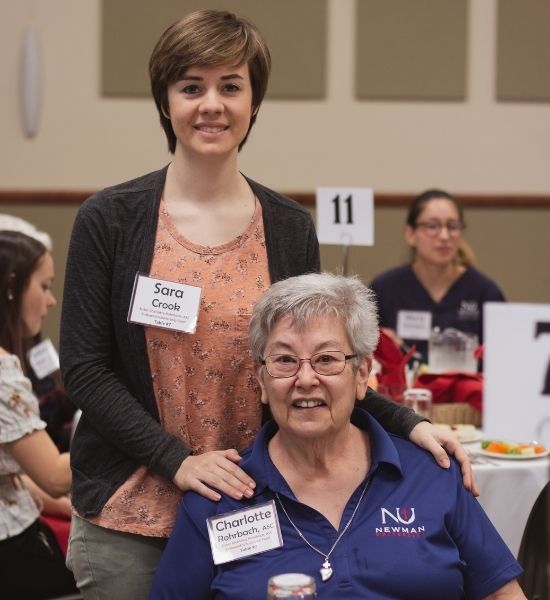 Rohrbach also served numerous leadership roles within the ASC organization, including board member at Newman, delegate to the General Assembly in Rome, president of six ASC corporations and provincial in Wichita, director of ASC activities surrounding the canonization of St. Maria De Mattias and chair or member of an extensive list of committees and boards.
Her attitude of service and dedication to serve daily was an inspiration and encouragement to others.
Provost and Vice President of Academic Affairs Kimberly Long, Ph.D., said she has been hearing from numerous alumni and former Newman community members since Sister Charlotte's passing.
"Sister Charlotte had an amazing impact in her life, her work and her ministry. In the short time since her passing, I've heard over and over again about how important she was for newcomers — welcoming everyone into the Newman community and helping them to become partners in the Adorers' charism. We've heard from alumni across the country and across the world who have been eager to share their stories of Charlotte and how she fostered in each of them a heart for service in their lives that lives on long after their time at Newman."
Long also echoes the sentiment of many as she tried to encapsulate Rohrbach.
"She was a formidable intellect, a passionate woman and an exacting member of our community. She was salty, honest and incredibly big-hearted. Perhaps we should not be surprised that her heart failed her so soon, as she had given so much of it away to all of us. She will be missed," Long said.
In addition to her ASC sisters, Rohrbach is survived by her brother, Charles (Fran) and several nieces and nephews. She was preceded in death by her mother and father, Adeline Hula and Charles J. Rohrbach, brothers Richard and Eugene and sister Rosemary Ritzinger.
Newman is planning "A Celebration of Sister Charlotte's Life" for the Newman community, alumni and friends to be held 2 p.m. Sunday, April 18, on the Newman University campus.
In lieu of flowers, memorial contributions may be made to the Charlotte Rohrbach, ASC, Endowed Scholarship at Newman University at https://give.newmanu.edu/.