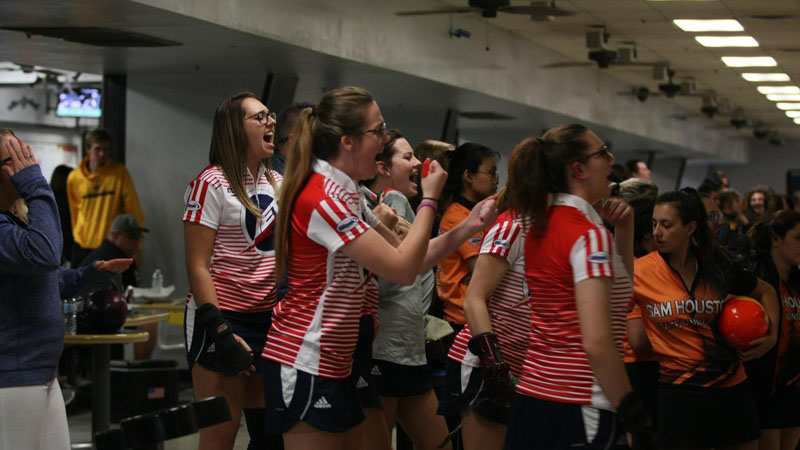 The Newman University women's bowling team reached new heights in the 2017-18 season.
With more than 200 bowling programs in the nation, the Newman University women ranked with the best of them during the 2017-18 regular season. The women finished the season with a ranking of fourth and the men finished with a 12th-place ranking in the final poll before the National Collegiate Bowling Association championship.
Billy Murphy, who has been head bowling coach at Newman since the program began in the 2003-04 season, has had many successful seasons, but he knew four years ago that this season may be the best yet for the women's team.
"Four years ago we had a freshman class come in that was very talented and raw at that time, but had very good skill sets," he said. "They're driven by their own desire to be successful."
In their first year at Newman, the class didn't make it to nationals and that only seemed to motivate them through the rest of their collegiate career.
The team has seen success over the past four years but, according to Murphy, never this many wins.
This season started with a bang that never fizzled. The team won seven of 12 tournaments, which had never been done before. The ladies won events against some of the top teams in the nation early in the season; something Murphy thinks helped them realize they truly had a shot at the national championship.
A season highlight was the Hoosier Classic, a prestigious tournament hosted in Indianapolis. 
Murphy said, "They got second last year and those young ladies wanted to win that tournament so badly and they just came in with that mindset. They knew the prestige of (the tournament) and they understand that every good team in college bowling is at that event." 
The women reached the semifinals and placed fifth among 66 teams at the tournament.
Joining a conference for the first time proved beneficial for the Jets. Being in the Southwest Intercollegiate Bowling Conference allowed them to play more games and gain more experience. Both the women and men won conference championships.
Throughout the seasons, Murphy has been appreciative that both teams' expectations were identical to his. 
"The group of ladies we had were exceptional in practice habits and they all work out and do everything that is expected of them," he said. 
Not to mention the excellent academic record of the team — 75 percent of the women earned the Academic All-American title.
"I don't know if you can replace what's leaving just because of who they were," he said. "We returned five of the top eight averages on the team this year so we're still going to be pretty darn good next year."