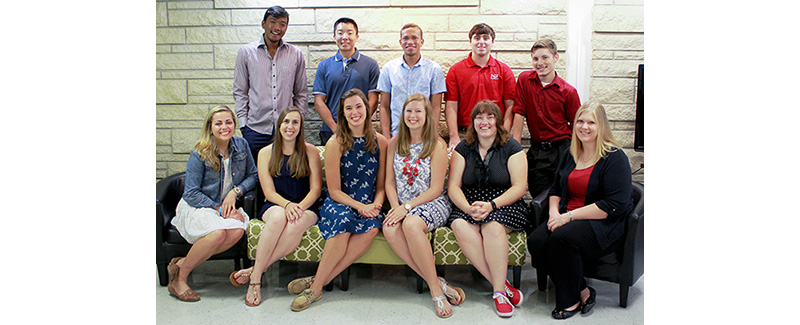 2016-17 residence assistants
A large part of any student's college experience is what goes on outside the classroom. In an effort to enhance different aspects of student and residence life, the Newman University Student Affairs staff has developed new ideas and created additional positions to provide more programs, support and services to students on campus.
One improvement was a new class to better prepare resident assistants before the fall semester.
"Instead of having the RAs hired in the spring and not doing anything until August, then throwing all the information at them at once, we wanted to have a class shortly after they were hired, so they could get some of the information," said Residence Life Coordinator Jared Dechant.
RAs met and worked through a textbook on how to avoid some of the common mistakes RAs make, with different scenarios RAs might encounter and how to handle them.
Dechant said the classes also gave RAs, some of whom are returning while some are new, the opportunity to get to know each other.
"For me personally, I'd never lived on campus," said first-time RA Madison McCollum. "It was very insightful and helped me get to know the rest of the team."
Another improvement was to make several new hires within Student Affairs and Residence Life. In Student Affairs, graduate assistant Megan Hemel will serve as Campus Activities Board advisor and oversee the intramural sports program. Devin Smith was also hired to focus on diversity programming within Student Affairs.
Another new hire is Director of Residence Life Scott Mudloff, who previously worked as the housing director at Bethany College.