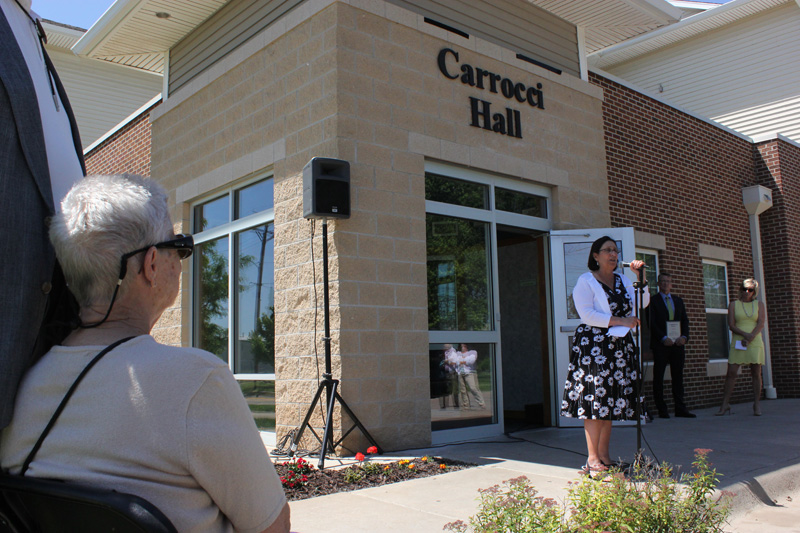 Newman University faculty, staff, students, Board of Trustees members and a number of well-wishers gathered outside a Newman residence hall May 12 for a special ceremony. The hall, which opened in 2007 and was named New Hall, was rechristened Carrocci Hall in honor of current Newman President Noreen M. Carrocci, Ph.D.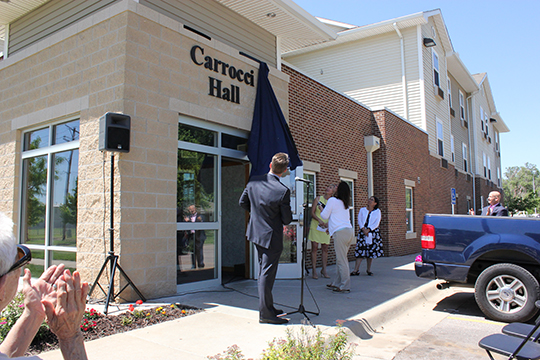 The renaming came at the request of the late Bill Allen and his wife, Pucci, who made a generous gift last year to Facing Forward – A Campaign for Newman University, the fundraising initiative to create the Bishop Gerber Science Center and upgrade facilities in Eck Hall.
In appreciation of their gift , Newman provided the Allens with the opportunity to designate a building on campus. They decided to honor Carrocci for her commitment and accomplishments since coming to Newman in 2007.
The Allens moved to Wichita in the late 1950s and owned and operated Allen Electric Supply Co. for 30 years. Their enthusiasm for higher education led them to contribute to Newman because of the school's service and commitment to the community.
Read more about this story and see video of the rededication at go.newmanu.edu/chall.
Tags:
Cardinal Newman Week