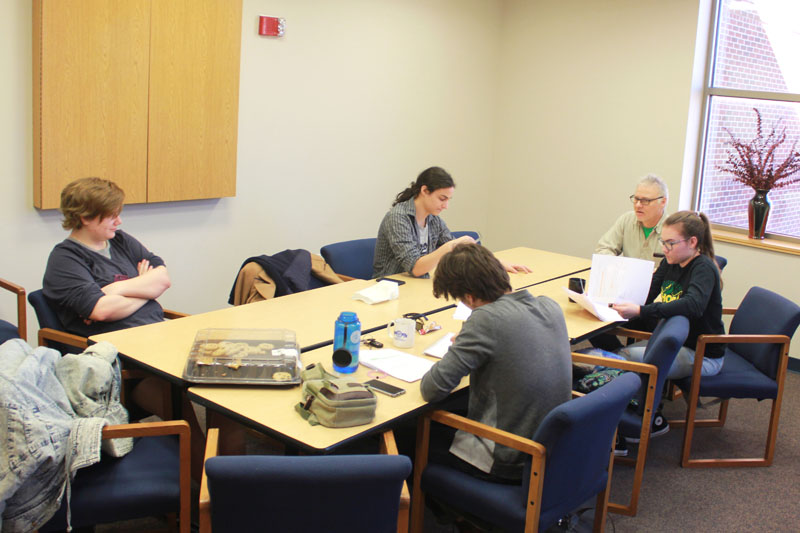 (l to r) Ben Mannette, Lucas Farney, Mark Mannette and Rebekah Lipinski meet to talk about their play for the 24-Hour Theatre Project
Director of Theatre Mark Mannette challenges students to be their best
The Newman University Theatre Department has been doing some great things.
With four major productions each year and five world premieres since fall 2013, students never cease to wow the audience with constant talent.
Associate Professor and Director of Theatre Mark Mannette loves to bring new productions to the stage while offering new challenges to the students. This year's challenge was a Spanish play, "The Dog In the Manger," by Lope de Vega.
Mannette, who also encourages students to strive toward their best, enjoys promoting their work as well. This year, he plans on debuting "The Other People," written by alumna Chelsea "C.L." Smet.
Mannette explained that Smet's play was selected for a national competition and said he is proud of her achievements.
The play is about young people and how death affects friendship dynamics, and how lies impact relationships. Smet chose Newman University to premiere her play because "Newman is great at premiering new plays … 
and there's something unique about that experience that not a lot of college students get."
Smet added that she has the Newman theatre program to thank for her latest successes.
"I say this with 100 percent honesty — if I had not gone to Newman and met Mark and had not been mentored by him, I would never have written a single work. He encouraged and challenged me to write, and gave me so many opportunities. People I tell can't believe how much I got to do."
Mannette teaches and provides each student in his classes and productions — whether or not they are theatre majors — with helpful tools to take with them into their desired fields. One of these tools is a degree of self-confidence.
"When you can overcome what seems to be a difficult obstacle, tackle it and then master it, you're like, 'Ok, if I can do that then I can do just about anything,'" Mannette said. "I think that's one of the things about theatre … it really teaches you to problem solve and overcome obstacles in an ever-changing world."
Sophomore theatre major Lucas Farney said he's learned that it's all part of the "big story" we call life.
"To be a good actor," Farney explained, "you need to be in the moment of the scene. If you're focused on things outside of that, you aren't in the moment. Really what this taught me is to just go with the flow, and that has been very beneficial both as an actor and as a human, it's taught me to enjoy things more as they come.
"Mark Mannette, for starters, has been like a dad to me — a mentor and a friend — and I will never be able to tell him how much I appreciate him. But the students, both theatre majors and non-theatre majors that are involved, are just some of the nicest people I've ever met and I'm honored to be in such a department."