A Lifetime of Contributions to Newman University: As teacher, mentor, friend, Dr. Surendra Singh has touched countless lives
Forty-five years ago, the Division of Science and Mathematics at what is now Newman University bore little resemblance to what it is today.
Fewer than 30 students were majoring in biology. Those students had limited post-graduate career avenues. The division struggled to attract new students to a college with an enrollment of only about 700.
Today, there are 3,000-plus students at Newman, including more than 170 biology majors. Those students go on to find success in a wide variety of scientific and allied health endeavors. And, biology at Newman is on solid bedrock, bringing in new waves of bright young students each year.
'No words can capture all Dr. Singh is and what he has done. I treasure him as a man who respects the dignity of each person and of all creation.'

– Therese Wetta, ASC – Director of Development for Sciences and Health Services
The only thing that has remained constant in those four and a half decades, is that those students who are now or soon will be doctors, dentists, physical therapists, veterinarians, research scientists, college professors and other professionals across the state, nation and even overseas – all share in the roots of their success seeds of knowledge sowed by Professor of Biology Surendra Singh, Ph.D.
"Dr. Singh is almost singlehandedly responsible for how successful our division is today – and by division I mean not just science and math but also allied health," said John Leyba, Ph.D., professor of chemistry and chair of the Division of Science and Mathematics.
Other of Singh's colleagues agree.
"Dr. Singh has a low-key approach which belies his monumental impact on Newman University and so many of the alumni," said Vicki Bergkamp, ASC, chair of the Division of Business.
Ironically, this story of that low-key, modest man and his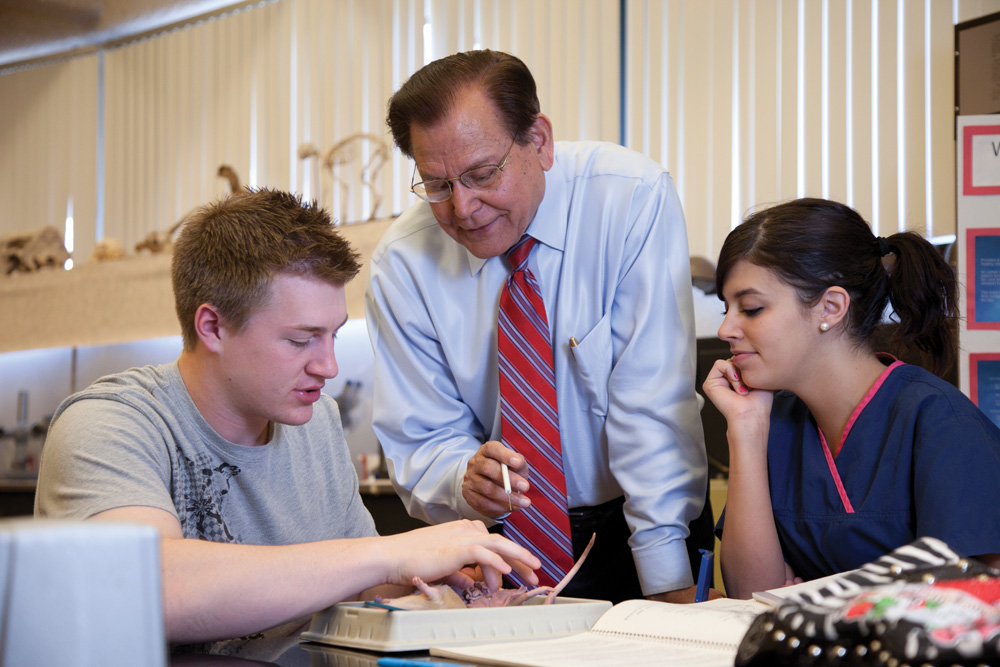 remarkable impact on a small Catholic college in Wichita, Kan., occurred quite by happenstance. Singh, now known and revered for his teaching, didn't intend to be a teacher, much less one in Kansas.
That all changed in 1969 as Singh, originally from India, was flying over the Sunflower State on his way to a job interview at what was then Sacred Heart College. "I had never been in Kansas before. All I could see was flat wheat fields, but it reminded me of home," he says.
Singh liked what he saw, stayed, and built a new home.
'There have been occasions in the past when one or the other of us ASCs said, "Dr. Singh is more committed to our mission than we are." His commitment through through good times and lean times has never wavered and for this, I am deeply grateful.'

– JoAnn Mark, ASC – Director of Transfer Student Orientation and Retention
He also began working on what has become a multitude of impressive accomplishments. Since coming to Newman, Singh:
Grew and developed the pre-med program, which has helped 96 percent of the pre-med students who applied gain acceptance to medical schools in the past decade — no small feat considering the competition for a medical school slot.
Established 10 associate and baccalaureate degree programs in science and allied health, as well as two dual degree programs and one minor.
Created the Investigative Summer Science Program, which brings high school students to Newman for two weeks each summer to explore careers in science and health care.
Founded the Hispanic Scholars and Native American Scholars Programs, both of which bring students to Newman for after-school experiences that encourage them to graduate from high school and further their education in college by igniting an interest in science.
Yet Singh remains unassuming about his achievements, saying his reward is seeing others succeed — something he clearly enjoys.
"You only have one life to live and you want to do what you enjoy most," he says. "I'm doing just that."
Student-centered
Singh has a lifelong interest in science, especially biology and botany. He earned a bachelor's degree in biology/chemistry and a master's degree in botany at Agra University in India, an institution known for its science education and emphasis of hands-on learning, a technique he has employed throughout his own career.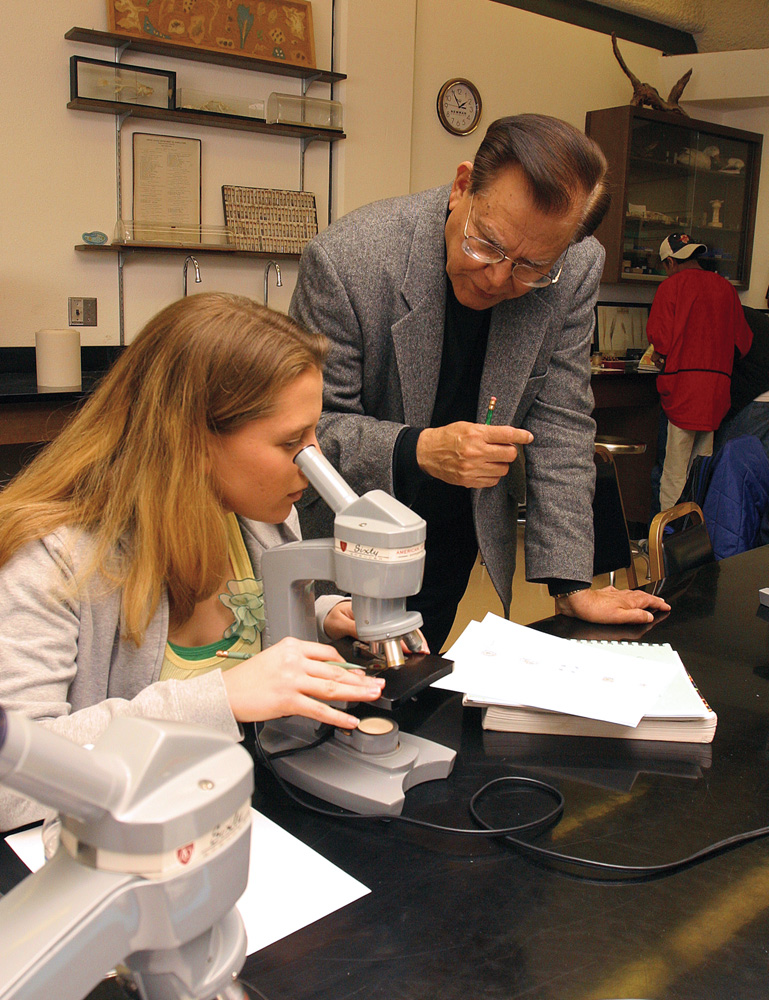 He arrived in New Mexico in 1961 to study plant research at New Mexico State University, where he earned his second master's degree in 1964. In 1971, he earned a Ph.D. from the University of New Mexico. He put his interest in research aside to concentrate on his newly discovered love of teaching, sparked by the small classes at Sacred Heart. All his previous experiences had been in large, impersonal university auditoriums, where a professor arrived, lectured and quickly left, never building relationships with students.
Singh wanted none of that.
"My teaching has always been student-centered," he said.
To say Singh is student-centered is an understatement: he's almost student- obsessed, driven by a passion to see students succeed — even those who find biology isn't their interest.
'Dr. Singh was a model of the teacher whose interest is centered on the students and on their success in their field of study. He mentored them in ways that brought out their best efforts and increased their ability to learn."

– Tarsicia Roths, ASC – professor emerita (history) and former Newman University President
In fact, Singh insists that early in their college careers, students volunteer in their desired professions to find out if it's truly what they want to do before they commit their time and energy. The reality check weeds out those who don't want to continue, and Singh is fine with that, too.
"It's very important that you find what you want to do," he said. "The right thing is how you feel inside. If it doesn't feel right, don't do it, otherwise life becomes miserable."
Even the lure of a six-figure salary is no justification if a student's heart and soul is not committed, he believes. "The money is just not that important. It has to be fun, too."
Singh lives the philosophy he preaches, saying he cannot imagine doing anything but teaching and guiding students.
'Occupational therapy … and a lot of other good things … would not be on this campus today, were it not for the patient efforts of Dr. Singh. He definitely has a "green thumb" when it comes to growing programs.'

– Clint Stucky, M.S. – Assistant Professor of Occupational Therapy and Director of the Occupational Therapy Assistant Program.
Still, Singh will ease back a bit on his work load when he goes into semiretirement this fall. Singh, who turns 80 in May, plans to do more traveling, this time for personal rather than professional reasons, although the magnet of the classroom will pull him back to the one class he will teach. Teaching, he explains, is simply part of who he is.
Friends and family
Those who know Singh, however, say he's more than just a teacher; he's a warm and caring friend, too.
"Over the years he's done so many kind things, not just for students but also faculty and staff," Leyba said. "He's an immensely generous man."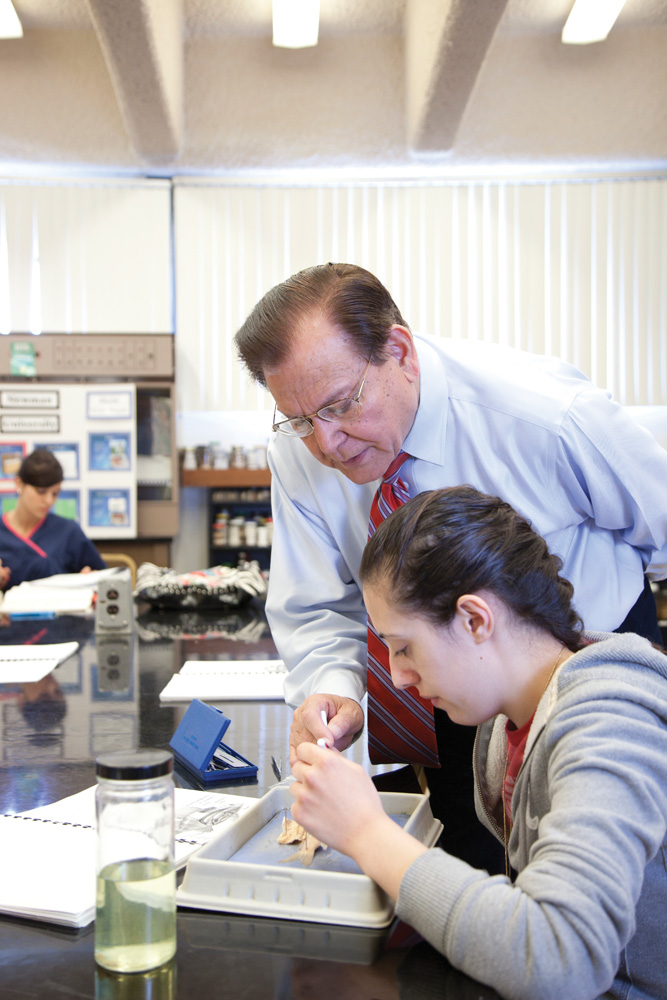 Singh clearly demonstrates his kindness and hospitality to visitors, giving them a tour of his office and the science building, suggesting a future lunch, or offering a bottle of his favorite drink, mango juice.
He is generous with his praise of his colleagues, as well as the administration and the Adorers of the Blood of Christ.
"They have given me all the support to do what I have done," he said. Likewise, Newman and the community have recognized Singh.
His awards and honors are numerous, but among the top ones are the Cardinal Newman Medal, the Cardinal Newman Lifetime Achievement Award, and Outstanding Education awards from Newman and the American Association for Higher Education. Last fall, he was named a "Health Care Hero" in the Lifetime Achievement category by the Wichita Business Journal.
All the awards, which are neatly arranged in his office, are satisfying, Singh acknowledges, but he's just as happy to boast about the people in his life who make it enriching: his wife Swarn Lata, three grown children, Rahul '88, Juhee and David '01, and two grandchildren.
He positively beams at the large framed photo of his children that adorns an office cabinet, and the homemade calendar full of recent family photos. He swipes his hand before the pictures. "Just look at them all," he says.
Singh also considers his students as extended family, and is as proud of their many achievements as any parent would be — although he's quick to credit them for their hard work. He adds that their accomplishments are not just in the classroom or the workplace, they're in the world, too, fulfilling the university's mission of transforming society.
Singh religiously stays in touch with them, often catching up on their achievements over a noon meal or by email. When schedules permit, he asks them to return to campus to speak to students and share their career experiences. One is Mike Ludlow, M.D.'78, a family doctor at West Wichita Family Physicians and former chair and member of the Newman Board of Trustees.
'This is a bittersweet moment for all of us. We don't want to see him go but we have to let him retire.'

– John Leyba, Ph.D. – Professor of Chemistry and Chair of the Division of Science and Mathematics
Ludlow says the level of personal attention he gives to students is what sets Singh apart.
"It's been said that when you look up the word 'dedication' in the dictionary, you see a picture of Dr. Singh," Ludlow said. "He's a wonderful mentor."
Scores of other Newman students from the past 45 years would say the same thing. So do his colleagues.
"Dr. Singh has been a teacher and a mentor for hundreds of students, but he's also been a teacher and mentor for faculty and staff on what it means to be a good teacher, a good advisor, a good scholar, a good person," said David Shubert, Ph.D., professor of chemistry and dean of the College of Undergraduate Studies. "He's been a tremendous influence on everyone in the Newman community."
Tags:
Biology
,
Newman University
,
Surendra Singh