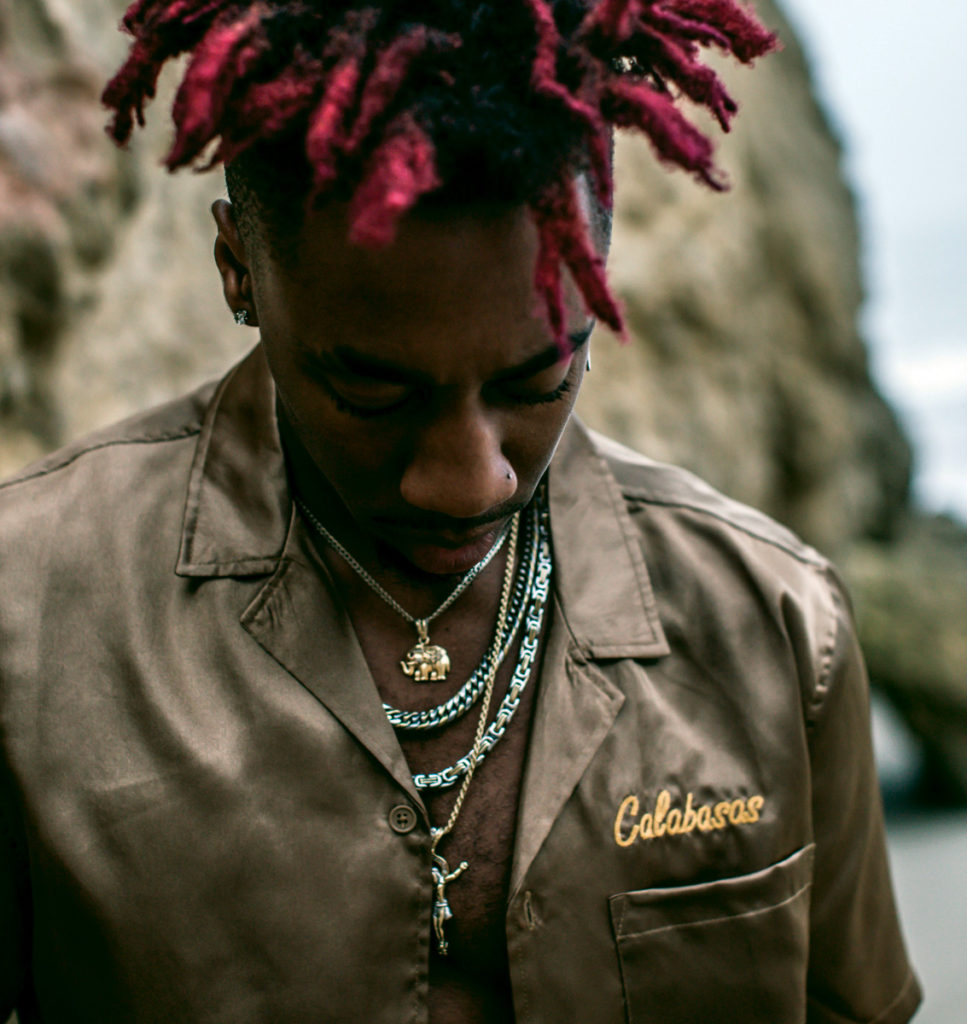 Courtesy Photo
DANIEL NWOSU IS MAKING A NAME FOR HIMSELF AS A SOCIAL MEDIA SENSATION
Newman student Daniel Nwosu, also known as "Dax," is making a name for himself as a YouTube sensation with his music, spoken word poetry and motivational videos — and it all began because he was bored on a road trip.
Nwosu said he has always been creative, but it wasn't until he jotted down a few quick verses and showed a teammate on the way to a basketball game in Arkansas that he discovered his talent. After receiving positive feedback and encouragement from friends and family, Nwosu's artistic career took flight. "I didn't know I was good at it, but when I saw how people reacted toward it, I felt the need to keep doing it," Nwosu said. "If it makes a difference I want to keep doing it. I want to be a part of the solution, not the problem."
I had to make a "Cash Me Outside" Remix!??⚡️? #cashmeoutside pic.twitter.com/MvvGSFMf3M

— Dax (@thatsdax) February 27, 2017
Nwosu, who is originally from Ottawa, Canada, started recording videos that quickly went viral on social media. His original music and inspirational messages cover a wide range of topics, including relationships, politics and the environment. Now, at 22 years old, he has more than 300,000 subscribers on YouTube.
In October, Nwosu was asked to speak at Kapaun Mt. Carmel Catholic High School. "I talked about self-empowerment, read them one of my pieces and used a few stories from my life to wrap around the positive concepts I'm promoting," he said. Nwosu has spoken in the Wichita community, on campus and even performed at a few open mic nights when he returned home to Canada last summer.
Despite his recent success, Nwosu said he still has much to do. "I have a couple viral videos, but viral videos are very misleading," he said. "My 'Cash Me Outside' video has 15 million views, but not all of those 15 million people come back. It's like a viral infection, it goes and then it leaves.
"It doesn't mean that people look at it and say, 'He's an established music artist now.' They look and say, 'Oh, he's just a YouTuber, he makes remixes.' Now I have a little bit of buzz, so I'm trying to make more of my original music to become a full- edged music artist. That's what I'm trying to cement."
If anyone would have told Nwosu 10 years ago that he would be making poetry today, Nwosu would have laughed.
Up until this year, Nwosu knew he wanted to pursue a career in professional basketball. He fed his passion by playing the sport for more than 10 years. After attending Casper College in Wyoming, he left to play Division I basketball at the University of Montana for his sophomore year. He decided to transfer to Newman when former Men's Head Basketball Coach Mark Potter offered Nwosu a spot on the basketball team.
In his two years playing for Newman, Nwosu led the team in 3-point shots, was named second team All- Heartland Conference and started all 28 games for the Jets his senior year. He also shot and made 18 points at the free throw line in a game against Rogers State, which was the top single-game mark in Heartland history and second-best mark on the season in Division II.
"I've played basketball all my life and I've always wanted to play pro, but basketball is something that I had to work really, really hard for," Nwosu said. "Writing just kind of came easily to me and it's kind of nice to have something like that. I'm excited to keep making more music and making new videos."
Nwosu believes attending Newman has helped him find inspiration both as a poet and musician.
"I'm a very one-track, one-minded person," Nwosu said. "I think my mind was so caught up in basketball when I was in D1 that I couldn't focus on anything else. Then I came to Newman — to a quieter, smaller campus — and I spent all of this time thinking. This place just opened my mind to more."
He also credits his time as a janitor at Newman for developing his voice. While working, Nwosu spends several hours in the art room, a creative environment where he says he finds plenty of inspiration.
"I've always been pretty fascinated with the idea that people want to live forever," he said. "They used to put kings in tombs and mummify them so they could come back and live forever. So my goal is, can I put something in the world that will live forever?"
Nwosu firmly believes that everybody can do something — they just may not have found it yet.
"I really almost didn't write that first poem," he said. "I almost stopped and asked myself, 'What do you mean you're about to write a poem?'
"I think some people will stumble onto their gifts, but sometimes they're just not open to them. Hopefully, more people will hear their stories and be open. Maybe you walk in and someone says, 'You should try this pottery class,' and you're like, 'That's not for me' — just go. Because maybe that's your gift. Be open. Go try."
Tags:
Art
,
athletics
,
Daniel Nwosu
,
Music
,
YouTube