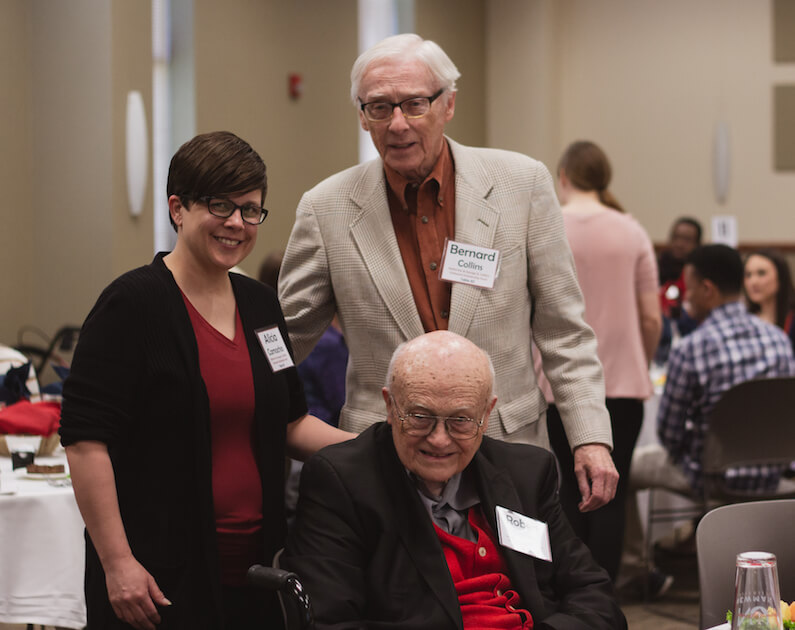 Alicia Camacho '19 with donors Bernard and Robert Collins
There are many reasons people give their time, treasure and talents to the organizations they love. A significant one is the satisfaction of knowing their aid will provide a path for others to make a difference in the world.
Each year, scholarship recipients have the chance to meet the donors who make a difference in their lives during the Annual Scholarship Luncheon held in early April. More than 200 types of scholarships are available to Newman students.
"Being able to attend Newman and graduate is just so amazing and I'm so proud that I've been given the opportunity to do that."

— Alicia Camacho '19
Alicia Camacho '19, who obtained her Bachelor of Science in counseling with a concentration in addiction studies, said she was nervous at first to meet the donors of her scholarship. She said she quickly relaxed and was excited to hear her scholarship donors wanted to find out all about how she was making an impact.
"It became so comfortable, I felt like I was talking to my family," Camacho said. "Just getting to learn about their story and how and why they created the scholarship … and to be able to tell them how much this scholarship helped me attend Newman was an amazing experience."
Camacho's scholarship, the Katherine and George B. Collins Endowed Scholarship Fund, was made possible by the children of the scholarship's late namesake. Mr. Collins was one of the first lay members of the College of Directors.
As a first-generation college student, Camacho said the Collins family has made her and her family's dreams of graduating from Newman University a reality.
"I think the most exciting thing was to talk to them about how in my family, we didn't necessarily graduate from high school, let alone go to college," she said. "For myself, along with my family, being able to attend Newman and graduate is just so amazing and I'm so proud that I've been given the opportunity to do that."
Camacho is not alone in her need for scholarships to attend Newman.
Senior Dakota Heard said receiving the Cardinal Newman Scholarship was the difference in being able to attend Newman or attending college somewhere else.
"My scholarship means that I can finish with a degree from a private university with zero debt," he said. "It has set me up to begin a career while not having to worry about if I can pay for school. It is a huge blessing in my life."
For Monsignor Leon McNeill Scholarship recipient Corby Reddington, his scholarship has meant more than just financial assistance.
"It isn't just my school, it's my home — and being here and having my scholarship has taught me a lot," he said. "The service that my scholarship requires has taught me the value of helping others and contributing to society in a meaningful way. I think that makes my financial aid much more than just a scholarship. It's also a learning opportunity."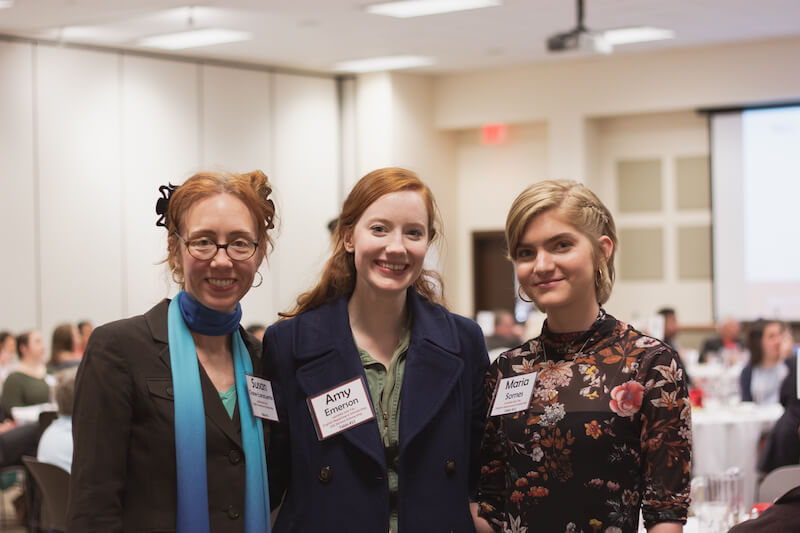 Ablah Award recipient Amy Emerson '19 said the banquet gives students the opportunity to give back for all they have been given.
"I think as heavily focused on service as the university is, it's important to take a moment to thank those who go out of their way to do kind things," Emerson said. "Every student should take the opportunity when it's given to say thank you for their scholarships, no matter how big or small."