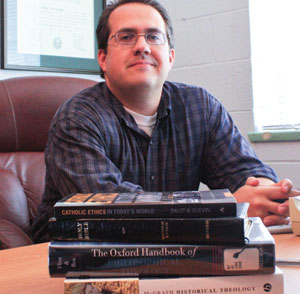 Newman Studies capstone course designed to help students integrate what they learn
By Joshua Papsdorf, Ph.D.
Assistant Professor of Theology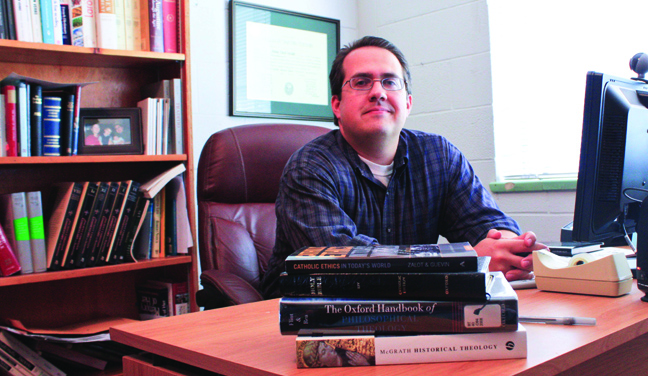 How do we reconcile the story of Genesis with the Big Bang? Can a scientist believe in miracles? How will this material world end, and how should we treat it in the meantime?
These are the types of questions that Associate Professor of Chemistry John Leyba and I are addressing this fall in the first offering of "The Quest for Meaning" course in the Newman Studies Program. Our goal for the class is to make it a place where there is real dialogue: between the two of us as instructors, between us and the students, and between the disciplines of theology and physical science.
Ideally, students will leave with an understanding of how the two fields can complement, rather than contradict, each other.
Other articles in this magazine explain the overall goals and benefits of the Newman Studies Program; I want to share why I am excited about the program as an academic and teacher.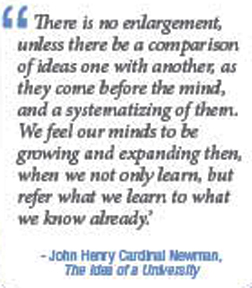 The single most appealing feature is the interdisciplinary, team-taught nature of the courses. Teaching with another faculty member means that I have a chance to learn just as much as I teach. Here at Newman most of us are able to teach over a fairly broad range within our disciplines, but finite amounts of time and energy keep most of us from venturing into our colleagues' classrooms. Teaching in the Newman Studies courses will give me the opportunity to rekindle the academic curiosity that led me to this career.
More importantly, studying physical science this semester and other disciplines in coming terms will expand the breadth of my knowledge and make me a better teacher, both in the Newman Studies Program and in theology courses. The energy and interest I am bringing to this course will make me a more engaged and passionate teacher, and that will make me a better teacher as well.
Improving our teaching is only part of what the Newman Studies Program is about.  Even more important is the new potential for student learning. These courses will give students a rare opportunity to truly integrate the different components of their education.

It is widely acknowledged that the specialization of disciplines today makes it quite difficult for students to integrate what they learn into a coherent whole. While that will always be a challenge, classes like "The Quest for Meaning" will give Newman students practical experience integrating the different parts of their education, and that will better prepare them to continue the process throughout their lives.
As these courses impact teachers and students, my hope is that they will change Newman as a whole. Most of the really important discussions in college should happen outside of the classroom. When students go through the Newman Studies program and talk about things like how to reconcile their Catholic faith with new theories in physics, those conversations will start to trickle over into the dorms and cafeteria.
When I overhear more of those conversations, I'll know that the Newman Studies Program is a success.
.

.
.
.