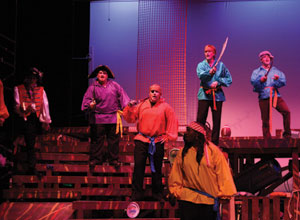 .

"The Nutcracker Suite." "Blithe Spirit." "Dames at Sea." "Jesus Christ Superstar."
Over the past eight decades, students from Sacred Heart Academy, Kansas Newman College, and  Newman University staged rousing productions of these and many other plays and musicals. Those productions are among the treasured memories of many Newman alumni.
Now, after an absence of several years, theatre is back – in a big way.
This fall semester, Newman will produce the first of what will be an annual dramatic theatrical performance. In the spring 2012 semester, Newman will also begin producing an annual musical. The university will also present a spring theatre production and smaller shows, and a continuing schedule of concerts by the Newman Chorale and Troubadours.
Perhaps more important, the university will also offer theatre as an academic program. Newman is now offering classes that lead to a minor in theatre. Beginning in the spring 2013 semester, the university plans to offer a major in theatre (pending final approval by the Newman Board of Trustees) for the first time in the institution's history.
"This is truly an historic step for Newman University," said President Noreen M. Carrocci, Ph.D. "We're very excited to bring theatrical productions back to Newman, and to expand our academic offerings in this area. Our students, alumni and people throughout the Wichita community have been very happy to hear this news."
"We all understand the profound impact the performing arts has on student achievement," added Director of Mission Effectiveness Charlotte Rohrbach, ASC, Ph.D., who led the committee charged with bringing theatre back and creating a fundraising program to support it (see related stories). "We are committed to meeting our goal."
'We're going to make theatre'
Theatre has been an important part of the institution going back to 1934. Led by only a handful of directors over the years, the theatre program produced quality shows and educated students to appreciate and to evaluate drama. The program excelled in the 1960s under the leadership of Lillian (Sister Theophane) Taylor, who directed plays and musicals that drew large audiences. Newman dropped a formal theatre program several years ago, primarily for financial reasons.
In many ways, the return of theatre is consistent with Blessed John Henry Newman's views in The Idea of a University on the value of the liberal arts, and on helping students make connections among different realms of knowledge. Those views are shared by Mark Mannette, who joined the university this fall as director of theatre.
"Theatre is a collaborative art that does interface with everything else," said Mannette, who has worked extensively with interdisciplinary teams during his teaching career. "It can connect to anything. It's a metaphor for life. And, working together with other faculty, staff and students creates a lot of opportunity for 'Eureka!' moments for students, in places they wouldn't expect."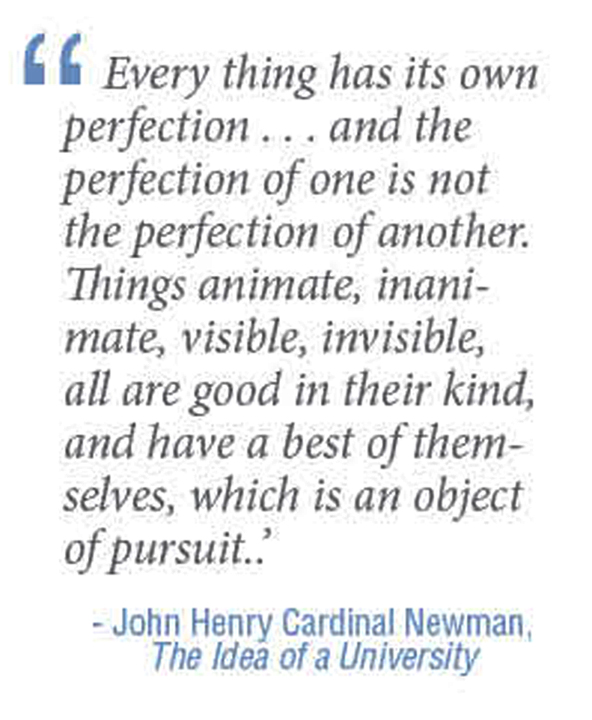 Mannette, who has a strong track record of building theatre programs during his career, added that he sees great potential for theatre at Newman.
"Newman has great facilities, our Technical Director Rod James and I share views on what we want to accomplish, and once we start regular productions I think it will generate enthusiasm among other students to participate, or enjoy as audience members. We came in to make theatre – we're going to make theatre!"
To make a gift in support of theatre at Newman, visit www.newmanu.edu or contact Rohrbach at 316-942-4291, ext. 2167.
.
.
.