Tim Hanson named sports information director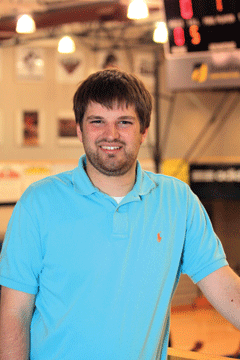 Tim Hanson was recently named sports information director at Newman University.
Hanson comes to Newman from Fort Hays State University, where he was a graduate assistant in the Sports Information Department. Prior to Fort Hays, Hanson was an intern at Davenport University in Grand Rapids, Mich.
Hanson earned a bachelor's degree in sports management at Central Michigan University in Mount Pleasant, where he assisted and reported for an online campus life magazine and took photos for the school's website. A native of Greenville, Mich., Hanson is currently working toward a master's degree in sport administration at Fort Hays.
"The position and Newman University were a perfect fit for me, and I'm very glad I have the opportunity to be a part of the Athletic Department," Hanson said. He added that "former Newman SIDs have already helped improve the department and bring it to the top," but he wishes to continue the growth and "to make the Newman Sports Information Department the best in the Heartland Conference."
Hanson is currently revising the look and content of the Newman athletics website. Check out the updated site this summer at www.newmanjets.com.
.
.