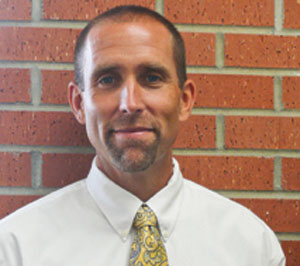 At about 11:30 on a rainy February night, a man with bright yellow cornrows in his hair, a soul patch and silver ear rings stepped into an all-night diner in south Wichita. His eyes shifted quickly to take in the room as he made his way to a booth in the back and slid in. He pealed off a worn green jacket, glared at the cook peaking out the kitchen door, then pulled out a small notebook and began to write . . . lesson plans.
That was Tracey Repp in 2002, an undercover cop waiting to make a drug bust, finishing his last semester of education classes at Newman University, and wrapping up his teaching internship at Pray-Woodman Elementary School in Maize, Kan.
Repp, who has now worked as an educator for nine years, said it wasn't easy trying to complete his student teaching while working undercover narcotics.
"Getting by with only a few hours sleep each night was challenging,' he said, "but knowing what my goal was and the support of the people at Newman made it possible."
A change in careers
Repp had worked in law enforcement close to 12 years when he made the change to educator. Given his background, it's not hard to see how he chose his initial profession: His great-grandfather, grandfather, step-father, several uncles and his brother all worked or continue to work for law enforcement organizations ranging from local agencies to the CIA.
After graduating from Valley Center High School, Repp attended Sterling College on a soccer scholarship and earned a bachelor's degree in behavioral science. Immediately after graduation, he went to the Wichita-Sedgwick County Law Enforcement Training Center, and began his law enforcement career in 1991.
For many years he worked with the Wichita Police Department in a variety of units, including Sex Crimes, Undercover Narcotics, the Gang Unit, the Mounted Unit, the Bike Unit and Field Training. He later left Wichita for El Paso, Texas, where he worked on the U.S.-Mexico border as a special agent with the FBI. He also worked on a drug intelligence squad and was a member of the SWAT Team.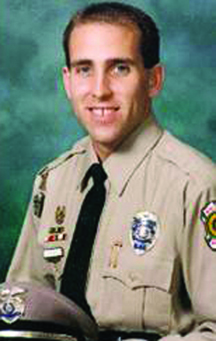 Repp and his family returned to Wichita, but he soon realized he was looking for something different.
"As a police officer I responded and reacted to problems – that's the nature of law enforcement," he said. "I decided I wanted to be on the 'front end' for a change.  I saw too many young men without a role model to teach them how to care about things more important than gangs and drugs. I really wanted to help guide kids away from problems."
Repp decided to be an educator in part because of his wife of 20 years, Lolita, who earned three degrees at Newman in the 1990s. She taught for 17 years in both public and private schools, and now teaches AP classes to students at an online academy. On her recommendation, Repp enrolled in the Teacher Education Program at Newman University.
To help support himself, his wife and his son Garrett while going to school, Repp took a job as an undercover narcotics officer for the Wichita P.D. He worked in the day and took classes at night until his student teaching semester, when his schedule changed to teaching during the day at Pray-Woodman, then working 3 p.m. to 3 a.m. four days a week, often in, as he put it, "places I didn't want to be in." Because of his hair, ear rings and general need to look like a junkie, he made his classmates and his students aware of his double role.
Repp completed his education degree in 2002, and continued police work until later that year, when he was hired to teach fourth grade at Pray-Woodman. After a year there, he moved to Andover Central Middle School, where he became an at-risk special education and math teacher.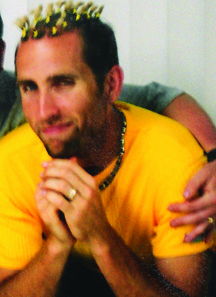 He also began a coaching career at Andover High School as head boys and girls soccer coach. In 2003, the boys team won the state title. In 2008, Repp was named Kansas Girls Soccer Coach of the Year by the National Soccer Coaches Association of America.
Perserverence
Repp said his years as a cop gave him definite advantages as a teacher. His first-year teaching evaluation included the remark that, "Tracey's classroom management is well beyond his years of experience." What the evaluator didn't know was that many of Repp's students – who were in his student internship class the previous year –  still thought he was a cop.
Having worked in neighborhoods where parents have their children sleep on the floor, in the basement, or in a bathtub to shield them from drive-by shootings, Repp also knew how to work with, and understand, at-risk students.
"The challenges faced by these students are real and tremendously difficult, but throughout the good and bad times, seeing their successes is what caused me to persevere," Repp said. "So many of the students just need someone to believe in them, and I wanted to be that person."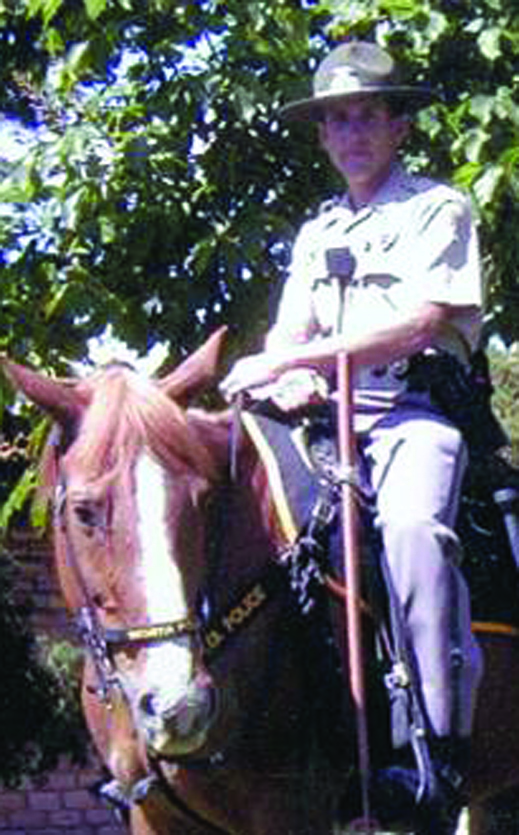 Repp said a passion for teaching and helping young people also helped him keep going on those days when his students were difficult to control. Still, he added, "I kept my passion by celebrating all successes that students had regardless of the magnitude. Students always knew that taking risks in my classroom was an expectation and with that, failure might occur. However, we always used those experiences as an opportunity to learn. Failure equals learning!"
Kansas Teacher of the Year
Repp, who returned to Newman and earned a master's degree in education in 2005, was named Region IV Secondary Kansas Teacher of the Year in 2010. This fall, he was hired as an assistant principal at Campus High School in Haysville, Kan.
Repp said he misses certain aspects of being a classroom teacher, as, "I still feel so protective of my students in class." He even sometimes misses police work,  although he's certain his decision to change careers was the right one.
"During my law enforcement career I saw the very best that society has to offer," he said. "However, I also saw the very worst that society has to offer. Although I do miss law enforcement at times, there is no question in my mind that this is definitely what I was meant to do."
Tags:
Andover Central Middle School
,
Andover High School
,
Campus High School
,
CIA
,
El Paso
,
FBI
,
Haysville
,
Kansas
,
Kansas Girls Soccer Coach of the Year
,
Lolita Repp
,
Maize
,
Mexico
,
National Soccer Coaches Association of America
,
Pray-Woodman Elementary School
,
Region IV Secondary Kansas Teacher of the Year
,
Sterling College
,
SWAT
,
Teacher Education Program
,
Texas
,
Tracey Repp
,
United States
,
Valley Center High School
,
Wichita
,
Wichita Police Department
,
Wichita-Sedgwick County Law Enforcement Training Center