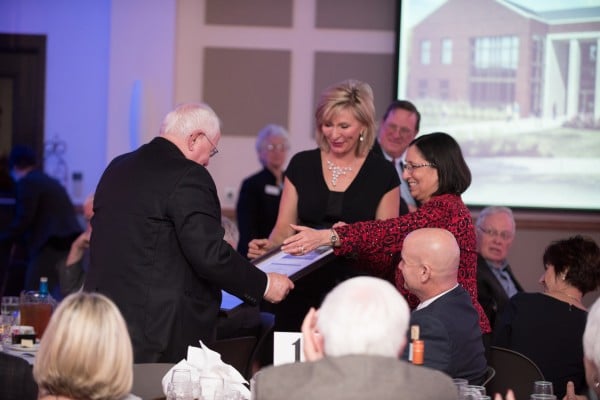 Newman University Board of Trustees Chair Linda Davison '77, center, and Newman President Noreen M. Carrocci, Ph.D. present a framed plaque to Bishop Emeritus Eugene Gerber. Davison said she was overjoyed that her uncle agreed to lend his name to the new science center.
What was billed as a "transformational" event more than lived up to its name, when more than 260 people gathered on Feb. 6 to honor the Most Rev. Eugene J. Gerber, Bishop Emeritus of the Diocese of Wichita, and learn about the Facing Forward campaign.
The event, held in the Dugan-Gorges Conference Center on the Newman campus, served as the official public announcement of the campaign. Both elements – honoring Bishop Gerber and announcing the campaign – came as a pleasant surprise to many.
The tribute to Bishop Gerber included remarks by former Newman President Tarcisia Roths, ASC, who shared her memories of working with Gerber and the important role he played during challenging times in the university's history. President Noreen M. Carrocci, Ph.D. then officially announced the campaign, including the construction of the new building to be named the Bishop Gerber Science Center. Bishop Gerber then made some moving, and humorous, remarks.
Judging by comments made by several attendees after the program, the event was impactful and motivating.
"It was very moving, and Bishop Gerber has done a lot for the university and for the Catholic Diocese, so it's very fitting that the science center should be named after him," said campaign co-chair Dana Fugate.
"[Newman University] has had a remarkable impact on this community, but this science center is going to change this community," Board of Trustees member J.T. Klaus '87 said.
"I think Newman has proved that you can do a lot with less- than-optimal facilities, but there is no question that you can do a lot more with state-of-the-art facilities," said Monte Vines '78. "I think it's a long time coming."
For more information and to see video of Bishop Gerber and Monsignor Hemberger's remarks visit: go.newmanu.edu/ffhemb To see more photos and video visit: newmanff.com.